Greater crimes are being committed on New Yorkers in the name of Biryani than by all the sleeper-cell jihadists supposedly holed up in Queens and Jersey City.
No sooner did I hear that the Paradise Biryani Pointe chain had opened an outpost in the same location as the closed Mehfil on 37th Avenue in Jackson Heights, than I dropped everything and rushed to NYC.
Hey, you cannot be Indian and disavow your loyalty to Biryani, the famed South Asian rice dish.
For those not familiar with NYC, the area around 74th St and 37th Ave in Jackson Heights is a stinking, pan-stained mess populated mostly by my South Asian brethren.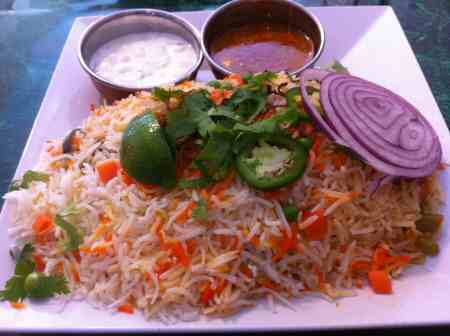 Nauseating Vegetable Biryani
Unending Nightmare
Since my mission was to feast on Biryani, I ordered both Chicken Biryani ($9.99) and Vegetable Biryani ($8.99) followed by Masala Tea ($1.50) and Qubani Ka Meetha ($3.99).
It took about 10-12 minutes for my Vegetable Biryani to arrive followed in short order by Chicken Biryani.
Both Vegetable and Chicken Biryani came with Peanut flavored gravy and Onion Raita on the side.
Awful – My one-word review of the Paradise Biryani Pointe Jackson Heights'  Vegetable and Chicken Biryanis for all ye impatient souls.
For what was served in the name of Vegetable Dum Biryani and Chicken Dum Biryani was fit only for the dumpster, not for my stomach.
Vegetable Dum Biryani – Pitiful
My Vegetable Biryani was hot (temperature wise), made with Basmati rice and included diced carrots, green peas, beans, caramelized onions, chopped cilantro, one piece of cut lime, a round slice of onion, two small round slices of peppers and two small slices of zucchini.
But my Vegetable Biryani was a catastrophe of unparallelled proportions.
Like a Bollywood film, the Vegetable Biryani's beautiful exterior masked its hideous true colors.
There were too many things wrong with the Vegetable Biryani:
First, the Vegetable Biryani lacked the orgasm inducing aroma and taste of a good Biryani.
Second, it was missing badly on the Biryani spices that add the magical zing.
Third, it had too much of cheap-tasting clarified butter (either ghee or dalda) causing a deep nausea of a sort rivaled only at seeing the words "Mitt Romney" in print anywhere.
Fourth,  the Peanut flavored gravy was spicy but the thick layer of oil floating on top of the gravy heightened my nausea and could have been better used for an oil-change on my car.
The only part of the Biryani that I had no complaint with was the thick Onion Raita offered as a side.
Well, it's really hard to screw up the humble Indian Raita.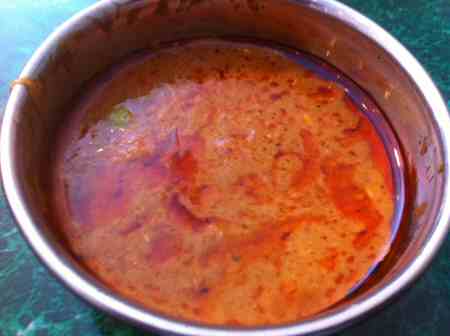 Oily Peanut Flavored Gravy
All in all, I did not enjoy the Vegetable Biryani one bit.
Not since Dimple Kapadia married Rajesh Khanna, did I feel so cheated.
Flinging silent curses on the devils in the restaurant kitchen, I left a lot of my Vegetable Biryani on the plate to be thrown away into the dumpster where it belonged.
Chicken Biryani – Acid Reflux
Now for the $64,000 question – Did I find solace in my Chicken Biryani?
Alas, when Biryani misery rains, it pours.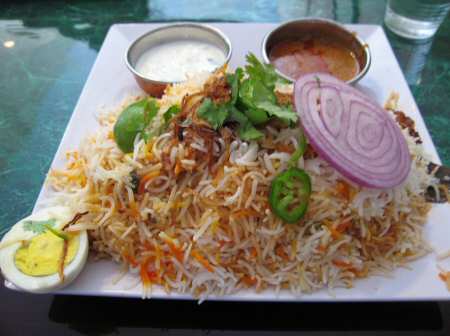 Horrid Chicken Biryani
Much to my horror, Chicken Biryani turned to be Red Chilly Powder Rice rather than Chicken Biryani.
Biryani is usually prepared by cooking Basmati rice with vegetables, chicken or goat or lamb and an assortment of spices on a slow flame.
It usually takes more than an hour depending upon the quantity being prepared.
In retrospect, the big mistake I made was to specify 'Spicy' when I was asked about the spice level.
Since the Biryani spices, rice, vegetables, chicken, meat all have to be cooked together, the only way to make it spicy is to mix either red chilli powder or dry biryani spice powder to the cooked Biryani.
Except if the kitchen cooks each Biryani item with three different spice levels – mild, medium and spicy. Highly unlikely but not impossible.
My Chicken Biryani included seven or eight pieces of chicken with bone, one big round raw onion slice, one cut lime, half boiled egg, two small round slices green peppers and chopped cilantro.
Again, Peanut flavored gravy and Onion Raita were offered on the side.
While the Biryani looked attractive with all the toppings, I just could not push more than five or six small servings into my mouth as it was dreadfully hot even to my spice-hardened South Indian palate.
All I could taste in my mouth was the fiery red chillies. It seemed like the bozos in the Paradise Biryani Pointe kitchen just added more red chilli powder without other ingredients to balance the spice factor.
Indian food, or any other food for that matter, is all about balance.
So, if I ask for my food to be spicy other ingredients too must be added so that the chilli powder does not completely dominate and overwhelm the dish.
But balance is not a word to be found in the dictionary of these perverse dolts.
I did not get much relief from the chicken pieces either as they did not adequately capture the flavor of the Biryani spices. Were the not-so-well-marinated chicken pieces added as an afterthought to the cooked Biryani Rice?
Bottom line, the two Biryanis at Paradise Biryani Jackson Heights were letdowns of Himalayan proportions.
If you're the sort that enjoys nausea (from the Vegetable Biryani) and acid reflux and upset stomach (courtesy, the Chicken Biryani), then Paradise Biryani Pointe Jackson Heights NYC is straight up your alley .
Masala Tea and Qubani Ka Meetha
To soothe my burning taste buds and for some badly needed respite from the cruel Biryani onslaughts, I ordered a cup of Masala Tea and Qubani Ka Meetha for my beverage and dessert respectively.
Although I was assured that it was Indian style Masala Chai, my tea was terribly low on the Masala flavor, had too much milk and was barely warm.
Like most normal human beings, I like my Masala Tea piping hot.
But then I'm not sure whether this accursed restaurant's target clientele is bipeds or quadrupeds.
In its favor, the tea was potable.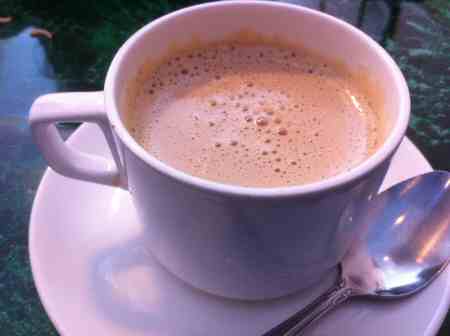 So, So Masala Tea
The sole saving grace of my otherwise disastrous outing at Paradise Biryani Pointe in Jackson Heights came in the form of  Qubani Ka Meetha.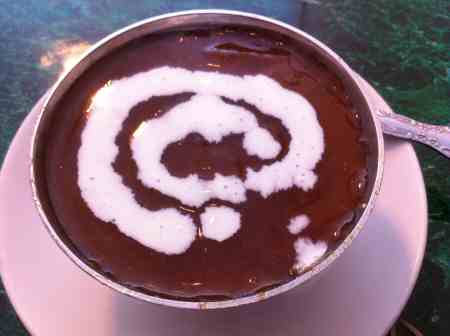 Delicious Qubani Ka Meetha
Qubani Ka Meetha is a thickish sweet dessert prepared with apricot fruit.
It came with creme topping and was cold, but not ice-cream cold.
Spooning the sweet Qubani Ka Meetha into my mouth, I felt as if I'd exited the Hades highway into the Elysian fields.
Qubani Ka Meetha is a delicious treat, worthy of the long wait we were subjected to.
Clueless, Careless Service
When we sauntered in, the restaurant wore a deserted look and there were no other diners.
We were greeted with a smile by the middle-aged desi hostess and seated promptly.
But my water glasses were filled only in beginning.
They never bothered to come around to check if we needed more water.
Though the restaurant was mostly empty, I had difficulty in drawing the attention of the two male waiters.
The lady had disappeared inside and never showed up in the dining hall after taking my order.
The Nepali waiter was standing near the cash counter and staring zombie-like at the restaurant entrance.
The Indian (??) waiter was busy near the entrance door or hunch-backed at the cash counter.
After placing my order with the middle-aged desi waitress, I kept checking the world's most famous blog.
Some 10 minutes later,  the Nepali waiter who volunteered that he'd joined Paradise Biryani Pointe from the nearby Mumbai Grill on the 74th St came by with a small notepad and inquired whether I was ready to place my order. Baffled, I repeated the order that I had already placed with the desi waitress.
The Nepali waiter was also utterly clueless about the difference between Qubani Ka Meetha and Double Ka Meetha desserts.
When I asked him about the difference he mumbled that Qubani Ka Meetha is a dry dessert and Double Ka Meetha was the same except that it comes with gravy. Since his explanation sounded odd, I repeated the question to the other  waiter who told me that Qubani Ka Meetha was made from apricot and Double Ka Meetha from bread.
It took 25 minutes for Paradise Biryani Pointe kitchen to deliver the so-called Masala Tea and an additional 15 minutes for Qubani Ka Meetha dessert to arrive (and that too after a gentle reminder).
I was not pleased that the steel spoons and knives were left directly on the table that had no table cloth or a table mat. Remember, restaurant tables are always wiped with a not-so-pristine cloth sprayed with chemicals!
There were two restrooms by the cash counter one with wheel chair access and the other without. While the restroom floor was clean in both, the first restroom without wheel chair access had a horrible stench and the one with wheel chair access had a strong welcome odor of phenol.
Paradise Biryani Pointe Ambience
What ambience?
There is not much ambience to speak of at the Jackson Heights outpost of Paradise Biryani Pointe.
Those of you familiar with Mehfil will probably remember the long rectangle dining hall with the cash counter, restrooms and kitchen at the rear and the tables up front.
There's a big TV on the wall above the cash counter playing Bollywood crap.
Go, Go, Go Govinda (Sonakshi Sinha, Prabhu Deva) from the upcoming Bollywood film Oh My God was playing continuously on the TV.
There are a total of 12 tables on either side of the wall.
No Lunch Buffet, Pricey Menu
Unlike other Indian restaurants in the Jackson Heights area like Mumbai Grill, Delhi Heights, Maharaja, Tawa Tandoor, Indian Taj and Jackson Diner, Paradise Biryani Pointe does not offer lunch buffet nor did I see lunch specials listed on the restaurant and takeout menus.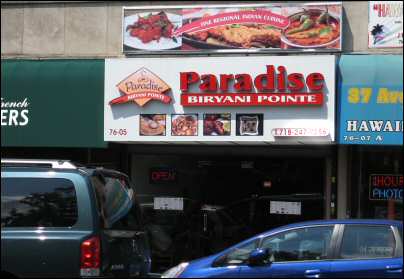 It offers only a la carte menu. The a la carte menu is pricey with $3 Samosas and all other appetizers priced at $4.99-$14.99. Main vegetarian entrees are $8.99, Chicken entrees $9.99, Goat $11.99.
Biryanis and Fried rice are priced from $8.99-$11.99.
For the price of a Biryani and an appetizer at Paradise Biryani Pointe Jackson Heights, you can get an all-you-can-eat buffet meal at other nearby Indian restaurants with over 10 items including Chicken, vegetarian curries and desserts.
Paradise Biryani Pointe Rating – Awful
In my not-so-humble opinion, it's criminal to be served the kind of trashy Biryanis I got at Paradise Biryani Pointe NYC on 37th Avenue in Jackson Heights.
I have not the slightest doubt that the cooks in Paradise Biryani Pointe Jackson Heights apprenticed at Stalin's gulags with additional exposure in Saddam's dungeons to master the art of torturing and inflicting maximum pain on innocent diners.
Unless you are a die-hard masochist who'll get off only with whippings of the literal or figurative kind, steer clear of this trashy Biryani impostor in Jackson Heights.
Don't say I didn't warn you!
Related Stories:
Dakshin Express Egg Biryani Review Oak Tree Road, Edison
Biryani Cart NYC Review