As the wise-buddha a.k.a. SI has said on countless occasions, you can take the Chutiyas out of India, Bangladesh, Nepal and Pakistan and bring them to Amreeka.
But these Gaandus will still be Chutiyas.
Because it's not in the genes of beasts to be civilized.
Guess what these Chutiyas are doing to New York City now!
These SOBs are spitting Paan juice on the streets of New York City and painting them red.
I've seen them do that in the past in Jackson Heights on 74th St and 37th Ave.
But things have gotten so bad now that even the New York Times took note of this disgusting practice in an article recently:
On a stroll through the busy streets of Jackson Heights, Queens, Sahadev Poudel kept gesturing at the ground with disgust. He stopped on the sidewalks in front of sari boutiques and Indian grocery stores, pointing out stains that looked like dried blood.

"It's all over the place," said Mr. Poudel, 33, who immigrated from Nepal in 2004. "This is completely bad behavior that we brought from our hometown."

The sidewalks of New York have long been blotted by black blobs where chewing gum met its demise. But the reddish-brown splotches that trouble Mr. Poudel are seemingly unique to the 74th Street commercial district, and they are causing friction among the South Asians who eat, work and shop there.

These are the marks of paan.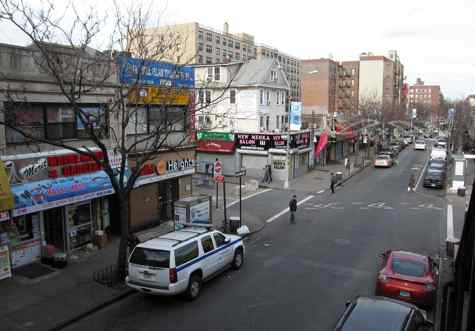 Paan Spitting St – 74th St Jackson Heights, NYC
By the way, Jackson Heights around 74th St is a South Asian business hub with dozens of Indian/Nepali/Tibetan/Pakistani/Bangladeshi/Indian-Chinese restaurants, grocery stores, food carts, fashion boutiques, Bollywood music and video stores and beauty parlors.
Ah, the latest Indian restaurant to hit Jackson Heights is Paradise Biryani Pointe with their Hyderabadi Dum Biryani, Chicken Hyderabadi and Double Ka Meetha.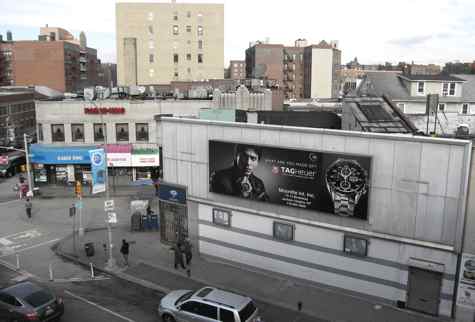 Pak-Loving Chutya Shahrukh Khan on a Hoarding in Jackson Heights
Back in the 1990s, Jackson Heights around 74th St and 37th Ave was almost exclusively an Indian commercial hub. I used to visit the place at least twice a month to buy Kulfi ice cream and Indian grocery on 37th Ave.
Of course, the place was dirty even then. But there were no Paan stains on the streets those days.
But things have been changing lately in Jackson Heights.
Over the last few years, I've noticed the place is being overrun by Bangladeshis, most of whom can't speak a syllable of English.
Somebody, please stop the Green Card lottery for these Bangladeshis or make it compulsory for them to speak at least basic English! When I enter a Bangladeshi restaurant, I don't want to be addressed in Bengali!
During some of my recent visits, I have also seen these crazy Mullahs screaming verses from the Koran on the sidewalks and Nepali palmists begging to have your palm read.
It won't be long before South Asians start blowing their noses and rubbing it all on the nearest tree or building and peeing and crapping on the streets of Jackson Heights. Just like they do it back home.
Americans should really have their head examined for letting these South Asian savages into the country!
Related Content
* On Jackson Heights Sidewalks, a Treat's Messy Aftermath
* 1 Crore Chutias Want to Move to Amreeka