Dear God, why are so many crappy Indian restaurants like Delhi Palace born in NYC?

Oh God, why do you keep so many crappy Indian restaurants like Delhi Palace in NYC alive?

Yo God, Why the hell don't you shut down crappy Indian restaurants like Delhi Palace?
Must be the accumulated sins of a lifetime that led us to Delhi Palace on 74th St in Jackson Heights, NYC.
Sure the place has a reputation for bad hygiene and had even been closed down a few months back by the NYC Health Department.
But we were hungry, foraging for Indian food in Jackson Heights and Delhi Palace didn't seem like all that bad a bet given the irate bellows from our hungry stomach.
How were we to know that our meal at Delhi Palace would turn out to be a repudiation of all taste!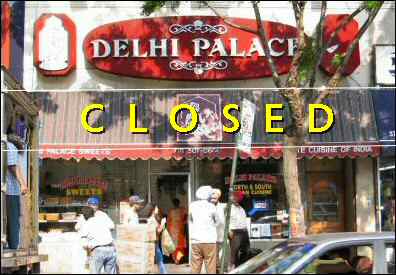 Delhi Palace – Crappy Dump in Jackson Heights, NYC
(File photo)
Delhi Palace – Acme of Garbage
Of course, we're no strangers to crappy Indian food. Most Indian restaurants in the NY/NJ area are crappy.
But Delhi Palace in Jackson Heights occupies a hallowed place in the ugly pantheon of crappy Indian restaurants in New York City.
If the food was not crappy at Delhi Palace, rest assured that it was lukewarm or deficient in some other way.
Appetizers, entrees or desserts, vegetarian or non-vegetarian, much of the food at Delhi Palace is hopelessly pathetic.
Folks, there is little reason for this crappy NYC Indian restaurant to exist.
The sooner Delhi Palace gives up the ghost, the better for lovers of Indian cuisine.
Unappetizing Appetizers
Dal Vada was lukewarm, only slightly crisp and the dough inside brought forth a raw flavor into our mouth.
Coconut Chutney seemed fresh but, yeeks, the bozos in the kitchen forgot to add chilies.
Mint Chutney was not only tasteless but, to add insult to injury, was also cold. Sambar was watery, low on Tamarind and way too low on Dal.
Chicken Lollipop was a tasteless monstrosity that one human would not offer to another unless he was depraved.
Lousy Entrees
With its poor marination, Delhi Palace's Tandoori Chicken was unworthy of being flung at mongrels.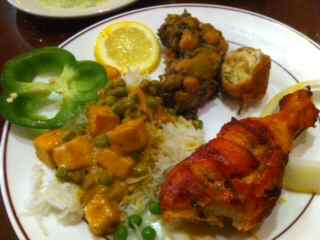 Neither Mutter Paneer nor Channa Saag gave us any pleasure. Both were lukewarm and devoid of any flavor or the taste of freshly-cooked food.
Bhindi do Piaza must certainly be the handiwork of Satan for it was so distressingly bad. The Bhindi was not tender and the masala added to it made no difference.
Fish Moli in a medium-thick gravy packed some flavor but didn't send us into paroxysms of joy. Chicken Tikka Masala was the usual reddish atrocity you find at most Indian restaurants in the U.S. and had little to commend it.
Naan Bread was brittle like Dosa.
If an Indian restaurant can't get the simple Naan Bread, the staff ought to be kicked out on the street without any mercy.
Horrid Masala Dosa
Masala Dosa was a flavorless, tasteless abomination.
A Masala Dosa only in the chef's warped imagination, it was a vile curse hurled at a South Indian diner's palate.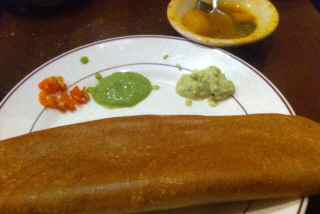 The dough was not fermented enough and the bland potato filling inside would have been rejected even by the starving Ethiopians, starving Somalis and starving Oriyans in Kalahandi.
As we noted earlier, the Coconut and Mint Chutneys were unpalatable and the Sambar low on Tamarind and missing any sign of Dal.
Mercifully, the Uttapam, although not even lukewarm, was tasty but the bad accompaniments (bad Chutneys and Sambar) robbed us of the joy.
Chicken Biryani was overcooked and the strong succulent aroma of Biryani was lacking.
Delhi Palace Desserts – Mixed Bag
Sooji Halwa was warm but watery, low on sugar, low on ghee, low on taste and, above all, low on a competent chef's hand in its making.
Ras Malai was hellishly awful. The milk syrup was way too watery, lacked any flavor and the white Ras Malai ball itself had a raw taste.
Rice Pudding was one of the rare delights of an overall unendurable meal. Creamy with almond slices and raisins, it was yummy. A few more raisins would have made it yummier.
Service – Lazy Bozos
Many of the items on the buffet table lacked labels until mid-way through our meal.
Also, some trays were empty and filled in only later (Bhindi, Chicken Lollipop). There were no serving cups for Sambar or serving tong for the Chicken Lollipop and Uttapam.
The bald coot with glasses (manager??) gave us the cold shoulder even after seeing us waiting for the serving tongs but rushed to welcome a White couple. 🙁
Used plates were removed with alacrity (alas, on one occasion, with far too much alacrity) and water glasses filled without any prompting from us.
Delhi Palace – Bottom Line
We felt sick, literally and figuratively, after our horrid meal at this dump.
A queasy feeling in our stomach and sick to the soul, we stumbled out vowing never to return to this wretched dump.
Guys, Delhi Palace is an Indian restaurant perversion that offers mostly inedible food to paying diners and exists merely to part you from your money.
If there's a God in Heaven, then he'll pull the plug on Delhi Palace. Soon.
Meanwhile, we'd advise all ye schmucks to give God a big helping hand by shunning this crappy dump aka Delhi Palace.