Oh Baby, Oh Baby!
Besides sending us into an orgasmic swoon, Dakshin Express on Oak Tree Road in Edison (NJ) evoked nostalgic memories of that incredible shithole.
Which shithole, you ask?
India, of course. 😉
The vaguely human-looking waiters at Dakshin Express look like they've just escaped their cages from the nearest zoo and the dark-skinned South Indian diners (no, we're not the Fair & Lovely kind either) deep-throating the food eat with a rapacity seen only among Somalis, Ethiopians and Gujjus (during Diwali Annakoot at the Swaminarayan Mandir).
We asked ourselves for the n+1th time, have these South Indian H1-B and L1 Visa humanoids never seen food in their lives?
By the way, that was a rhetorical question. 😉
Like most things Indian, Dakshin Express, both the inside and outside, looks ugly as hell.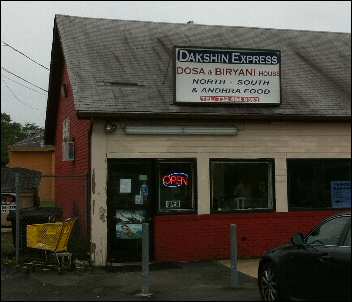 Dakshin Express – Ugly Dumpster, Divine Biryani
And as for Dakshin Express' toilet, let's just say the Augean Stables that Hercules washed as one of his labors was a lot cleaner.
In short, Dakshin Express looks like an average restaurant in India.
One that serves some divine food amid an inviting aroma and ultimately inducing a euphoric sensation rippling through our body leaving us thinking for a moment that Sonam 'Aayat' Kapoor was lying atop us (hell, we can dream, can't we?).
Sonam Kapoor of Biryanis
If there's a better Biryani in the world, we haven't heard of it!
Habitués to the nonpareil SI blog know that we're querulous bastards.
We try hard to pick faults, nay our raison d'etre is to find faults.
But the Dakshin Express Biryani scored a Perfect 10.
Think Bo Derek 10, schmucks, because Sonam is a bit wanting in the upper story (now, don't you dare ask us how we can speak with such authority on such intimate matters because that's strictly between us & Sonam)!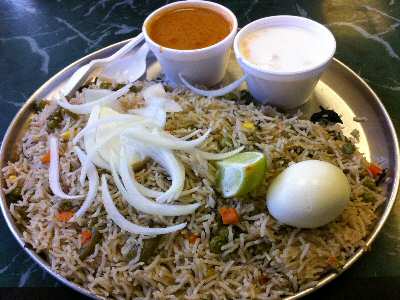 Yummy, Heavenly Biryani
An unrivaled aroma and taste matched only by muff-diving, Dakshin Express' Egg Biryani was the ne plus ultra of Biryanis.
In fact, the smell of Biryani pervades the tiny restaurant with 10-tables.
Hell, not even the off-putting smell of all those unwashed, sweating, dark-as-coal Tamils and Telugus thronging the place can mask the divine smell of the Biryani.
Dakshin Express' specialty and claim to fame is the Biryani.
Not only did we order it but witnessed other drooling South Indian buxom, lactating aunties in Churidars, bespectacled Paatis (grandmas) in Sarees and sick-looking desi uncles in Chaddis (shorts) doing the same.
Such is the draw of the Dakshin Express' Biryani.
What Makes Dakshin Biryani Sui Generis?
A lot of chefs in Indian restaurants in the U.S. are clueless SOBs who wouldn't recognize a Biryani if it walloped them on the face.
The key to a good Biryani is to cook the rice along with the vegetables, the magical Indian spices and meat (if it's a Chicken or Goat Biryani) on a slow-flame.
Since we were not in a carnivorous mood when we went to Dakshin Express, we bovinely opted for the Egg Biryani ($8).
Our order of Egg Biryani came piping hot to the table in a steel plate with a cup of Onion Raita and a reddish brown watery Gravy on the side. It consisted of a single boiled egg, slices of onion, one lime piece, cut beans, green peas, cubed carrot and corn.
There were several reasons why we consider Dakshin Express's Biryani nonpareil:
* First, it had a delightful aroma of Biryani spices – Cinnamon, Bay Leaves, Cardamom, Mogga etc
* Second, Biryani spices seeped well into the vegetables and Basmati rice.
* Third, Biryani was not oily and had a fine freshly prepared texture.
* Fourth, Basmati rice was cooked to perfection with neither raw, hard or pasty over-cooked texture.
* Fifth, the accompanying side dishes – Onion Raita and the Gravy enhanced the taste of already flavorful Egg Biryani.
By the way, the Biryani retained its great flavor even 24 hours after preparation.
Now if you schmucks can show us a better way of spending $8 in Edison, we'll salute you.
Good Masala Dosa
Like all good South Indians, we love our Masala Dosa.
Natürlich, we never miss a chance to order it during our wanderings in the Indian slums of Edison and Iselin.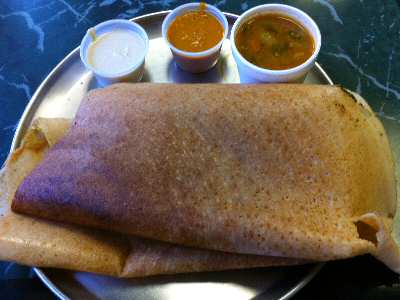 Mysore Masala Dosa with Chutneys & Sambar – O La La La
Dakshin Express' Mysore Masala Dosa was large with masala paste smeared evenly in the inner layer.
It came with a delicious stuffing of Potato-Onion curry, Carrot-Onion Sambar, and Coconut and Tomato Chutneys on the side.
Dosa was crisp and tasty.
Sambar was medium thick, hot with a nice flavor of Sambar spices and thoroughly relished.
Both the chutneys were fresh but the Tomato Chutney was more flavorful than the Coconut Chutney.
We would have enjoyed the Coconut Chutney better had it been a tad spicier.
Dakshin Express Bastards Duped Us
Never let it be said than an Indian ignores an opportunity to bamboozle a fellow Indian.
Cheating is at the core of the Indian DNA (except, of course, in the case of sincere souls like yours truly).
The cold-blooded troglodytes in Dakshin Express' kitchen royally screwed us over with the Bisebele Bath and Upma.
Both were lousy.
Since the Biryani was so good and the Bisibele Bath and Upma so bad, we hypothesize that the chef/deputy chef developed an uncontrolled jerking instinct, and rushed to the bathroom abandoning the kitchen in the hands of the Mexican dishwasher. What adds weight to our suspicion is that the bathroom wore a trashed-out look soon after as if a troupe of wild-monkeys had run amok through it.
Bisibele Bath ($5.50) was way too watery, not in the least spicy, low on Toor Dal and was nothing but Sambar Rice with some unfried Cashew Nuts flung into it.
A Total Rip-off. 🙁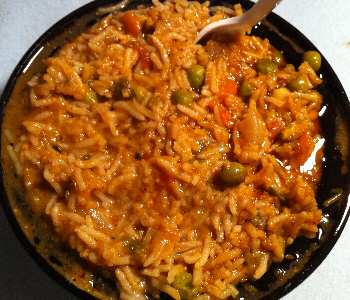 Bisibele Bath – A Total Ripoff
Upma was like eating Rava boiled in water.
Not in the least flavorful and one or two microscopic pieces of green chili.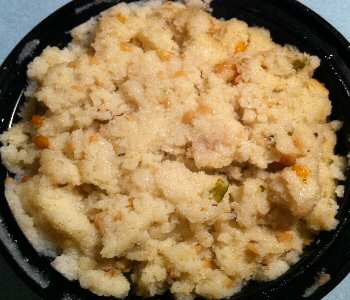 Upma? Hell, This Ain't No Upma
Schmucks, just take our advice and steer clear of this flavorless disgrace aka Upma ($5).
Lousy Service
True to the simian antics of most Indian waiters, the bespectacled waiter at Dakshin Express rudely threw the menus on our table.
Some 10 minutes after we ordered our food, another fellow wearing a dark green shirt emerged (the fellow who messed up the bathroom) and barked, Oh-dour?
We meekly responded Oh-dored. 😉
And we were not pleased to see plastic cups and a less-than-pristine water jug on the table.
Go for the Biryani, Fellas
But the excellent Biryani more than made up for all the sins of Dakshin Express.
If you happen to live in Middlesex County of New Jersey, not to dine at Dakshin Express would be a grave, unpardonable sin that not even a visit to the Bridgewater Balaji temple can absolve.
Your favorite blog SearchIndia.com strongly recommends Dakshin Express, primarily for its Biryani and to a lesser extent for its Mysore Masala Dosa.
Related Posts:
Paradise Biryani Pointe Edison – Horrible Biryani, Spoiled Gravy, Poor Service
Edison, NJ Indian Restaurants