Finding a good Dosa in the U.S. is becoming almost as hard as seeing the Halley's Comet.
And for unabashed gourmands like us, who'd kill for a good Dosa, that's so frustrating.
In our odyssean quest for good Dosas, we have traveled far and wide, often driving across state borders in the U.S.
Alas, nemesis is ever close on our heels constantly dealing our hopes and tastebuds a severe blow.
But Phoenix-like we rise from our disappointing Dosas and resume our quest again.
Such is our passion for the Dosa, a delicacy from South India that the Gods bestowed upon man.
After watching the lousy boob show Kidnap the other day, we craved some relief. So we headed to Newark Ave in Jersey City (NJ), an area choc-a-bloc with Indian restaurants.
When we asked a friendly American parking lot attendant to recommend a good restaurant, his prompt response was Sapthagiri.
And boy, what a fine discovery Sapthagiri turned out to be.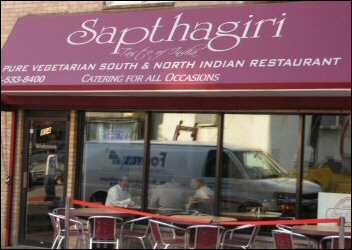 There were few discordant notes in our meal or the service.
Sapthagiri's Mysore Masala Dosa was a work of art.
Mouth wateringly delicious with a yummy onion/potato filling and the masala paste evenly smeared on the inside of the crepe, Sapthagiri's spicy Mysore Masala Dosa seemed like the Mona Lisa of Dosas.
Not just the Dosa, surely the accompanying Chutney and Sambhar must have been what Muruga, Ram, Ganesh and other assorted Gods were gorging on to ensure their immortality.
Most Indian chefs (wannabe chefs, truth be said) in the U.S. are too lazy to make Chutney every day and store the Coconut Chutney in the fridge. Not surprisingly, the Chutney at most Indian restaurants in the U.S. is cooold, tastes lousy and, on occasion, even spoiled. But the Sapthagiri Chutney had a fresh and delicious taste so rarely encountered here.
We've tasted Dosas in Madurai and Montclair, Pondicherry and Pittsburgh, Erode and Edison, Bangalore and Baton Rouge, Mayavaram and Milpitas, Chennai and Chantilly, Tiruvannamalai and Toronto. But rarely has a Dosa like the one at Sapthagiri kissed our lips. Like all great works, our Mysore Masala Dosa was a rara avis (the saliva is drooling all over Acer keyboard at the very thought of that Dosa).
Believe us, when we finished our Mysore Masala Dosa, there was no need to wash that plate or the Chutney and Sambar cups. We'd wiped 'em all clean.
Besides the Mysore Masala Dosa, we also feasted on Medhu Vada, Kootu, Rasam, Andhra Pulihora, Poriyal (made from carrot and limabeans), White Rice and Yoghurt. Each time, the Gods smiled on us and showered their bountiful blessings.
The Medhu Vada was big and crisp. We broke it into pieces, dipped them in the hot Sambar, let them soak for a few seconds and popped them into our mouth one yummy piece after another.
Who needs Moksha (the Hindu utopian ideal of freedom from the cycle of births and deaths) when you can have such swell Dosas and Vadas on Earth.
Must have been our good Karma.
For desserts, we tried the Doodhi Halwa and Badam Halwa. The Doodhi Halwa was simply divine with just the right amount of sweetness and ghee.
Sadly, the Badam Halwa (Grounded almonds cooked with cream of wheat and butter) was a bit of a letdown. You see, the Badam Halwa could have done with less cream of wheat, more almond and a bit more sugar.
Coffee was good but lukewarm.
Our waiter Om Prakash from Warangal (in the state of Andhra Pradesh) was unfailingly attentive and endeared himself to us by giving us an extra cup of Doodhi Halwa after he saw us salivating and scrapping the last piece of the dessert from the first cup.
Its minor blemishes aside, Sapthagiri is a jewel of an Indian restaurant in New Jersey unlike ugly dumpsters like Urban Tadkaa, Dosa Express, Saravanaa Bhavan, or Udipi Village that seem to have been set up with the sole intention of killing your appetite.
Unless you are a saint and have renounced all worldly pleasures, you'll want to visit Sapthagiri and sample the voluptuous array of fine Indian food on its menu.
N.B: Most Indian restaurants in the U.S. are notoriously inconsistent, so there's no guarantee that your experience will be anything like ours. We can only pray that Sapthagiri doesn't change its colors.