All of us have regretted some decision or the other badly enough.
Say like watching a Bollywood film featuring Abhishek Bachchan or worse a Kollywood movie with Ajith in the lead.
Or saying No when Aishwarya Rai begged you to marry her (high hopes, eh). 😉
In our case, one of the egregiously bad moves we made lately was to drop anchor the other day at Rajbhog Cherry Hill near the Swaminarayan Temple.
We were famished and our eyes lit up at the sight of the South Indian buffet poster in the glass window of Rajbhog Cherry Hill.
Alas, little did we know the cruel ordeal that lay ahead of us.
From the disposable plastic plates to the dry Idlis, drier Vegetable Idlis to the hard Utappam and tasteless Medhu Vada to the sweets cut in a gazillion pieces, Rajbhog Cherry Hill repeatedly screams trashy, lousy, worthless Indian restaurant.
In several decades of feasting gorging on Idlis, never has such a horrible, revolting impostor encountered our taste-buds.
Instead of being soft, Rajbhog's Plain Idlis tasted as if they had been run through a heavy-duty clothes dryer, twice. The top portion of the Idlis were peeling off like a bad paint job.
Ugly to taste, they were uglier to behold with their hard edges and a yellow tinge on the top. Plain awful.
Ditto for the awful Vegetable Idlis (strangely, they were sliced into pieces), which came with onion and cilantro seasoning.
Medhu Vadas, a favorite of South Indians, was a flavorless abomination smelling of engine oil. Way too crisp and brittle, the Medhu Vada easily crumbled in our hands before we could dip it into the Sambar.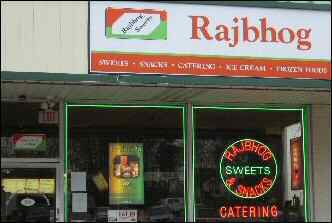 Rajbhog Cherry Hill – Serves Awful South Indian Food
(File Photo)
Talking of Sambar, if the bilge that Rajbhog Cherry Hill serves is Sambar then our name is Barack Obama and our address is 1600 Pennsylvania Ave in Washington DC. Ha ha ha.
A watery Dal with a few onion pieces and red chili powder floating on top, that's Rajbhog's Sambar for you. A disgusting con-job, if you ask us.
As with most Indian restaurants in the NJ/NY area, the Coconut Chutney at Rajbhog Cherry Hill was cold suggesting it was not freshly prepared. Thank God for that flavorful Tomato Chutney.
The sadistic Narendar Modis in Rajbhog Cherry Hill are not the kind to take a break. Relentless in their assault on our palate, they served up a Tamarind Rice that was way too dry and with no evidence that any oil or peanuts had been added to it.
We also suspected that the Tamarind Rice had its origins in the MTR Puliogare mix. Say, did the Spicy Chutney Powder in the plastic cup come from an MTR packet?
Batata Vada had so much garlic in it that not all the Listerine in the world could expel the overpowering odor of its aftermath.
Masala Dosa was crisp but the potato-onion filling inside was just about OK although not very flavorful. Hey, by this time we were eager to hand out medals if the food was merely ugly instead of obscenely ugly.
Folks, for $8.99 the horrible South Indian buffet served by Rajbhog is not a steal but daylight robbery.
Rajbhog Sweets – Mostly Mediocre
Since Rajbhog claims its sweets are fit for a king, we had to try a few of them to see if the claim was justified.
Alas, Rajbhog's sweets are not fit even for the eunuchs guarding the Royal Harem or the fellas cleaning the Royal Elephant's shit.
Except for the Maharaja Sandwich, the rest (Halvasan, Chandrakala, Almond Roll et al) were either borderline stale or had less sugar than required.
By the way, if like us you have a sweet tooth we suggest you visit the store at the nearby Swaminarayan Temple for far superior sweets.
Folks, starve to death if you must but avoid this disgusting dump a.k.a. Rajbhog Cherry Hill like the plague.