These days, murder seems to be Saravanaa Bhavan's raison d'etre.
Picture this South Indian vegetarian restaurant's shady reputation:
* Saravanaa Bhavan's founder P.Rajagopal murders people, literally.

* Saravanaa Bhavan founder's son P.R. Shiva Kumar murders U.S. immigration laws, allegedly.

* Saravanaa Bhavan Edison (New Jersey) murders diners, figuratively.
Murder most foul, as the Ghost laments in the bard's Hamlet.
In Hindu mythology, Saravana is a sacred pond. In the Kali Yuga (modern era), Saravanaa Bhavan is a metaphor for murder.
Shiva. Shiva.
Enna Kodume Saar, idhu (what agony).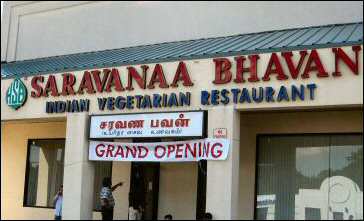 Saravanaa Bhavan Edison Murders Indian Cuisine
(File Photo)
Just Entitlements
When you pay $9 for a dosa, the least you are entitled to is that someone will fill your water glass at least once during your meal and be around when you want to order more items.
When you visit a full service restaurant, the least you are entitled to is that your young male waiter won't be busy playing Krishna with the three Gopika colleagues at the cash counter and pay more attention to diners.
When you pay $5 for two Mirchi Bajjis, the least you are entitled to is that the accompanying Chutney is not spoiled.
Will someone please tell the restaurant's schmuck owners that Saravanaa Bhavan Edison in New Jersey is not a takeout pizza or taco joint where customers can be treated so cavalierly. For Christ's sake, this is a restaurant that charges $4 for a cup of Rasam.
Re-Visiting Saravanaa Bhavan
It'd been more than two years since we visited Saravanaa Bhavan in Edison (NJ). So, the other day we dropped by for a meal at this South Indian vegetarian restaurant on Wood Ave (off the Indian strip on Oak Tree Road) in Edison.
The place was not busy (well, no Indian restaurant is packed in the U.S. in these troubled economic times).
Although there were several larger tables available, we were escorted to a Siberia of a small table.
We can understand if a waiter is inattentive when the restaurant is full. But during our visit, the restaurant was not packed and yet the service was so sloppy.
By god, we swear if ever we open a restaurant we'll hire all girls or all boys as waiters. During our recent visit to Saravanaa Bhavan in Edison (New Jersey), our young male waiter was more interested in chatting with the three girls at the cash counter inside the dining hall than in attending to diners.
Irritating, to say the least.
Gosh, if we were the manager of Saravanaa Bhavan Edison, we'd plant a solid kick on the waiter's backside and eject this schmuck from the premise. Obviously, the manager is a bigger dodo if he/she is unaware of what's happening inside the restaurant.
Poor service at Saravanaa Bhavan Edison extends beyond the waiters.
The amigo busboy clearing the table seemed to be in a viciously angry mood as he glared at us and scooped the plates with force into his trolley. We were petrified that he'd drop it all into our lap.
Enough about the sloppy service. Let's turn to the food now.
Worse Food
In some respects, the food is worse at Saravanaa Bhavan now than during our earlier visit. At least, we were blessed not to be served any spoiled food during our first visit.
But first things first.
Besides the Mirchi Bajji, we let our appetite roam free across a range of South Indian vegetarian staples including Pongal, Dosa, Idli, Medhu Vada, Sambar, Rasam, Poriyal, Rava Kesari, Payasam and, of course, Madras Coffee.
Far Too Disappointing
Ghee Pongal gave us little pleasure.
You see, the Pongal was far too dry and showed little evidence of any ghee being used in its preparation. If that Pongal could talk, it'd deny any acquaintance with ghee!
The accompanying Coconut Chutney was a clear case of mislabeling because it was far too bland. If this is Chutney, then we are Aishwarya Rai!
The idiots in Saravanaa Bhavan Edison's kitchen couldn't even handle a simple South Indian item like the Medhu Vada. What landed on our table was a raw and partially cooked monstrosity. Some amateur moron of a chef had obviously lifted the Medhu Vada from the frying pan in a hurry before the insides could be cooked.
Mysore Masala Dosa was alright but nothing to write home about. The potato filling inside was tasty but all three Chutneys (Coconut, Tomato and Green Chutneys) that came with the Dosa were way too bland and tasteless. Ditto with the flavorless Sambar. Was the restaurant running low on chillies and other spices during our visit?
If a chef can't deliver on the humble Chutney and Sambar, the kitchen is not the right place for the nincompoop. For $9, we expect Dosa with spicy chutney, flavorful sambar and overall a tasty item. Comprende.
The best that can be said about Saravanaa Bhavan's Brinjal Sambar was that it was palatable.
Rasam, however, was an inedible disaster. Not in the least flavorful and far too thick to merit the name Rasam, it was a pathetic impostor and an assault on the tastebuds. A South Indian restaurant that cannot prepare decent Rasam is a shameful rara avis that deserves to have its shutters pulled down.
If you hanker for non pareil Rasam in the Edison area, head for Swagath. (a short two-minute drive from Saravanaa Bhavan).
Idli was soft but we were irritated that it was served with the Sambar poured on top. Hey, let us decide how we want to eat our Idli.
Divine Kuzhambu
The standout dish during our recent visit to Saravanaa Bhavan Edison was the Special Kuzhambu (Tamarind Kuzhambu).
The Kuzhambu was so good that surely even the Gods must be having this extraordinary an item only on special occasions. Memories of Saravanaa Bhavan's very hot and spicy Tamarind Kuzhambu linger and linger long after the meal.
Hey, the mere thought of it is sending us into a salivating frenzy now. It was so good that we ordered an extra cup.
We'll forgive Saravanaa Bhavan any trangressions for this Kuzhambu.
One caveat, though – the Kuzhambu is really hot (both in terms of temperature and the chillies in it) and not meant for effete Caucasian palates.
Close on the Special Kuzhambu's heels was the Cauliflower Curry, again a work of art. Rightly spiced and delicious beyond words, it put a smile upon our desolate faces. 🙂
On the desserts side, Rava Kesari and Wheat Rava Payasam were delicious and left us hankering for more.
Spoiled Chutney
During our recent visit, the Chutney served with the horrible tasting Mirchi Bajji takeout order was spoiled. Barely 40 minutes from Saravanaa Bhavan Edison, the Chutney in the tiny plastic container tasted yuck.
Being served bad food at Indian restaurants in the U.S. is par for the course. But seldom do we encounter spoiled food. Saravanaa Bhavan is one of the disgusting exceptions.
As for the Mirchi Bajji, it was a flavorless, spiceless abomination that only a dilettante cook could rustle up.
Messy Toilet
Saravanaa Bhavan's clumsy execution extends to the toilet too. The Men's toilet had all the cleaning paraphernalia so close to the door that some diner in a hurry could easily stumble into the mopping bucket or the broom. Careless idiots.
Some Surprises
On the bright side, we were not charged for the extra cup of Special Kuzhambu although our waiter didn't seem pleased when we ordered an extra cup.
Fruit Pachidi and the Carrot Poriyal left no cause for complaint.
Madras Coffee was as Madras Kapi ought to be. Piping hot, flavorful and a nice aroma with just the right amount of sugar.
Brutal Murder
Its few bright spots aside, Saravanaa Bhavan Edison is a serial sadist committing brutal murder on the fine reputation of South Indian cuisine.
What is likely keeping the restaurant going is its established brand as one of the oldest vegetarian restaurant chains from Tamil Nadu.
But hey, nothing lasts forever. Even big restaurant brands can wither on the vine of mediocre food and shoddy service.
Tis' a shame that nearly three years after it opened, the bozos at Saravanaa Bhavan Edison are still struggling to get their shit together.
Related Stories:
Saravanaa Bhavan NYC Review: Orgasmic Heaven on Lexington Ave; Ooh, Aahh, Oh God, Yes, Yes!