When it comes to begging, none can beat Indians.
With several centuries of diligent practice behind them, Indians have honed begging into an art form.
Not long ago, we were at the receiving end of one such beggar in Jersey City, NJ.
We were standing on Newark Ave in Jersey City (NJ) considering which of the two Indian restaurants – Horn OK Please or Vatan – should be deified by our presence when a man in black suit jumped out of Vatan and begged us to come in.
$8.99 only, Waijatariyan pood, Pliss come, Pliss come. Pure Waijatariyan, the man ejaculated in that stupid accent unique to semi-literate Gujjus.
And his face had that anxious, pained, constipated expression Gujjus sport between two visits to the Swaminarayan temple.
Since the milk of human kindness overfloweth in our breasts, we decided to give our Tandoori Chicken and Lamb Vindaloo craving taste-buds a rest and bless Vatan with our benign presence.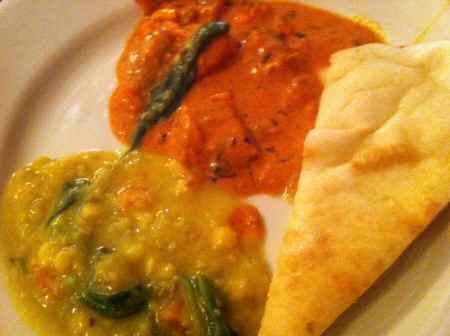 Vegetable Tikka Masala, Dal Tadka & Naan
Barely a few months old (it opened on the Hindu festival day of Diwali), Vatan has no fancy ambiance to speak of.
Six booths to the left (as you enter), a few tables on the right and a small room with floor seating!
The restaurant is obviously not doing that well because despite the menu stating $14.99 as the weekend buffet price, the actual cost is only $8.99 on Friday (goes up to $11.99 on Sat & Sun).
Vatan's owner Nikhil claims he intends to raise the price in May once business picks up.
Ha ha ha. Fat chance. Keep dreaming, Nikhil!
Who's gonna pay $14.99 for a Vegetarian Indian buffet on that ugly trash dump aka Newark Avenue in Jersey City.
Vatan – Delicious Indian Food
If you can endure the desi beggars plus the dirty stench and ambiance of Newark Ave,  Vatan is da place for a fine Indian vegetarian meal in North New Jersey.
The food at Vatan screams with such flavor that at the end of our meal we gave thanks to all the Swaminarayan gods for giving us such a fine Indian restaurant in New Jersey.
South Indian staples of Upma and Sambar, North Indian curries like Vegetable Tikka Masala, Baingan Bartha, Tadka Dal, Gobi Alu Mutter, Poori, Naan Bread and Gujarati specialties like Kadi, Moong and Dudh Pakh all made their way swiftly and effortlessly into our cavernous stomach.
Whether it is South Indian, North Indian or Gujarati you are a winner at Vatan (with the exception of the ghastly Naan bread).
Crispy, Spicy Onion Pakoras
Onion Pakoras were crisp and, for a change, they were not the bland atrocities you are doled out at most Indian restaurants.
They were spicy with sliced green chilies coming into the mouth.
Adding to the flavor was the accompanying Green Chutney.
Delicious Upma and Authentic Sambar
Rarely do North Indian restaurants deliver on the South Indian front. But Vatan delivered, and so wholesomely.
Upma was hot and spicy with a nice flavor of curry leaves and tomato. The evenly cooked Upma without any lumps of Rava left us squealing in ecstasy over this South Indian delicacy.
Vatan's carrot-onion Sambar was a medium thick work of art with a fine flavor of dhania, black pepper seeds and coconut and evoked memories of all the good things of life.
Our only grouse was that the Sambar was lukewarm.
Spicy Baingan Bartha, Tangy Vegetable Tikka Masala
Surely, the medium thick spicy Baingan Bartha must have been prepared by God's own chef.
So perfect were the proportions of tomato, onion and roasted eggplant.
Thoroughly relished with both Poori and plain rice.
Vegetable Tikka Masala was a creamy delight with onion, capsicum, potato, turnip.
Tangy, spicy and extremely flavorful, it was the pièce de résistance of our meal.
We devoured this North Indian curry with both plain rice and Poori.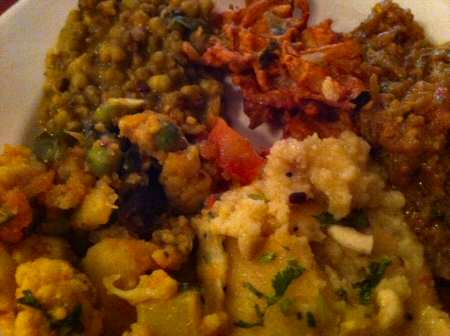 Upma (foreground) and Moong (background)
Divine Gujarati Kadhi
The sweetish and spicy Kadhi with a slightly watery texture was simply divine and we drank it a la soup.
Flavorful Moong and Tadka Dal
The well soaked and cooked Moong was flavorful but a trifle bland compared to other vegetarian curries jewels on the table.
What was not to like about the Tadka Dal with the whole boiled spinach leaves in it. Maybe, we'd have enjoyed it more had it come with chopped spinach.
Horrible Naan Bread, Hot Poori
Weekend lunch at Vatan comes with a choice of Poori, Roti and Naan Bread.
Being greedy desi bastards we asked for both Poori and Naan Bread which turned out to be a smart move in retrospect. You see the four small puffed up Pooris came hot to the table and we enjoyed them with all the curries.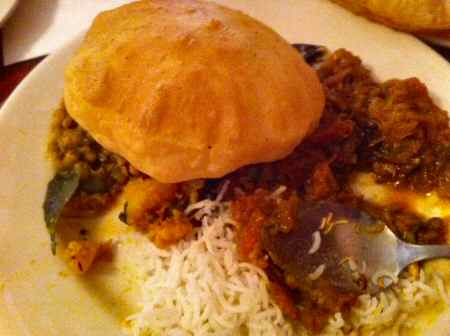 Poori with Curries
But the eight piece Naan bread was a complete disaster and was surely prepared by the devil's apprentice. Naan bread was crisp like Dosa and came cold to the table. Much as we abhor wasting food (given the many beggars who go hungry daily), we had no choice but to show the middle finger to Vatan's Naan bread.
Watery Dudh Pakh, Delicious Shrikhand
Dudh Pakh with sliced almonds, cashews and pistachios was flavorful but way too watery.
Since we did not relish the texture of Dudh Pakh we topped off our meal with Shrikhand and Masala Chai.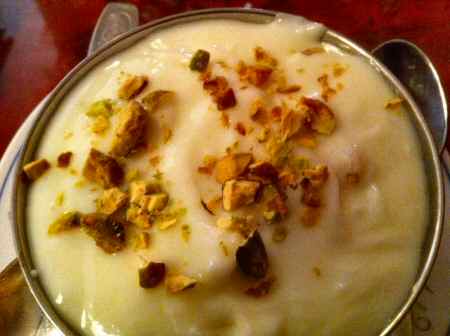 Shrikhand with Toppings
Throwing all calorie and Cholesterol concerns to the winds, we dug into the Shirkhand bowl that was topped off with pistachio toppings. Much recommended, folks.
Masala Chai came hot to the table with a nice aroma of spices.
Vatan – Poor Service and Unhygienic Dining Room Practices
While we enjoyed every single item laid out on the lunch table what got our goat at Vatan was the poor service and some unhygienic dine-in practices.
Though there were hardly any diners, our waiter took an eternity (15 minutes) to get us Poori and Naan Bread. When the Naan Bread finally landed on our table, it was cold. Second, they never bothered to clear the used plates piling up on the table.
As if this indifferent service was not enough, what sickened us was that the wait staff did not care to stop diners who were carrying their used plates to the buffet table and refilling it.
Neither the Hispanic waiter nor the owner Nikhil, who was dicking around with some folders at one of the booths, made any effort to stop diners from such unhygienic practices.
Yeeks! It is these kind of unhygienic practices that result in potential contamination of food and turn into a health hazard for other unsuspecting diners.
Will the New Jersey Health Department please look into the unsanitary practices at Vatan and levy a hefty fine on the restaurant.
Vatan – An Indian Jewel
Its hygiene and service shortcomings notwithstanding, SearchIndia.com considers Vatan an Indian jewel in New Jersey for its authentic, fine Indian food.
We can't wait to revisit this mecca of Indian cuisine on Newark Avenue in Jersey City.