You schmucks can say what you will but most Indian restaurants in New Jersey have no reason to stay in business except that some greedy desi swines want to rip you off with garbage.
That's a mighty shame considering the orgasmic euphoria that follows eating genuine, fine Indian food.
Alas, rare is that pleasure!
Chand Palace Piscataway – Awful Food
One of our worst dining experiences at an Indian restaurant in New Jersey lately was at Chand Palace on Centennial Ave in Piscataway, NJ.
After a particularly odious meal accompanied by horrible service, dirty eating plates and cheap tipping practices, we wondered how this disgusting dump a.k.a. Chand Palace (Piscataway) continues to stay in business.
As Churchill would say if he were alive, Chand Palace Piscataway's survival is a riddle wrapped in a mystery inside an enigma.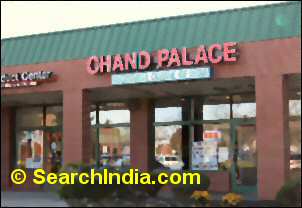 Disgustingly Bad; Stay Away
Awful Food, Bad Dosas
Much of what we sampled at Chand Palace Piscataway was a total travesty of Indian cuisine. No connection to the real thing.
Both the Green Chutney and Coconut Chutney were ice-cold, a clear suggestion they were not fresh. To make it worse, the two Chutneys were not even flavorful.
In several decades of eating Masala Dosa (we hail from South India), we have not had Dosas this bad.
Do these Chand Palace monkeys even know to spell the word D O S A?
The tiny Mysore Masala Dosa was not golden-brown but white, not crisp, the onion-potato filling not fresh and the masala paste not the reddish chilli paste but a weird brown stuff. In short, what we were served was not a real Mysore Masala Dosa but a cruel hoax was played on us by these swindling Chand Palace buffoons.
Onion Chili Dosa consisted of a few forlorn looking onion pieces inside the Dosa.
Raw Alu Gobi, Horrid Sambar
If there's one thing we hate in our food, it's the raw, uncooked flavor.
Like the Alu Gobi Curry that landed on our plate. The Gobi (cauliflower) was insufficiently cooked and its raw odor and flavor left us in high dudgeon.
The watery Sambar was a clear instance of mislabeling as it was all but Rasam in name. You see, the cheapos at Chand Palace didn't bother to add any Dal to the Sambar.
Saag Curry was an abomination we wouldn't have served to hogs. Disgustingly spicy with no sense of proportion, it could only have come from a clueless chef groping his/her/its way in the kitchen.
Paneer Masala was a watery disappointment while the Mixed Vegetable Curry was nothing to write home about.
Channa Masala in a medium-thick gravy lacked any flavor while the crisp Vegetable Manchurian balls was one of the few satisfying items of our meal.
Bad Desserts, Lousy Coffee
Bloody Hell, our nipples are bigger than Chand Palace's Gulab Jamuns.
Now, don't insist on a display of our nipples but you do get the point, right? 😉
Rasmalai and Custard were both low on sugar.
Desserts low on sugar? How depressing if you have a sweet tooth like we do. Cheating swines.
The insides of Pumpkin Halwa had a weird, stale taste.
Total Charlatans
These inept Chand Palace buffoons couldn't even get the Mysore Coffee right.
After making us wait 25 minutes for the coffee these shameless impostors finally served Instant Coffee. We've been drinking Mysore Coffee all our life and if what we were offered was Mysore Coffee then My Name is Khan, Shahrukh Khan. Scam artistes, the Chand Palace folks, we mean. 🙁
After we asked to keep the itemized copy of the bill, they struck the Coffee and Masala Chai off our bill. Maybe, they were belatedly ashamed at having served such bilge to diners.
But the dirty scumbags add 15% gratuity to a lousy buffet lunch. A tip is given for exceptional service and fine food at the discretion of the diner, not added to the bill at the diktat of the restaurant for crappy food and lousy service. These cheating Chand Palace swines have no shame!
Intolerable Service
Bad food at Chand Palace Piscataway is matched by offensive service.
One of our plates had yellow stains (obviously remnants of the previous diner) compelling us to look for a fresh one. Is it too much to ask that the plates be washed thoroughly?
Naan Bread was served toward the end of our meal although the hideous Dosas came way earlier.
Our young waitress (she with the crumpled white shirt) sported an angry scowl on her face leading us to wonder if it was that time of the month. When we asked her where the dessert station was, she glared at us and just motioned with her head. Whatever be the reason for her sullen disposition, she has no business ruining paying diners' mood.
When we told our waiter that we wished to keep the itemized bill, he looked shocked and befuddled like a deer caught in the headlights, then muttered with difficulty I will receiving. While we don't expect our waiters to be Shakespeares, we'd like them to understand us and respond in basic English at least.
Grinning like a retard, the indifferent manager/owner mumbled about the 'busy schedule' by way of explanation for the slow service.
Chand Palace – Stay Away
Overall, Chand Palace Piscataway is a disgraceful stain on the reputation of Indian cuisine.
Stay away from this Chand Palace dump lest those buffoons completely ruin your day.
Just a couple of miles from this Chand Palace impostor, there are three Indian restaurants Tawa, Sukh Sagar (vegetarian) and Palace of Jaipur that serve mostly fine Indian food.
Unless you enjoy eating bad Indian food accompanied by rude and hostile service, show these Chand Palace bozos your middle finger with mucho gusto.
Nearby Indian Restaurants:
Tawa NJ Review – Wow, Yummy Food; OK Service
Sukh Sagar NJ Review – More Sukh, Less Dukh
Palace of Jaipur Review – Sunny Chugh is a Nut Case; May His Tribe Increase