We bet you haven't seen anything like this, not even in Incredible India.
Bizarre, indeed.
Curry Holes on Oak Tree Road
On a short, four-mile stretch of Oak Tree Road that runs through the New Jersey towns of Iselin and Edison in Middlesex County, there are now 56 Indian restaurants.
Yes, schmucks. We said 56.
Whaddaya think? That we can't type or count?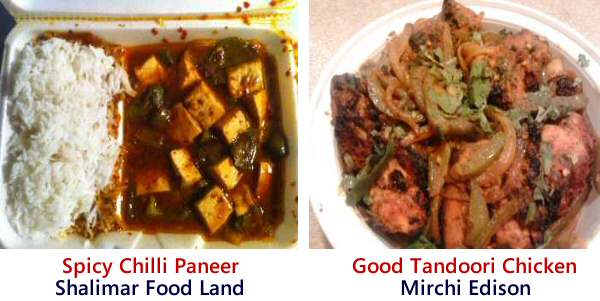 No, we're not counting the mom-and-pop operations in the area engaged in providing tiffin and dinner services for bachelors and the H1B/L Visa types. If you include them as well, the numbers would probably hit 75 or more.
For this post, we're counting only those restaurants that have a brick and mortar commercial structure and a clear signboard.
We've included even the few Pakistani restaurants in the area because they all serve Indian food (even Indian-Chinese fare).
The only difference is that the Pakistani restaurants serve Beef, which Indians find abhorrent considering their greatly professed love for the Holy Cow and its urine! (Yes, a lot of Indian Hindus to this day take pride in drinking cow's urine, euphemestically called cow-ca-cola.)
From Abhiruchi Andhra restaurant on Worth St in Iselin to Calcutta Indian-Chinese restaurant at 2090 Oak Tree Rd Edison is a distance of just four miles. No more than 10-minutes by car.
And on this short stretch you can find every kind of Indian food – North Indian and South Indian, Indian-Chinese and Punjabi, Chettinad and Gujarati, Rajasthani and Indian cakes, Kulfi Ice Cream and Chaat, Masala Chai and Madras Coffee, Sugarcane Juice and Lassi  you get 'em all on Oak Tree Road.
If you trip and fall on Oak Tree Road, you're more than likely to break your head on the threshold of an Indian restaurant. 😉 No kidding, fellas.
We bet there's nothing like this anywhere else in the U.S.
Other desi enclaves in the U.S. like Pioneer Blvd in Artesia, CA or Devon Ave in Chicago can't hold a candle to Oak Tree Road for the cornucopia of Indian restaurants.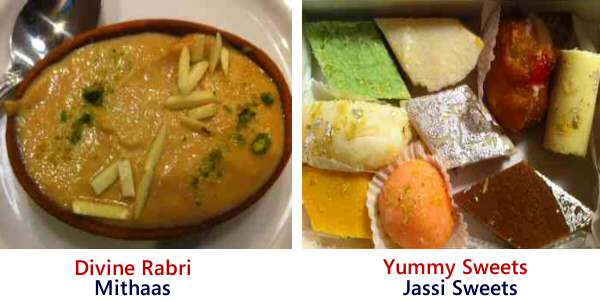 Mostly Dumps
A lot of these curry holes on Oak Tree Road are dumps, no better or no worse than those small Indian restaurants dotting the landscape of India.
But some Oak Tree Road Indian restaurants profess to offer a so-called 'fine dining' experiences.
Of course, if you ask us we'll say "fine dining Indian Restaurants" is a contradiction in terms.
For the words 'fine' or 'finesse' are not to be found in the Indian dictionary.
The origins of Oak Tree Road's fame as an Indian restaurant hub are hazy.
Most likely, it all started in the 1980s.
Probably, the first Indian businesses in the area were grocery stores selling Rice, Dal and spices and renting video cassettes of Bollywood films to immigrants.
And as these grocery stores drew people, restaurants sprouted there to cater to the cravings of the Indian clientele for desi food.
When the first Indian restaurant succeeded, other Indians quickly flocked to the area given the herd mentality of our people.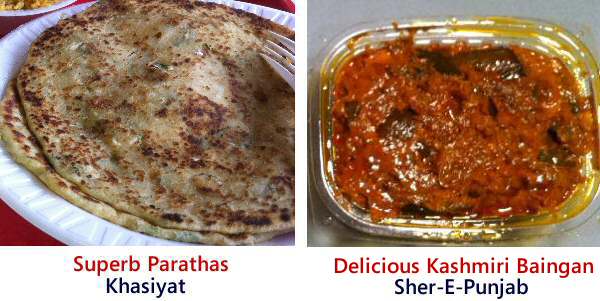 Mostly Indian Faces
Compared to Indian restaurants in other parts of New Jersey, the desi eating joints Oak Tree Road are patronized mostly by South Asians.
The main reason is that the whole Indian strip on Oak Tree Road has a dirty, unkempt look favored only by our people.
Filth may put off Americans but it makes Indians feel so at home. 😉
The only non-Indian faces you'll see at the Oak Tree Road Indian restaurants are those of 'Mexican Amigos' washing dishes or preparing Masala Dosa and Palak Paneer.
Or the White cops handing out traffic tickets in Iselin to Indians for illegal parking.
By the way, a lot of Indian restaurants in New Jersey now employ Mexicans, presumably because they're cheaper than Indians.
Since Mexicans know as much about Palak Paneer or Navratan Kormas as we do about Quesedillas or Tamales, you can well imagine the quality of food at a lot of Indian restaurants in the area.
Add to that our Indian amateur cooks and now you know what mediocrity means.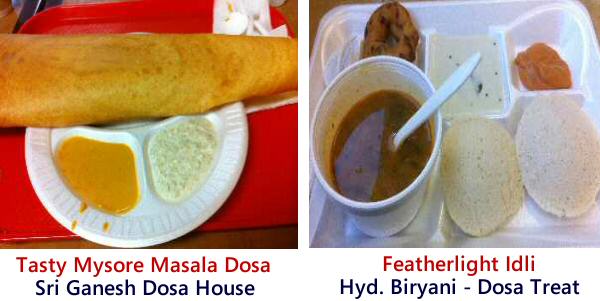 Telugu Invasion
While the earlier band of Indian restauranteurs in Edison or Iselin were mostly Gujaratis, Punjabis or other North Indians, things have changed lately.
What's happening now is the Telugu invasion.
Telugus are those unique specimens from the South Indian state of Andhra Pradesh who believe that life begins and ends with Dum Biryani and Avakaya pickle. And the only time Telugus orgasm is when Tollywood crazy Allu Arjun comes on the big screen and yells Champaestanu (I'll kill you). Really. 😉
A lot of Telugus made their money during the IT boom doing coding work for American corporations. Presumably, some of that software money is now going into the Dum Biryani business.
If you wake any New Jersey Telugu with over $250,000 in assets in the middle of the night you can be sure the first words he'll ejaculate is Dum Biryani, Dum Biryani!
For Telugus, Dum Biryani is the grand hope of riding the train to El Dorado just as information technology was a decade ago.
Based on our observation, we predict a lot of these Telugus will slit their wrists after losing their money because there's far too many Dum Biryani restaurants in New Jersey than can be supported by the dum desis.
Many Doomed to Fail
As Indian restaurants have extended their tentacles to other towns in New Jersey, Oak Tree Road's cachet and appeal for Indians has certainly diminished.
Even during weekends, we just don't see the large crowds that used to gather on Oak Tree Road Rd between Midddlesex Ave and Correja Ave. in the 1990s and up to 2003-2004.
The current recession has also taken a heavy toll with many Indians returning to Mera Bharat Mahaan after losing their jobs.
The savants at SI do not believe there's enough business potential for all the 56 Indian restaurants to thrive or even survive.
Several of them are likely to close over the next six months. We suspect a few are already on life-support.
Some have already changed their names in hopes of earning Goddess Lakshmi's blessings in their new avatar.
Fat chance!
Peering into our crystal ball, we predict at least three Indian vegetarian restaurants and a bunch of non-vegetarian Indian restaurants in the Oak Tree Road area will down their shutters in the not too distant future causing substantial losses for their owners.
Rents are high on Oak Tree Road and labor costs are not cheap considering the only thing every immigrant (legal or illegal) reads after coming to America is How to Sue Your Way to Prosperity and Early Retirement.
No, there's no guarantee that illegal Latino and Indian immigrants won't sue.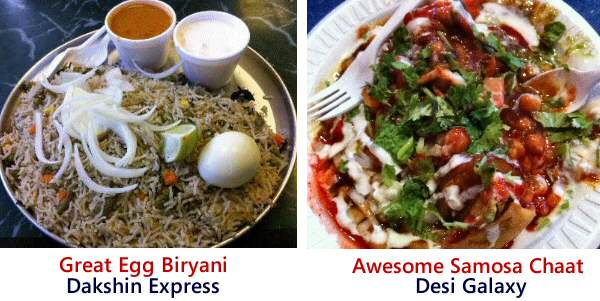 Indian Restaurants on Oak Tree Road, Iselin
Here's the list of Indian restaurants on Oak Tree Road and surrounding areas.
* Anjappar Express * Abhiruchi * Dosa Express * Ganesh Dosa House * Bombay Spice * Jalaram
* Bombay Talk II * Khasiyat * Urban Spice * Jassi Sweets * Noor Mahal * Shalimar Foodland
* Shalimar * Bombay Talk * Chowpatty * Raj Bhog * AliBaba * Shalimar Express
* Shahnawaz * Lovely Sweets * Quality Sweets * Rasoi II * Nanking * Sukhadia
* Volga * Country Oven
Flavor Junction Food Court (Kumar Soni Plaza)
* Calcutta Wok * Handi * ChatKaz * Toasty Paprika * Chandni Chowk
* Hyderabadi Biryani/Dosa Treat * Fruit & Flavors
Indian Restaurants on Oak Tree Road, Edison
* Saravanaa Bhavan * Moghul * Ming * Singas Pizza * Mithaas * Moghul Express
* Jhupdi * Paradise Biryani Pointe * Dakshin Express * India Palace * Mirchi * Shezwan
* Karaikudi Chettinad * Swagath * Khushboo * Sankalp * Chopstick * Sher-e-Punjab
* Kwality Ice Cream * Hot Breads * Desi Galaxy * Bombay Spice * Calcutta
If you include Rajdhani and Khyber Grill (on Oak Tree Avenue) as well, the Indian restaurant count goes up to 58.
And that surely is a lot of Dum Biryanis, Baingan Bartas, Palak Paneers, Samosa Chaats and Masala Dosas, enough to pave the New Jersey Turnpike/I95 from Edison to Miami.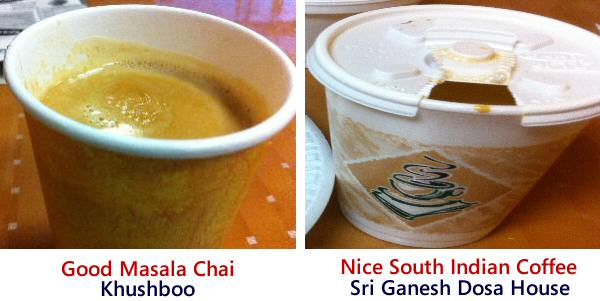 The opening of so many Indian restaurants on Oak Tree Road suggests not merely a herd mentality but also points to a poverty of ideas plaguing Indian entrepreneurs now.
Dum Biryani, Samosa Chaat and Tandoori Chicken may lift some Indian boats to prosperity but not all 56 desi boats. No way!
Just this month, six more Indian restaurants opened their doors in the Flavor Junction Food Court at the Kumar Soni Plaza in Iselin.
The $64,000 question now is which of these 56 Indian restaurants will kiss the dust first. Watch this space.
* Pictures of food (above) are from Oak Tree Road Indian Restaurants
Related Links:
Oak Tree Road, NJ Indian Restaurants