Ignore the rude service of the monkeys at the Desi Galaxy counter (1700 Sugar Tree Plaza, Oak Tree Road) in Edison, NJ.
Instead, focus your energies on the chaat, Indian street food.
Quick Bite on Oak Tree Road
The other day we were in a rush and wanted to grab a quick bite in Edison, NJ.
So, we headed into the new Desi Galaxy food court adjacent to Hot Breads and close to Apna Bazaar.
No, we did not order Paani Puri. Definitely not. 😉
At first we ordered plain Samosas but upon seeing someone's colorful plate of Samosa Chaat, we started drooling in a reflex action.
We quickly changed our order to Samosa Chaat.
The girl at the counter asked us, Spicy or Medium?
We meekly responded Medium.
Although, we were told by the girl that it'd take just 2-minutes, it took over 7 minutes for our Samosa Chaat to be ready.
We could see the girl inside chatting instead of chaating our Samosa. Since we were in a big hurry with little time to spare, we felt like throttling her simian neck but contented ourselves with silently abusing her with every known bad word in Hindi. 😉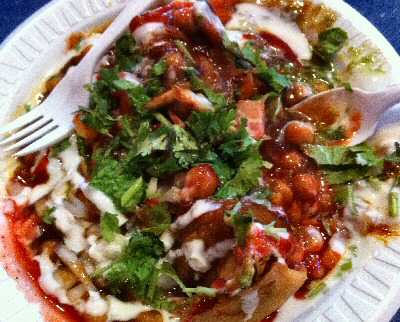 Finally, the lazy cow waddled back depositing our plate on the counter accompanied by a loud yell, Samosa Chaat.
Samosa Chaat included two piping hot medium size samosas, chopped onion, cilantro, green chilly, tamarind sauce, red chilly sauce and a dab of yogurt.
One spoon and we more than saw glimpses of heaven, we saw the celestial nymphs Rambha and Menaka.
After the second spoon, we wondered if medium spicy was so hot then how much hotter the Samosa Chaat would be if it were to be spicy?
We have a feeling that the lazy chatting cow made our Chaat spicy instead of making it medium spicy.
Consoling ourselves that Indian cows are made that way, we focused on our Samosa Chaat.
Its high spice level notwithstanding, the Samosa Chaat at Desi Galaxy was a delicious, yummy treat.
SearchIndia.com recommends this Indian street food at Desi Galaxy but make sure the idiots at the counter know the meaning of Medium Spicy.
Related Stories:
Oak Tree Road Indian Restaurant Reviews