Never underestimate the genetic propensity of Indians to inflict hideous torture on their fellow citizens.
The other day we made the godawful mistake of going to Karaikudi Chettinad on Oak Tree Road in Edison (NJ) and, man, it's a miracle we're still alive to tell y'all this sordid tale of woe, misery and suffering.
Folks, in the lengthy annals of horrible Indian restaurants in New Jersey, Karaikudi Chettinad occupies pride of place, an unbeatable position.
Auschwitz Meets Majdanek
Karaikudi Chettinad is Auschwitz meets Majdanek and where the Zyklon B pellets release their deadly cyanide gas the moment you step into its portals (no offense intended to the poor victims of the Nazi monsters).
Even by the standards of bad-ass desi restaurants, Karaikudi Chettinad stands out starkly for pimping out trashy, inedible garbage as Indian food.
Chettinad food is hot and spicy but, alas, what the Karaikudi Chettinad dickheads dish out is anything but. 🙁
Karaikudi Chettinad is to Indian and Chettinad food what that Kollywood actor Ajith is to acting. You get the point, don't ya?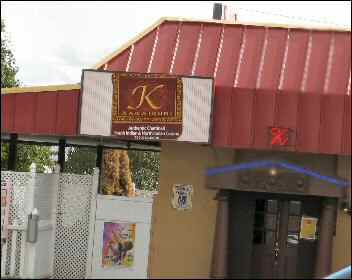 Kaatu Koodhi Chettinad – Tu, Tu, Tu
Spiceless Travesty
Damn, the food at Karaikudi Chettinad was a spiceless, bland monstrosity that is completely unworthy of being served to humans.
A complete ripoff.
Be it the flavorless pink-colored Chicken 65 (a commonplace appetizer), the soft Medhu Vadas, salty Tindora Pakodas, sour Achari Baingan, the inedible Vegetable Chettinad, spiceless Chicken Biryani, cold Chutneys or the disgustingly bad BisiBele Bath, Karaikudi Chettinad demonstrates again and again a kitchen staffed by baboons and completely at sea with even the most basic items.
Low on tamarind and low on Sambar flavor, the medium-thick lukewarm Drumstick Sambar was an abomination the likes of which you won't encounter in the horrid South Indian prisons.
Even the humble Cabbage Poriyal and Rasam turned out to be disasters. Poriyal had a raw taste while Rasam was a clear instance of mislabeling since the tamarind and pepper proportions (that provide the magic flavor to Rasam) were completely askew.
Karaikudi Chettinad Vegetable curry was easily the worst item of the day. Absolutely revolting! Red Chili Powder was carelessly flung into the medley of vegetables with no thought of proportion with the other ingredients. Predictably, the end result was a freakish, horrible taste in the mouth that  rippled through the whole body after just one spoon of this garbage.
Besides the disappointing Chicken Biryani, the other non-vegetarian items Gongura Chicken, Moily Meenu, Mutton Curry and Egg Korma too didn't find favor with us primarily because they were spiceless, flavorless perversities that had no business being served to any living creature.
Yogurt Rice was so watery that it should rightfully be called Butter-Milk Rice.
In despair, we silently rained down curses on these monsters and implored the Gods to mete out his most severe punishment to these charlatans.
Lousy Desserts
We wouldn't serve the restaurant's Mango Rava Kesari to swines. It was that bad.
Horrendous. That ghastly nonsense was low on sugar, low on ghee and obviously low on taste. And when the Mango Kesari was over, the cheap swines didn't care to replenish it on the buffet table.
Gajar Halwa was so liquidy that it could be drunk out of a glass. 🙁 And this dessert too was low on sugar and low on ghee.
We were not the only unhappy campers. Our neighbors (comprising of a troika of Indian young men) were visibly dissatisfied and voiced their displeasure to the bespectacled waiter who mumbled that the food during dinner was spicier.
Potential Food Contamination
The worst part was seeing several Indian diners, who were shoveling food into their mouths with all five fingers, taking their used plates to the buffet table for replenishment and the restaurant staff making not the slightest attempt to stop them or ask them to use fresh plates.
If perchance you come down with Herpes or some other deadly contagious disease, you know who may be responsible for the ugly pustulating sores on your dick.
Besides the awful food, this Karaikudi Chettinad dump is also notable for its glaring inattention to service. Our water glasses were not refilled and even after beseeching them for H2O we were made to wait for quite a while by the dark-skinned, bespectacled waiter. Our request for additional napkin also met a cold shoulder from the over-worked girl in the white shirt and black trousers.
An Abomination – Definitely Not for Humans
No ifs and buts, Humans shouldn't eat at Karaikudi Chettinad.
If there were a law against bad Indian restaurants, the owners and chefs of Karaikudi Chettinad in Edison (NJ) would be handed down multiple death sentences for their ineffable crimes against humanity.
This ugly shithole has no business being in business except some serial sadist disciple of Marquis de Sade decided to hone his skills on unsuspecting aficionados of Indian cuisine in New Jersey.
Guys, starve yourself to death if need be but steer clear of this Indian hellhole aka Karaikudi Chettinad masquerading as an Indian restaurant.
What was served to us in the guise of Karaikudi Chettinad cuisine was Kaatu Koodhi Chettinad food. As even the schmucks know, the difference between the two is enormous.
For those of you who have no inkling as to what Kaatu Koodhi Chettinad means, hesitate not to ask your Tamil-speaking friends. 😉
Other Chettinad Restaurants
Anjappar Chettinad NYC Review – Middling Fare, Don't Get Your Panties in a Twist