If you are willing to ignore the cheap ambiance of the place, if you are ready to hold your nose at the pissy odor emanating  from the corner where the Sambar vessel and plastic cups/spoons are kept and if you are prepared to eat out of flimsy plastic plates in a self-serve restaurant, Dosa Hut on Newark Ave in Jersey City will more than likely please you with its decent quality, low-priced food.
In any case, most of this hole-in-the-wall restaurant's customers are Indians, who are unlikely to be deterred by such 'minor irritants' like the smell of piss or ugly ambiance.
Let's face it.
If there's one thing these sweaty, stinking Indians are accustomed to from birth, it's the  smell of piss and shit. After all, Mera Mahaan Bharat – from Kashmir in the North to Kanyakumari in the South and from Kutch in the West to Kohima in the East – is really one vast piss-pot masquerading as a nation.
Right, na?
Hole in the Wall
As we strolled down the Indian strip on Newark Avenue in Jersey City the other day, we heard desperate bellowing from our stomach for some South Indian fare.
No sooner did we see the Dosa name on the board, than an adrenalin rush heaved us into this hole in the wall.
Although there are about 10 tables, Dosa Hut has the look and feel of a cheap takeout joint than a restaurant you'd want to go out on a date with your horny-as-hell, dark-skinned khem-cho Gujju girlfriend.
You go to the counter attached to the kitchen, pick up the dirty, curry-stained menu, order what you want, pay up and return to your table.
Soon as the food is ready, the pretty man-chester gal at the counter yells out the name of the item and you go and pick up the food on plastic plates.
Being in a gluttonous mood, we ordered and quickly fell upon a variety of items including Idli, Masala Dosa, Medhu Vada, Pongal, Chapati and several kinds of curries.
Now, hear our verdict: For the most part, the food at Dosa Hut found favor with us.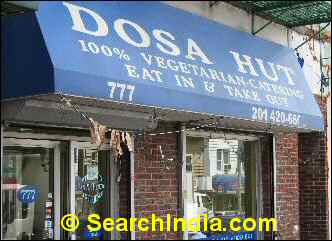 Pissy Odor but Fine Food
Masala Dosa – Any Time Treat
A monster of a Dosa, Ghee Masala Dosa ($5.50) took us down memory lane to the countless occasions we've had Ghee Roast (a.k.a. Ghee Masala Dosa) in the far corners of Tamil Nadu, the Dosa haven of India.
Crisp with a lot of potato/onion filling inside, Dosa Hut's flavorful Ghee Masala Dosa came with Ginger Chutney and Coconut Chutney. Both the Chutneys were fresh and tasty but we'd have definitely liked the Coconut Chutney a tad spicier.
Hey, when your clientele is mostly Indian shouldn't you be pandering to the fiery desi palates than genuflecting before effete American palates. Ditto with the potato/onion filling.
For the average niggardly desi bastard, the Ghee Masala Dosa alone would easily do for a meal. And a fine meal, it'd be.
From the Masala Dosa we meandered over to the Medhu Vada, which was evenly cooked/fried inside, crisp and yummy with the Chutneys or Sambar.
The drumstick, carrot, onion Sambar was medium-thick in texture and reasonably flavorful.
But why the f*ck has the restaurant banished the Sambar to a stinking corner where every malodorous, dirty Indian hand with Eczema can touch the serving spoon. Shows the restaurant doesn't think much of its Sambar.
Idlis – Tender as a Bayou Girl
Soft and tender as a Bayou belle's virginal bosom, our Pavlovian response at the sight of the Idli was to fasten our mouth to it. Lifting our head only for the occasional spoon of Ginger Chutney or Sambar, we delighted in the white oval object before us.
Sheer sextasy ecstasy, we tell ya. The Idli, we mean. 😉
Pongal, another South Indian treat, was yummilicious.
If the Idli reminded us of a Bayou belle, Pongal (another specialty from the South Indian state of Tamil Nadu) evoked a frisson of delight that shook our very soul. Think of those dark-skinned, plump, hot-as-hell Tamil babes in Mayavaram, Mannargudi, Thanjavur and the manifold pleasures they yield to the right touch.
Neither too pasty nor too dry, Dosa Hut's Pongal had the right texture and marched in with the twin attendants of Chilli Pickle and Moong Dal (seasoned with curry leaves and Cilantro). If only the restaurant had added a spoon of ghee and a little more pepper seeds, the Pongal would have been raised to the heavenly class.
Rasam – Hotter than Scarlett Johansson
Hey, we're no strangers to extending our tongue anaconda-like into all kinds of hot nooks and crevices. 😉
But seldom has our tongue encountered such a hot, spicy and delicious liquid.
More fire to our libido. Hot (we mean spicy here not what you think, naughty) and slightly tangy, every spoon was sheer Nirvana.
Who needs the spicy Scarlett Johansson when spicier delights abound.
Baingan Curry- Unlike Any Other
With a thick texture, a reddish-brown hue, Dosa Hut's Baingan Curry is drool-worthy stuff.
Lovely to behold, and lovelier to taste.
Spicy, thick, tangy and heavenly with both Chapati and Basmati rice, the mere thought of it has us salivating.
Disappointing Desserts
Along with the so-so Channa Curry, the other big disappointment of our meal was the Rava Kesari.
A stunning act of cruelty and bearing a weird, reddish-pink color (why couldn't it at least have been the violet of Hit-Girl's hair  in the final fight scenes of Kick Ass), Dosa Hut's Rava Kesari was low on ghee, low on sugar and low on the chef's attention.
Ass*ole, stop chatting with customers about when you returned from India or wherever and focus on the cooking.  We're paying for the food, not to listen to your blabbering about your trip.
Note to NJ Tax Authorities
Will the tax-starved New Jersey state  officials note that this restaurant doesn't give out proper receipts.
We had a hard time getting a receipt from our man-chester gal at the counter and had to ask thrice. And even that crappy receipt was incomplete (our nice Coffee never made it into the receipt). 🙁
No, we didn't see any of the other customers getting a receipt either.
Hey, we recommend that the schmucks in the New Jersey tax department audit all the stores on Newark Avenue. Seriously.
Value for Money
All in all, its urinary odor in the corner notwithstanding we'd say Dosa Hut is value for money.
We were at Dosa Hut for about 35-40 minutes and couldn't help noticing the steady stream of customers (both dine-in and take out) attesting to the restaurant's popularity even as some of its Indian competitors wore a forlorn look.
Folks, ignore the smell of piss in the corner and take no heed of the dirty ambiance. Just enjoy the delicious South Indian fare at this fine Indian restaurant on Newark Avenue in Jersey City.
Singing Hosannas to Dosa Hut and at piss peace with the world, we stepped out on to Newark Avenue with a promise to return to this Jersey City Indian piss-pot restaurant soon.