As sure as night follows day, if the food at an Indian restaurant in the U.S. is not bad then you can be certain that the service will be Myir-Pudungi (rotten).
Yes, go ahead and bet your balls bails on that. You're on a strong wicket here. No need for any match fixing. 😉
We stumbled upon the existence of Myilai Masala when we were searching for something else in Hamilton, NJ.
Never one to say no to South Indian food, we jumped at the opportunity to gorge ourselves and headed there as soon as we could.
By the way, Myilai Masala is a vegetarian restaurant for those of you who abhor meat.
Alas, whatever solace we got from the food at Myilai Masala, the Myir Pudungi service more than wiped it out. 🙁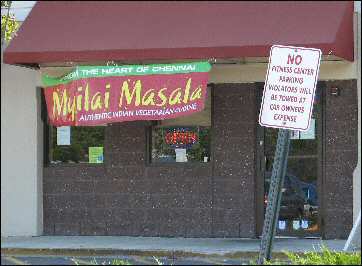 Myilai Masala = Myir-Pudungi Service + OK Food
Heavenly Rasam, Divine Beetroot Halwa
If there is a restaurant anywhere in the world that makes Rasam or Beetroot Halwa as delicious as what the Myilai Masala guys churn out, we haven't heard of it or tasted it yet.
Folks, what these Myir-Pudungi oops Myilai Masala guys make is ambrosia masquerading as Beetroot Halwa and Rasam.
Simply Divine. So good, we had two cups of each.
Sour, pungent and very flavorful, Myilai Masala's Rasam is the ne plus ultra of Rasams in the world. No kidding, guys. A must try item.
To eat Myilai's exemplary Beetroot Halwa with cashew pieces is only for those blessed souls like us. Nirvana!
And in the three different varieties of Chutneys (ginger, coconut and tomato), we glimpsed the very heavens.
Who needs Aishwarya Rai or Jennifer Lawrence with such spicy and yummy Chutneys in front of you.
Sadly, the Sambar fell short, being low on Tamarind and the spices that go into it.
The edges of the Idli were dry although the center was alright.
Alu Bonda was a disappointment with a thick crust and a disproportionately hot potato filling inside.
Mushroom Masala in a thick medium sauce was delicious as was the slightly sweetish Mixed Vegetable Curry.
Poriyal was a little on the bland side but still palatable while Avial turned out to be a little watery and had more Turmeric Powder than warranted.
Rice – Not Fit for Dogs
As for the White Rice, we wouldn't feed this cheap-tasting and sick-looking thing to the Paki dogs.
Bell-Pepper Rice was flavorful but the rice quality was not even mongrel-quality.
Yogurt Rice (or Thayir Sadham as the Tamils refer to it) became Myir Sadham thanks to the poor-quality rice.
Fine Butter Naan, So-So Masala Dosa, Awful Pongal
In what appears to be a good deal, the lunch buffet ($8.95) includes Butter Naan and Masala Dosa.
Our Butter Naan was soft and came hot to the table.
But the medium-size Masala Dosa was not a big hit with us although the onion-potato filling inside was alright. You see, the Dosa was not crisp and had a slightly rubbery texture. Still, given the out-of-the-world Chutneys we managed to polish off the Dosa.
Although touted as Ghee Pongal, the dry Pongal showed absolutely no evidence that any ghee had been brought anywhere in a 5-mile radius to the rice let alone used in the preparation. At $5.50, it was a total rip-off. Stay far from it.
Sooper Butter-Milk, Sori Kapi
Folks, the medium-thick butter-milk with ginger, green chili, cilantro and curry leaf seasoning is yet another reason for you to visit Myilai Masala. Mind-blowingly good!
Now, we're looking for the moron who made our South Indian Coffee so that we can string him up by the cojones and apply a hot soldering iron to the sensitive parts. With nary a Coffee flavor because of the weak decoction, it rightly deserves the appellation bilge-water. Mercifully, we were not charged for it.
Myir-Pudungi Service
If the food was overall not bad, the service at Myilai Masala was nothing short of Myir-Pudungi bad.
The Indian waiter Korangu (monkey) and the  bespectacled Colombian waitress in the dining hall were both completely unschooled in the basics of service.
There were diners taking their half-finished plates back to the buffet table to replenish it and the Indian retard kept silent. Worse, one of the dining offenders, a pitch-black fella as dark as the inside of a chimney and obviously a South Indian, was eating with his bare hands after mixing the rice on the plate.
Given the weird habits of some South Indian men, for our Korangu not to ask the offender to take a fresh plate to the buffet table was an egregious sin and a demonstration of wanton disregard for basic hygiene. 🙁
A Caucasian woman diner sitting near the cash counter also took her eating plate to the buffet table and again the wait-staff in the dining room blissfully ignored it.
And the Korangu did not care to include a plastic plate/spoon and napkin with our takeout order. The bozo also forgot to charge us for the Coffee (no, since we're cheapo desis we didn't remind him).
If we were Suresh, the owner of Myir-Pudungi Masala oops Myilai Masala, we'd first whip ourselves black and blue and then go down on our knees and beg forgiveness from diners wronged by such poor hygiene practices at his restaurant.
For the better part of our meal, the Colombian waitress kept herself in a corner wiping the white eating plates. When waddling by, she picked up our unfinished plate, did not care to remove the finished plates and couldn't be bothered to fill our water-glasses.
With all its inadequacies, the lunch buffet ($8.95) at Myilai Masala is still not a bad deal for vegetarians. That is, if you are willing to ignore the nasty hygiene practices that Suresh's minions turn a Nelson's eye to.
**************
N.B: For the precise meaning of Myir Pudungi, please consult your Tamil-speaking friends. 😉