From the shapely bottom, curvilicious figure and perky tits of our pretty desi waitress encased in tight, faded blue jeans and dark blue T-shirt to the lip-smacking Rasam, sui generis Avial and sweet delight Payasam, there was a lot we liked about Sukh Sagar Indian restaurant on Stelton Road in Piscataway (New Jersey).
Sure, there were also some things we disliked about Sukh Sagar like the lousy Samosa or the blithering idiot Srinivas Poojari (manager/owner??) who blabbered proudly that since Rasmalais are made locally i.e. on the premise, they add less sugar.
What did you say, moron? You add less than required sugar to the desserts because you make them on the premises. Are you a complete retard? Srinivas, please do not respond because that's a rhetorical question.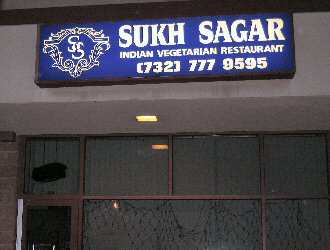 In a gloomy mood after our Kambakkht 'sick garbage' Ishq mishap, we were craving some relief for all our senses.
As we stepped into the Sukh Sagar restaurant and our sights fell on the desi waitress, we felt like breaking into the Eureka song a la Chiranjeevi in the Telugu film Abhilasha.
Alas, restraint is our first, middle and last name. So we quietly fastened our derriere to the chair and turned our attention from the dark damsel to the menu card.
All ye carnivores, pay heed. Sukh Sagar is a vegetarian restaurant with mostly South Indian items. So if you have any notions of crunching into the ugly red-colored Tandoori Chicken that's a staple of most NJ Indian restaurants, banish all such heretical thoughts here.
No sooner were we seated than we were offered a small cup of Rasam and fried Pappad (to our irritation, not properly fried).
Hot, spicy and tangy, our only complaint with the cup of Rasam was the limited quantity.
Hailing from South India, we tend to exhibit Pavlovian drooling and heavy breathing when we espy Dosa, Idli or Vada on the menu.
Breathless by now, we gave free rein to our palate and wandered across the vast prairie of Sukh Sagar's 'Pure Vegetarian Indian Cuisine.'
Vada, Mysore Masala Dosa, Idli, Pongal, Avial, Kootu, Mysore Bonda, Samosa, Vegetable Pulav, Channa Masala, Payasam…no folks, we are not reciting from the menu. Merely describing some of what we ingested at Sukh Sagar.
Weightless Idlis
These guys are pros at Idli, Vada, Kootu and Avial.
The weightless Idlis and crisp Vadas dipped in Sambar transported us to a different world, a bliss-filled world peopled only with darlings like Ingrid Bergman, Humphrey Bogart, Tabu, Julia Roberts and Vimala Raman (no shaitans like Abhishek Bachchan or Bollywood's new King of Garbage Akshay Kumar here).
Avial was heavenly with the Pulka and Plain Rice. Hey, the Avial made even the Pongal (a little short of pepper) taste good.
Indian restaurants here mostly tend to treat the Channa Masala curry in a cavalier fashion. But not at the Sukh Sagar. It was not only spicy but tasty too.
Surely, the phrase hog like a pig was coined with us in mind.
The outer shell of the Vegetable Cutlet was softer than it should have been but the Mysore Bonda was crisp and well-cooked unlike the Samosa.
Disappointing Dosa
Schade, Mysore Masala Dosa was a bit of a disappointment and turned out just about average.
Although the potato/onion filling inside and the brinjal Sambar were alright, the nirvana-inducing flavor of a nice Dosa was missing. The Masala paste was not well spread across the Dosa. Plus the coconut chutney was bland.
Just not worth $7.99. No. No. No.
Complete Disaster
Samosa was a half-cooked disaster from a half-baked cook.
Plain awful.
We can tolerate it if an item doesn't taste good but serving an incompletely cooked Samosa is beyond the pale. A disgrace.
Stick to South Indian fare, you schmucks. Money doesn't grow on trees that we have to put up with such crap.
You Call this Rasmalai
What got our goat was the Rasmalai.
Having been promised by our waiter Srinivas that the Rasmalai was fresh, we ordered it pronto and with mucho anticipation awaited its landing on our table.
When the Rasmalai came, we fell upon it like a pride of lions devouring a wildebeest after an exhausting chase.
But after the first bite, it was not a sigh of pleasure but a string of silent invectives like Motherf&*#er and Assho*e that came out. You see, the swines had made a cardinal mistake of not adding enough sugar.
Of course, being the quiet sort we restrained ourselves. But then what would the world be without idiots, right? There came the local yokel Srinivas Poojari again with that smug grin, which is the unmistakable trademark of dummkopfs worldwide, and asked us in a cocky manner about the Rasmalai. We politely told him it was lacking in sugar. Upon which this nitwit knocked the wind out of our sails by boasting that since Rasmalai was prepared in-house it contained less sugar!
Although aghast over the response, we consoled ourselves that this bald coot was most likely bald inside his head too. Maybe, the fella felt bad and could sense us hurling abuses at him in our mind. He returned with another cup of Rasmalai on which he had attempted some alchemy. It was better, but only slightly so.
But the Payasam amply made up for the disgraceful Rasmalai.
With just the right thickness of the milk, right amount of sugar and neither too warm nor too tepid, it was a sweet triumph and we felt like giving Srinivas a peck on his cheek (our pretty waitress had left by this time).
As for the ambience at Sukh Sagar, the only 'wall-paper' pretty here is the wait staff. 😉
Its few slips aside, all in all Sukh Sagar is a decent South Indian vegetarian restaurant in New Jersey that offers diners more sukh than dukh.