On the road in the U.S. means discovering a few good, some not-so-good and many ugly Indian restaurants.
Lunching at Mantra, one of those not-so-good Indian restaurants in Paramus, NJ.
Borrowing a page from Bollywood movies, Indian restaurants in the U.S. fail at the most basic level – Unclean plates, slipping over common curries and desserts and poor service are the norm and not the exception.
Will somebody please tell the Mantra clowns to keep some clean plates and to not yank our plates away before we finish our dosa. We are referring to the dark schmuck (from Hyderabad?) wearing glasses.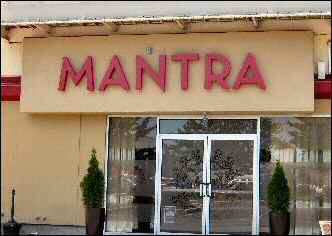 And they are playing the song Masakali. from Delhi 6 featuring our bete noire Abhishek Bachchan.
Fortunately, Masakali is one of the better songs in Delhi 6 and a distraction from Mantra's lousy Chicken Jalfraize and lousier Sambar.
Full review coming later.
Update:
Some months ago, perhaps when there was still some snow on the ground, we'd called Mantra to ask about their hours and to our amazement the person who answered the phone responded in a civil, polite way.
To say we were astonished and baffled would be an understatement because Indian restaurants in the U.S. are notorious for their bad manners on the phone, particularly when it comes to talking to desis.
Delighted to find such a pleasant voice on the phone, we made a resolution that we must visit Mantra.
And that we did recently.
Alas, Mantra's dining room (both the food and service) proved to be less endearing than that anonymous voice over the phone.
No, dear reader, we wouldn't recommend this place to you.
Mostly Unimpressive
We sampled a variety of items at Mantra, both vegetarian and non-vegetarian.
Diwani Handi was a oily, soggy mess and, worse, tasted weird.
While the Dosa was crisp, neither the Sambar nor the potato curry were anything to write home about, thus robbing the pleasure of the Dosa.
The onion-capsicum Sambar was way to watery and tasted more like Dal.
Bhindi Masala was far too sour than required.
By this time, we were left to wonder why Indian restaurants have such trouble with commonplace items. Likely because the chefs in the kitchen are untrained amateurs.
Luckily, Dal Bukara turned out to be a welcome surprise. Dal gets short shrift at most places we visit and we were happy that Mantra treated this staple Indian dish with respect.
Hey, if you do happen to visit Mantra do try their Naan Bread – soft, hot and very tasty.
On the meat side too, we didn't feel that Mantra distinguished itself.
Chicken Jalfraize was a complete letdown as it was not in the least bit spicy.
Tandoori Chicken was the usual, tasteless unimpressive rubbish. Given that this is a fixture at 99% of Indian restaurants here, it's a surprise that few get it right. Most of the time, the problem is in the poor marination.
Mercifully, the Chicken Makhani turned out to be flavorful although not exemplary.
Like a lot of Indian restaurants in the U.S., Mantra appears to be guilty of a cardinal sin – Dumbing down the spices in the curries to pander to weak American palates.
Desserts
Carrot Halwa, an inevitable fixture of Indian restaurants in the states, turned out to be disappointing as the sugar-ghee proportion had gone awry.
Fortunately, the flavorful Rasmalai made up for the disappointing Carrot Halwa.
By the way, the Mango Lassi was good but felt it was not worth $6 for the quantity.
Service, What?
Service is wanting at Mantra. Nobody cared to find out if we needed anything.
A retard tried to yank the Dosa plate off our table before we were finished.
And some of the plates were not clean and had black spots on them suggesting an indifference to basic cleanliness.
They never refilled our water glasses although they removed our plates.
While we got shafted, our dark waiter (likely, a Telugu from the South Indian state of Andhra Pradesh) was lavishing his attention on a Caucasian lady seated by the glass wall that looks into the side parking lot.
All in all, our visit to Mantra was not the joy-filled experience that we'd anticipated it to be.