Just like some humans monsters (think Hitler, think Stalin, think Narendra Modi and think all Republicans) should never have been born, some New Jersey Indian restaurants dumpsters like Sankalp Edison should never have seen the light of the day.
Folks, if you think Sankalp in South Plainfield is bad then Sankalp Green South Indian vegetarian on Oak Tree Road in Edison is a million times worse.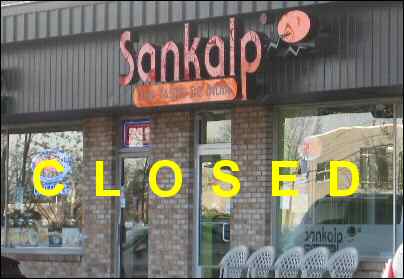 Trashy South Indian Food – Not for Humans

Sankalp Edison – Taste of Garbage
Simply put, the Sankalp bozos at the Edison outpost can't cook. Not if their life depended on it.
Must be our bad Karma that dragged us to this fake South Indian restaurant the other day.
We were born and grew up in South India and if we know anything at all in life it's South Indian food.
And what Sankalp Edison serves is not South Indian food. Not by a long mile.
Stones or Bullets
In several decades of eating South Indian food not once have we come across such a hard Medhu Vada. A complete textural catastrophe.
Sankalp's Medhu Vadas were so hard they could easily be substituted for stones in New Jersey construction sites or cut into small pieces and used as bullets against the Taliban in Afghanistan. Seriously.
All three Chutneys (Coconut, Mint and Garlic) were ice-cold attesting to Sankalp's lazy staff who can't be bothered to make fresh Chutneys for paying customers. Coconut and Mint Chutneys were completely flavorless and no restaurant with any self-respect would place such garbage before diners. Although irritatingly cold, Garlic Chutney was at least flavorful.
The medium-thick Sambar with red chili powder floating on top was plain awful and showed no evidence of any tamarind being added to it.
Served in small porcelain cups, Rasam was one of the few saving graces of this trashy restaurant. It was so good that we asked for a second cup.
Bad Dosa at Sankalp Edison – Call the Cops?
Even die hard aficionados of Dosas would be put off by Sankalp's Mysore Chatpata Dosa.
It was so horrible that we were strongly tempted to call the cops and lodge a complaint against Sankalp for blatant cheating.
Dosa was not crisp, not flavorful, the masala paste inside not spicy and the onion-potato filling inside was low on chillies. In short, it was NOT a Dosa.
Adding to our anger, the Dosa plate was dirty with black spots.
Idlis were large and hot but again hard and came with a raw smell and taste.
The clowns at Sankalp Edison got us our lukewarm, not-fresh Ginger Tea before the Dosa!
More Misery at Sankalp Edison
Sankalp's sadistic swines played a cruel joke upon poor us with our order of Bisi Bela Huli Anna (a popular dish from the South Indian state of Karnataka).
What we got was a watery Sambar Rice that was not only unpalatable but also inedible. No evidence of Toor Dal, Dhania, Cloves, Cinnamon, Peanuts and Ghee in the Bisi Bele Huli Anna.
Kesary dessert was completely lacking in Kesari powder and a trifle over-sweet.
Service was below par. Although there were few diners our empty plates piled up with no one to take them away. Finally, we deposited them on an adjacent table.
No, Hell No
Folks, stay away from this Sankalp Edison torture hole unless you love getting ripped off and unless you want to taste fake South Indian food.
These Sankalp Edison fellas are clueless buffoons who have no business being in the restaurant business. The only thing these dodos are good at is launching a fusillade against your taste buds.
No sir, we wouldn't in the least be surprised to see chimps manning the stoves in the restaurant's kitchen.
Bottom line, Sankalp Edison vegetarian is certainly not for humans.
Related Stories:
Sankalp in South Plainfield, NJ