Never have our lips touched such Rasam.
It's snowing outside…here we are drinking the acme of Tomato Rasams at Swagath (Oak Tree Rd), Edison, NJ 08820.
Hot & Tangy & Spicy – ah, sheer Nirvana. Just right for this cold weather too.
We must have done a lot of good deeds to deserve this. All good Karma.
Yes, the Delicious Rasam was on the house.
Only Vegetarian Fare
We were famished after the long drive and the Rasam whetted our appetite for the food (all ye carnivores, take note that Swagath is a vegetarian restaurant).
Usually adventurous in our choice of Indian restaurants, this time we did not want to explore around given the terrible weather. Since we'd had a positive experience earlier at Swagath (located in the Sugartree Plaza strip mall on Oak Tree Road adjacent to Apna Bazaar and close to the Movie City theatre that screens Bollywood movies), we decided to drop anchor there.
When we walked in around 2:45PM, there were not many people around (blame the weather).
We quickly placed our order with the amigo waiter, who brought us the Rasam along with the menu.
As we were enjoying the non pareil Rasam, the food arrived (fairly quickly).
Yes, we let our palates roam freely across a vast prairie of items ranging from Idli, Medhu Vada, Masala Dosa, Poori, Channa Masala, Methi Curry and more.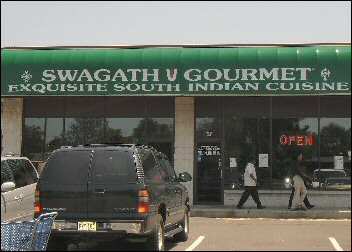 Even by our demanding standards, there was little to complain about the Idli, Medhu Vada and the Mysore Masala Dosa.
The Idli was hot and soft, and the Vada crisp and hot. Both tasted yummy with the accompanying Onion Sambar.
Althought the Coconut Chutney tasted fresh, it was lacking a bit in green chillies. During our earlier visit too a few years back, we'd found that the Chutney could have been a tad spicier. It seems like some things don't change in life, ever.
At $5.75, the Mysore Masala Dosa at Swagath is not as expensive as at other places in New Jersey and New York.
We had no complaints with the Mysore Masala Dosa either, except for the issue with Chutney we mentioned earlier. Crisp, hot and with a spicy potato filling inside, Swagath's Mysore Masala Dosa was simply delicious.
At $10.95, the Thali was a  little expensive. It came with Plain Rice, one Poori, Channa Masala, Methi Curry, Kootu (Onion, Carrot and Black Channa), two Pappadums, Plain Yoghurt and Payasam. Alas, our plate did not include pickle, which usually comes with a Thali. The pickle would have been a nice accompaniment to Yoghurt Rice.
Again, all the items in our Thali were done well, boldly spiced for daring Indian palates, not to placate effete American palates and attested to a competent chef in Swagath's kitchen unlike at most Indian restaurants in New Jersey.
If ever a Thali deserves to be described as an embarras de richesse, it is the Swagath offering.
Besides our dine-in items, we also ordered a few Masala Vadas ($4.50) as takeout. Two of the Masala Vadas had a surfeit of salt suggesting some carelessness in mixing the paste before frying.
Decent Service
Service is decent at Swagath. Our amigo waiter was prompt in getting us our food, cleaning the table and getting the check.
Swagath's co-founder Murali, an Iyengar hailing from Mysore, came and chatted with us for a few minutes. A friendly fellow who seems to know his way around the food business, Murali seems like a rara avis in the Indian restaurant business here.
We rounded off our meal with a cup of fine South Indian Coffee (expensive at $2.50 for the small cup).
Its minor blemishes aside, Swagath is one of the very few Indian restaurants in New Jersey we'd love to visit again.