By God, where did this weirdo spring from?
Who? Who?
Oh, we're talking of this desi nut case we encountered (hey, we mean American encounter, not the Indian style dishoom-dishoom encounter) the other day.
Fella said his name was Sunny Chugh and claimed to be the owner of Palace of Jaipur Indian restaurant on Hamilton Blvd in South Plainfield, NJ.
Folks, this desi is off his rocker. Completely.
Take a look at Sunny's many quirks:
Oye, this crank has the audacity to provide diners delicious Indian food.

Oye, this insolent fella has the nerve to offer diners pleasing service.

Oye, this impudent man has the temerity to give diners value for money.

Oye, this oddball has the cheek to treat desi diners (not just Goras) with courtesy.
What in the world is wrong with Sunny Chugh?
Sunny Chugh must be taught a hard lesson for his 'sins.'
Yes, we must all sing paeans to Sunny and visit his fine Indian restaurant Palace of Jaipur as often as possible. 🙂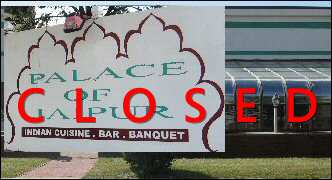 Fine Food; Pleasing Service
Glorious Discovery
Folks, there's nothing we lust for in life as much as Indian food, that apart, of course. 😉
Rumor in these parts has it that the mere smell of curry is enough to make us come (no, we can't confirm or deny the existence of those wet stains on our attire).
But few Indian restaurants in New Jersey satisfy us. Coz they are usually charlatans like most Bollywood 'movies' that are movies in name only.
Invariably, we enter an Indian restaurant famished and exit with hunger gnawing at our bellies.
Sunny Chugh and Palace of Jaipur break away from the pack and dare to go where few restaurateurs and Indian restaurants in New Jersey have ventured before – they provide quality Indian food with pleasing service.
For the last two or three years, we'd been seeing the Palace of Jaipur hoarding as we drove down RT 287 North but never once thought of stopping by. Must be our bad Karma.
Finally, we took the plunge this Friday.
And we attained Nirvana.
Temple of Indian Food
Guys, Palace of Jaipur is not just another Indian restaurant.
It's a temple with fine Indian cuisine as the presiding deity.
From the mouthwateringly delicious Chicken Hariyali Kebab to the spicy Vegetable Pakoras to the sui generis tender Lamb Do Piaza to the yummy Chicken Tikka Masala, Palace of Jaipur seems to excel in whatever (well, almost all items) it lays before diners.
Overwhelmed with joy, we burrowed into our plates heaped with an assortment of Tandoori grill items including Chicken Hariyali Kebab, Tandoori Chicken and the humble Chicken Kebab.
Never has a more succulent Hariyali Kebab touched our lips.
Richly marinated in what must be a fine paste of onions, garlic, ginger, coriander leaves and green chillies, these Kebabs were beyond reproach.
The gold standard, if you ask us.
Tandoori Chicken is virtually inedible at most Indian restaurants in the U.S. Often hard, occasionally burnt, they afford us little joy. Again, the folks at Palace of Jaipur break free from the crowd in their well marinated, juicy chunks of Tandoori Chicken.
If you are a herbivore, nothing to fret either. These guys are equally adept when it comes to pandering to your vegetarian taste-buds too.
Palace of Jaipur's Methi Malai Mutter in a thick gravy with fresh Naan is the kind of stuff that wars are fought over not Helen of Troy or non-existent WMD.
The dry Aloo Beans Curry and the spicy Mushroom Chilli Fry were equally impressive.
Now, now, let's not go overboard, shall we.
Tomato Soup was less than ordinary with a Campbell flavor and the Egg Fried Rice wouldn't get a C grade out of us even if Sunny genuflected before us.
But these are trivial complaints amid the lavish flavors the restaurants bestowed on our palates.
Just Desserts
We fell upon our Rasmalai and Gulab Jamun like starving Biharis digging into their meagre rice morsels.
Set in a flavorful and sweet milky liquid with a sprinkling of pistachio powder, the paneer balls were a divine concoction. No way, mortal hands can turn out such delights.
Gulab Jamun with the warm sweet syrup and the fruit cocktail (flavored custard milk with variety of fruits) set us off on an exhilarating journey.
Gajar Halwa wasn't bad but nothing to write home about either. It was a little low on ghee and a bit watery.
Great Value
We went for the buffet on a week day – $8.95 for 1 appetizer, 4 veg items, 3 non-veg, 4 desserts, soup, two rice items, Naan, Chutney bar and Pappad.
If that's not remarkable value for money, pray tell us what is.
On weekends, the buffet goes up to $10.95 but presumably more items are included.
Nice Service Too
Indian restaurants are notoriously hopeless when it comes to service and usually treat desis with contempt.
Here too, Palace of Jaipur veers away from the herd.
To our immense delight, polite service accompanied the fine vegetarian and non-vegetarian food.
A rare trifecta, na?
Our Guatemalan waiter smiled (has anyone ever seen a waiter smile in an Indian restaurant in the U.S.?) and filled our water glasses, got us hot Naan bread, cleaned our table off the used plates, all promptly.
Most Indians, unlike Americans, generally do not like ice in their water. We were pleased to note that our water glasses contained no ice. Another nice touch, eh.
Lo, even the owner Sunny Chugh came over to our table and inquired about the food.
The dark-complexioned native of Delhi, who seemed to be in his late 50s, told us he took over Palace of Jaipur three years back but apparently the restaurant had been in business for two years prior to his entry.
Being inquisitive souls, we couldn't but help ask Sunny the secret of his success.
Crediting his chef, Sunny claimed he was paying him $1,400 per week when other Indian restaurants paid their chefs a mere $700 a week (hello, Palace of Jaipur chef, if this is not true now's the time to grab your boss  by his cojones and ask for a raise).
But the restaurant is hot, particularly in the glass enclosed patio. Is Sunny skimping on the AC to cut costs?
Better Than Nearby Tawa
Guys, unless you are complete retards, have taken a vow of abstinence from worldly pleasures or simply determined to punish yourself, you'll make Palace of Jaipur your next port of call for Indian food in South Plainfield, NJ.
The standout food and courteous service at Palace of Jaipur makes it a far superior restaurant compared to the nearby Tawa (been there for dine-in and ordered delivery as well).
We'll take Palace of Jaipur over Tawa any day. Absolutely.
Hey, we're counting the days until our next trip to Palace of Jaipur.
Bravo, Sunny! May your tribe increase.