(Via iPhone)
If you see a reduction in number of blog posts on SI or a delay in processing your comments, blame it on the dirty swines at Sapthagiri restaurant in Jersey City in New Jersey.
Dirty plates, dirty coffee glasses.
Sick f*cks.
If we fall sick, you know who is responsible.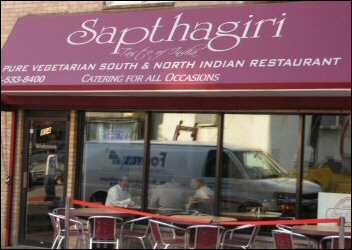 Folks, if you can stomach lots of dirty eating plates and dirty coffee glases, your stomach will love the weekend breakfast buffet at Sapthagiri on Newark Ave in Jersey City.
We're still at the restaurant gorging on Rava Kesari dessert.
Full review coming later today.
Update:
Revisiting Sapthagiri
It had been over 18 months since we last visited Sapthagiri and we thought it time to check in again on the food there.
Another reason whetting our appetite was news of the weekend South Indian breakfast buffet ($6.49) at the restaurant.
When we walked in this morning, there were already 8 or 9 desis digging into their Idli, Medhu Vada and Pongal with gusto.
A good sign because while it's easy to pull the wool over Americans when it comes to Indian food it's harder to fool the desis.
No Dosas at Sapthagiri Buffet
A lot of Indian restaurants in the U.S. serve hot Dosas directly to the table as part of the buffets.
But not Sapthagiri.
No Dosas in this South Indian breakfast buffet.
So if Dosa is what sends you into a drooling fit, then you're bound to be disappointed with Sapthagiri's breakfast buffet.
But there are other compensations by way of Masala Idli, Kanchipuram Idli, Plain Idli, Pongal, Medhu Vada, Poori and Alu Sagu.
The thick Masala Idlis and Kanchipuram Idlis were fine and gave no room for complaint.
There were several varieties of Chutney – Ginger, Tomato, Peanut and Coconut. They were all flavorful although we'd have liked our Chutneys a tad spicier.
Mulagai Podi (Kara Podi) kept in a bowl near the Chutneys turned out to be a nice accompaniment to the Idlis but there was no oil to go with the Podi.
Medhu Vadas were too small, not the regular-sized ones. But since it's an all-you-can-eat buffet, who's complaining. The Vadas were crisp, uniformly cooked inside and tasty.
The regular Idlis came as we were finishing. They are not in the Saravanaa Bhavan class but good enough.
The medium-thick drumstick-pumpkin Sambar was a bit of a disappointment since it was not spicy enough by Indian standards.
Time for Pongal
Venn Pongal is a favorite South Indian item.
Like flies to a light, we're drawn to it.
Sapthagiri's Pongal was thick and seasoned with curry leaves. While it was tasty, we wouldn't put it in the extraordinary category. A little more pepper might have done the trick.
Poori Time Now
Our buffet included Pooris and Alu Sagu.
The small Pooris and the delicious Alu Sagu were yummy. No room for complaint (by this time, there was no room in our cavernous stomach as well).
Just One Dessert
For desserts, there was just one item – Rava Kesari.
Neither too sweet nor too oily, Sapthagiri's Rava Kesari with cut almond pieces sprinkled on top were so nice that we had two helpings. Really.
We wouldn't put any of the items in the excellent category but for the most part we got decent food.
Poor Hygiene
But what got our goat was the lack of attention to basic hygiene.
During visits to the buffet table, we couldn't help but notice the small eating plates kept for diners were dirty.
Several of the steel plates had what seemed like food particles sticking to them suggesting gross carelessness in cleaning them.
We don't know about you but when we go to a restaurant we're not keen on sampling the leftovers of the previous diner.
Most likely the employees noticed us looking at the dirty plates because after we sat down one of the staff (the dark-skinned, white-shirt wearing fellow with the goatee-like beard or was it the 'Rap Industry Standard' beard) went over to the buffet table and after checking the plates removed a whole bunch of them.
WTF was the baboon doing earlier? Jerking off? Shouldn't he have checked that the dining plates were clean. Seems like a must-do for us but obviously not for the Sapthagiri clowns.
The steel coffee glasses had a dark brown stain at the bottom and on the sides.
WTF is the restaurant doing? Just counting the dollars?
Besides the inattention to hygiene, service has slipped considerably at Sapthagiri since our last visit.
There were no glasses – not even a single one – near the Coffee/Tea flasks.
And although the sullen-faced, bald clown looked at us waiting for a coffee glass, the moron did not move his ass until we expressly asked him about the lack of any glasses.
The same sullen clown did not clear our finished plates promptly.
By the way, if you cannot smile at customers you ought not to be in the restaurant/hospitality business.
Also, the poor service (dirty plates, dirty coffee glasses, not removing the finished plates promptly et al) suggest  a certain cockiness in the attitude of the Sapthagiri staff that we didn't see during our earlier visit.
Pride, as they say, always cometh before the fall. 🙁
Although we had no serious complaints with the food (except maybe for the Chutneys and Sambar not being spicy enough), it'll be a while before we step into Sapthagiri again considering the restaurant's callous indifference to basic cleanliness.
Not being offered clean dining plates and clean coffee glasses rank extremely high on our list of irritations when we eat out.
Related Stories:
Sapthagiri – Mona Lisa of Masala Dosas in New Jersey