Folks, let's face it.
Most Indian restaurants in New Jersey exist for the sole purpose of tormenting unsuspecting diners unlucky enough to step into their portals – they dole out huge dollops of ugly food, serve big helpings of trashy service and overall serve as bad poster boys for our wonderful cuisine, be it North Indian, South Indian, Gujarati or even Indian-Chinese.
Thankfully, there's the rare gem that we once in a while stumble upon in our never-ending pursuit of the holy grail of fine Indian cuisine.
Jhupdi was one such rara avis in New Jersey, providing a welcome respite from the gaggle of awful restaurants like Urban Spice, Moksha and Nanking in the Edison/Iselin area that besmirch the fine reputation of Indian food.
Located on Oak Tree Road, a little away from the main strip of the Indian stores and restaurants and serving Gujarati food, Jhupdi is a treat for connoisseurs of Indian cuisine.
Being the gourmands that we are when it comes to Indian food, we ordered both the Kathiawadi Thali ($14.95) and Jhupdi Special Thali ($15.95).
We liked much of what we tasted at Jhupdi. An embarras de richesses, if you ask us.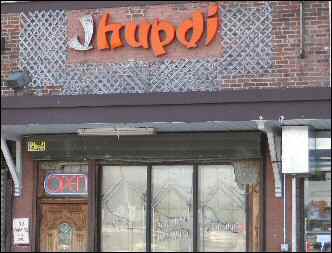 Having lived long years in the U.S., we are no strangers to Gujarati food having tried it elsewhere – at restaurants (for instance at Chowpatty, down the road from Jhupdi, Rajdhani et al), Gujarati temples and friends' homes.
So we can boldly assert that the Jhupdi food does thrill the palate and is on par with the best Gujarati fare we've had over the years.
From the lip-smackingly good Kadhi to the tasty Gobi Fry to the pleasing array of curries (Turia Curry, Beans Curry, Baingan Bharta, Undhiya), there was little in our two Thalis that didn't titillate our demanding palates.
You see, the spices were right and the portions adequate. Isn't that the route to dining nirvana.
Whether with the rice (included in the Kathiawadi Thali) or the Bajri Rotla (part of the Jhupdi Special Thali), these curries are sure to delight even the most querulous diners (hint, hint: we are talking of yours truly).
Kadhi has always been a favorite of ours, be it the Punjabi kind or the Gujarati variety. So it was with mucho gusto that we fell upon it and enjoyed it with both rotla and rice.
By the way, the Kathiawadi Thali comes with two Pooran Poli and some ghee on the side. Deeeelicious.
Sure, there were some mishaps as we rolled down the Gujarati Culinary Highway. But they were mostly minor fender benders in an overall smooth ride.
Colored a weird light green, Dhokla was ugly to behold and uglier to ingest. And the Kichdi was terrible, a tasteless yellow mass.
Buttermilk (delivered in a glass) was far too watery and lacked any flavor.
Desserts
Our Thalis included the Rava Sheera and Wheat Flour Laddu.
Both these desserts left no room for complaint and served as a fine finale to our meal.
Although we were bursting at the seams, we couldn't help but order a cup of Masala Tea. It was bitter cold outside and the hot tea with that delicious flavor of Indian spices was sheer nirvana.
After our meal, we sought out Jhupdi owner Ashok Patel to compliment him on the food.
Patel told us he hails from the Anand region (remember Amul) of Gujarat and proudly declared that he also has interests in two liquor stores in the Edison/Iselin area and a travel agency in Mumbai.
Besides the booths along both sides of the wall, Jhupdi has a traditional low sankheda table near the entrance (on the right) with mattress seating and embroidered cushions that can accommodate groups of up to seven.
Service – So-So
Although we had no major problems with the lady who waited on us, we saw her behave in a rude fashion with other diners.
When one diner stepped outside upon receiving a phone call, she got annoyed in a very vocal way because the guy neglected to close the door as he stepped out. Also, like at most Indian restaurants, she was not to be found just when we wanted to order something. As for the owner Ashok Patel, the fella was busy chatting with another desi at the counter.
Its few shortcomings aside, Jhupdi is a welcome change from the long list of wannabe Indian restaurants that litter New Jersey. Yes, we're going to do our best to make time for another meal at Jhupdi the next time we're in the Oak Tree Road area.