When clueless bozos stray into the kitchen and headless chicken run helter skelter around the dining room, the ugly epiphany is a hopelessly trashy Indian restaurant called Arusuvai Chettinad in North Brunswick, NJ.
The fitting punishment for such Indian restaurants dumpsters in New Jersey – Adi Seruppale (i.e. remove your old, dirty slippers and fling it at the restaurant).
As even the dumbest of our readers know, Chettinad cuisine owes its great fame and glory to its spicy, flavorful food.
Good Chettinad food can send sharp thrills up your spine and transport you into paroxysms of delight that no Playboy Bunny, Penthouse Pet or Bollywood Item-Girl can ever hope to match.
Arusuvai, alas, is no sex-bomb but a herpes-afflicted whore, a nasty charlatan, whose only vile goal is to dip her pustulating fingers into the wallets of unwitting customers that amble into its premise on RT-130 in North Brunswick.
Arusuvai is the third Chettinad restaurant in New Jersey that deeply disappointed, nay, distressed us. Well, there must be some truth in the old adage that bad things come in threes!
For the quidnuncs among our readers, the other Chettinad disasters were Anjappar and Karaikudi Chettinad.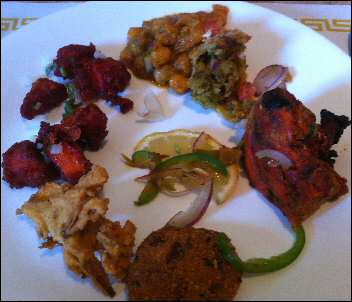 Horrid Chicken 65, Hard Pakodas
Arusuvai – Screwing Up the Basics
When an Indian restaurant screws up the basics, you can be sure they'll bugger the rest of the meal as well.
The despicable buffoons at Arusuvai couldn't get even basic Indian fare like Rasam, Mutton Bone Soup, Idli, Sambar, Chicken 65 and Onion Pakora right and ruined them inedibly, hopelessly.
Were these inedible monstroshitties cooked by humans or wrought by Satan's vile, gnarled fingers?
Devoid of any evidence of tamarind, Arusuvai's Rasam tasted like plain hot black pepper powder water.
Mutton Bone Soup was nothing but Satan's repugnant concoction of dry red chilli powder flung into hot water.
Sambar had no evidence of tamarind or the various spices that lend this South Indian staple its magical flavor. It tasted more like Dal mixed with onion and other vegetables.
A South Indian restaurant that can't get the commonplace Rasam or Sambar right has no business staying in business. Comprende?
Idli and Onion Pakodas were hard. We felt as if were eating onion muruku and not Onion Pakoda.
We have not the slightest doubt that Arusuvai's Onion Pakodas are routinely used in New Jersey road construction and projects and reinforce the heavy-water vessels of nuclear power plants. Believe us, Arusuvai Chettinad's Onion Pakodas were that hard!
Chicken 65, another common fixture at South Indian restaurants these days, was a hard travesty that only Satan's swinish apprentice manning the stove would send out the kitchen.
Coconut Chutney seemed fresh but, alas, was not in the least spicy.
Relief in this South Indian restaurant came strangely in the form of Samosa Chaat, a North Indian street food. Samosa was cooked well with flavorful potato filling and spicy chickpeas and other dressing. It was yummy and we were pleasantly shocked to get such nice Samosa Chaat in a Chettinad restaurant.
But any ceasefire in the merciless assault on our palate was momentary and the Shaniyans in Arusuvai's kitchen quickly resumed their fusillade of badly prepared items.
Arusuvai – Awful Vegetable Entrees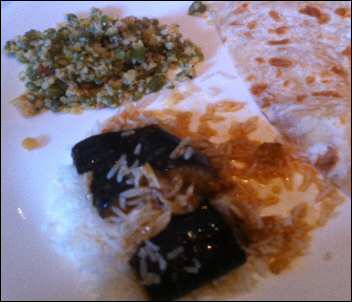 Ennai Kathrikai (bottom) – Disgusting
Ennai Kathrikai, a Chettinad delicacy known to induce orgasm in diners, was a complete letdown because it did not come with spiced tamarind sauce as promised by Arusuvai's menu.
Immune to our plaintive pleas of mercy, Ennai Kathrikai arrived in a red chilli powder based thin watery gravy. It tasted as if fried medium size pieces of Egg Plant were mindlessly dropped into red chilli powder water as an after thought. The red chilli powder water did not seep into the egg plant at all.
Again, it was beyond disgusting. Well, Satan seldom takes a break from his evil mischief.
Beans Poriyal was awful, devoid as it was of any flavor or seasoning. Arusuvai Chettinad's Beans Poriyal tasted like Beans boiled with some Moong Dal lentils.
Vegetable Noodles were medium spicy but who gives a rat's ass. You don't go to a Chinese restaurant for Idli-Vada-Sambar and, by God, you don't go to a Chettinad Restaurant for Noodles. Got it, AruShaniyan?
Vegetable Kurma set in a light yellow color watery gravy with a melange of Potato, French Beans and Green Peas was one of the less offensive dishes but we'd definitely prefer the gravy to be thicker.
Dal Curry was nothing but Tadka Dal with Tomato pieces thrown into it. It was ordinary and does not merit any more of your time.
Paratha was rubbery and caused us no end of anguish in eating it with any of the dishes.
Yogurt Rice was flavorful with curry leaves seasoning accompanied by lime pickle.
Arusuvai – Sick Chicken Masala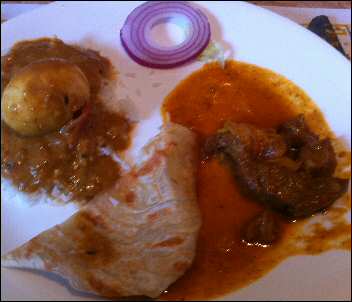 Egg Masala (top left) – Pathetic
In the annals of human Satanic depravity, surely Arusuvai occupies pride of place for its relentless commitment to culinary carnage on the tender souls of hapless diners like yours truly.
Set in a medium thick brown color gravy, Arusavai's Egg Masala was not in the least bit flavorful or spicy.
It was like eating plain boiled eggs as the masala had not seeped into them.
Mutton Masala was set in a water gravy and no less than a spice-less perversity.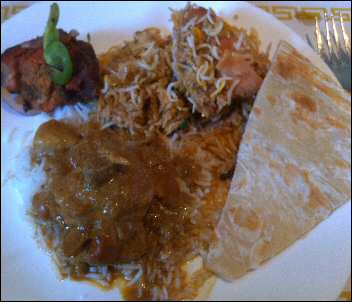 Chicken Masala – Disappointing
Chicken Masala turned out to be another big disappointment.
You see just like Mutton Masala, Arusuvai's Chicken Masala was not in the least spicy. Were any spices added to it at all, we wondered?
Satan was in a frenzy, it seemed to us.
Tears welling in our eyes, we moved on to Hyderabadi Chicken Biryani to satisfy our clamoring stomach.
Hyderabadi Biryani and Tandoori Chicken were all right but, again, who goes to a Chettinad restaurant for these items.
Arusuvai Chettinad – Horrid Payasam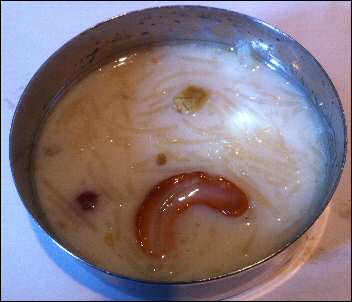 Payasam – Too Watery
Payasam was warm with plenty of Cashew, dry coconut, dry grapes, Almonds toppings.
But it was high on sugar and way too watery to give us any pleasure.
Sure seemed like the cheapos at Arusuvai had added a little milk to a huge pail of water.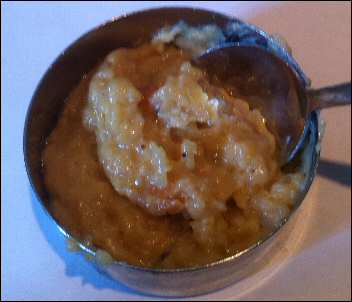 Sakkarai Pongal – Slightly Burnt
Chakara Pongal aka Sakkarai Pongal was warm but low on Jaggery and Ghee.
To make the bad Pongal worse, it also had a slightly burnt flavor.
Never let it be said the devils in Arusuvai's kitchen ever miss an opportunity to lacerate your soul.
Arusuvai – Mediocre Service
On more than one occasion, Arusuvai's headless, unsmiling chicken tried to remove our plate while we were still eating.
If there's a God in Heaven more powerful than the Satan in the Arusuvai Hell, then this trashy outpost of Indian cuisine with its agents of Lucifer peddling fake Chettinad cuisine will shut its doors. Soon.
Folks, do not even consider visiting Arusuvai Chettinad in North Brunswick unless the fires of masochism burn deep into your soul.
We're not returning to this spice-neutered impostor of a Chettinad restaurant even for a million dollars.
Hesitate not to raise your middle finger to Satan's minions at Arusuvai Chettinad.
Related Posts:
Anjappar Chettinad NYC Review – Middling Fare, Don't Get Your Panties in a Twist
New Jersey Indian Restaurants