Cross Culture is an unusual name for an Indian restaurant.
Typically, Indian restaurants in the U.S. have banal names like Delhi Palace, Indian Taj, Taj India, Gandhi, Nirvana, Taj Palace, Akbar, Mirchi or Maharaja.
Imagine our surprise when we heard of Cross Culture Ethnic Indian Cuisine at Haddonfield, New Jersey.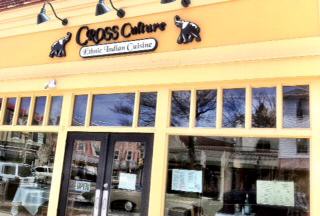 Turning on our GPS, we quickly headed to Haddonfield.
Cross Culture – Fine Food
Located at 208 Kings Highway East in Haddonfield, Cross Culture is a spacious, clean restaurant.
Being famished, we let our palate roam across a range of items including Onion Bhujia, Navaratan Korma, Shrimp Curry, Alu Tikki, Lassi, Kheer, Persian Falooda and Gulab Jamun.
For once, our meal was an embarrassment of riches.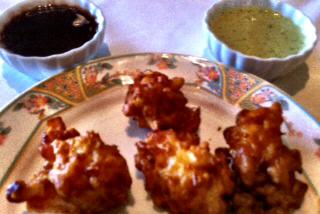 We started off with a glass of cold Cardamom Lassi. Man, was that divine.
The fresh Onion Bhujia was a treat with the Mint and Tamarind Chutneys.
Navaratan Korma in a creamy medium thick yellow-colored spicy sauce was a delight that seemed to have been prepared with fresh vegetables, not the frozen junk.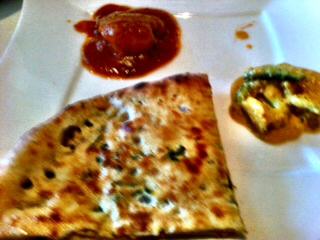 We swear we glimpsed heaven in Cross Culture's Shrimp Curry.
In a medium-thick reddish brown sauce, chef Manish Chopra's Shrimp Curry was a work of art. It came spicy as requested but with other ingredients in proportion.
Onion Kulcha (see above picture) was the pièce de résistance of our meal. Fresh off the oven, with cut pieces of onion, cilantro and green chili it was truly amazing. Strongly recommended.
Yummy Desserts
The medium-thick Rice Kheer was flavorful and creamy. It was polished off in no time.
But the Gulab Jamun seemed to have been nuked in the microwave! One of the few misses in an otherwise delightful meal.
Service @ Cross Culture
Our desi waiter (from Goa) was a little stiff initially but warmed up as the topic turned to cricket. He was sweet enough not to charge us for Garlic Naan.
There was also a minor blip over a LivingSocial coupon but it was quickly resolved.
SearchIndia.com strongly recommends Cross Culture in Haddonfield, NJ. You can be sure it won't be long before we return to Manish Chopra's fine Indian restaurant.