If the poet William Wordsworth had dined at Hoysala in Somerset (New Jersey), he'd have modified the famous lines in his poem to read:
Bliss was it in that dawn to be alive but to be hungry at Hoysala was very heaven.
Most Indian restaurants in the U.S. are like our Bollywood movies. The skimpily-clad actresses look seductive and the trailers look enticing but once you plonk your bottom in the multiplex, it's the same old ugly-as-hell trash yet again.
After dining at over 150 Indian restaurants in the U.S. from the Mexican border in California to the Canadian border in upstate New York, we are plain sick of the mostly inedible (forget palatable) food served by our desi restaurants. But since we love Indian food so much (it's like our abiding passion for movies Hindi, Tamil, English and Foreign movies), we just can't stay away from these revoltingly bad Indian restaurants.
Like Crack addicts drawn to that bad white powder, we feel compelled to visit Indian restaurants.
As for the service at Indian restaurants in the U.S.,  don't even get us started there. Most Indian restaurants here resemble funeral parlors with the grim, forbidding and unsmiling waiters, and their dark interiors.
But today we struck gold. In Hoysala, Somerset (New Jersey). We'd, of course, heard about this fine Indian restaurant but never had a chance to visit this restaurant.
True to its tag line on the menu,  Hoysala indeed serves Fine South Indian Cuisine.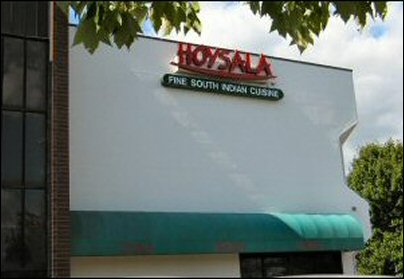 Hoysala, Somerset (New Jersey) – Divine Food
What's not to like at Hoysala?
From the humble Coconut Chutney and Raita to the delicious Pork Fry to the Pineapple Gojju to the flavorful Andhra Chicken Biryani and the exotic Malnad Chicken, Hoysala serves up simply divine food. Here's a kitchen that knows its business. And knows it well indeed.
The folks running Hoysala hail from the South Indian state of Karnataka and expectedly the food at this restaurant is partial to their home state.
Tired as we are of the boring Mango Lassi, we started our lunch at Hoysala with Majjige (spiced buttermilk, $2.50). A specialty of Karnataka, the cool pleasant tasting Majjige came in a tall glass (mercifully without any of that ice cubes).  With a mild flavor of ginger, cilantro and a hint of chili, the Majjige was a fine harbinger of what lay ahead of us.
Indeed, for once our meal turned out to be an embarrassment of riches.
Take for instance, the Pineapple Gojju (pineapple and bell pepper cooked with onion, red chillies, menthe seeds and spices). Hoysala is probably the only restaurant in North America to serve this awesome treat that we've had so many times to so much pleasure in India.
A mildly-spiced item with pieces of pineapple in a medium-thick sauce, the Pineapple Gojju is what the Gods in heaven must be feasting on every day. We swear.
We tried the Pineapple Gojju with Dosa, Coconut Rice and Plain Naan. And each time, the combination was delicious. We took our pleasures hoggishly.
Ditto with the Akki Roti (bread made of rice flour, onion, chili, carrot and cilantro), again a favorite from the state of Karnataka. Our waiter Raju asked us if we wanted the Akki Roti with chili. We asked him to do it the way it's done by the Kannadigas (as the natives of Karnataka are known).
The Akki Roti ($4.30) that landed on our table was a treat fit for the angels, if not the Gods themselves – spicy but not obscenely spicy and neither too thick nor too thin, it was simply delicious.
The Plain Dosa and the onion/potato curry and the spicy ginger/tomato left no room for complaint but the coconut chutney could have been a bit more spicy.
Hesara Kaalu Saaru, Coconut Rice, Idli and Medhu Vada were other South Indian dishes that were beyond reproach.
Hoysala's kitchen is as competent on the non-vegetarian side as it is on the vegetarian side.
Andhra Chicken Biryani was a flavorful delight whose memories linger on long after the meal is over. Red Chicken Fry was so tasty that we fell upon it like a pride of Lions after a kill.
As for the Malnad Chicken (boneless chicken prepared with coconut, ground poppy seeds, ginger and mild spices in Malnad style), this is the delicious stuff over which battles and wars should be waged not non-existent weapons of mass destruction. Don't even try telling us that there exists chicken more tender than this.
It's not just on the main courses that Hoysala stands out.
The restaurant distinguishes itself with its desserts too. We tried the Pineapple Kesaribath, Shavega Payasa (Vermicelli cooked in milk, ghee, nuts, raisins and cardamom) and Tutti-Frutti Ice Cream. Each time, we came out a winner.
Hoysala's manager Raju (a native of Hassan in Karnataka), a smiling and friendly soul, boasted that the seven-year-old restaurant never advertises and relies just on word of mouth for business.
Raju also couldn't help dropping the names of well known personalities from Karnataka like the singer Ashwath and Kannada actor Mukhya Mantri Chandru as satisfied visitors to the restaurant.
Sure, there were a few jarring notes in our meal. Like Raju charged us $4.30 for the Akkii Roti although the menu clearly said $2. And the flush in the restroom needs to be fixed pronto. But these were minor irritants considering the overall high standards maintained by Hoysala.
Amidst the bleak Sahara of ugly Indian restaurants in New Jersey like Moksha, Anjappar Chettinad, Saravanaa Bhavan, Udupi Village, Aachis, Palace of Asia, Urban Tadkaa and Ganges, Hoysala stands out as a welcome oasis of fine Indian food accompanied by gracious service.
Unless you are a blithering idiot or just hate Indian food, you'd do yourself a big favor by having a meal at Hoysala. But do make sure to check your bill before you leave (we didn't like being over-charged for the Akki Roti…there was a mention on the menu card that some prices had been revised by $1…so, we'll give them the benefit of doubt).
As for us, may the good lord strike us down if we don't revisit this mecca of fine Indian cuisine in New Jersey soon.