So you quidnuncs want to know about our meal the other day at Mysore Woodlands, the "Pure Vegetarian South Indian Restaurant" in Parisppany, NJ.
As they say in Mysore of bad cooks, Baddi makkalu, adigae aen aenu baralla (these worthless fellows are clueless in the cooking department).
Crappy Then, Crappy Now
You can change the name of your Indian restaurant and even move the restaurant to a new location. But unless you perform a brain transplant on our hopelessly incompetent desi chefs here, nothing's gonna change. You hear us, nothing.
A couple of years back we had the regrettable experience of dining at Udupi Village in Montclair, NJ. The food was absolutely crappy.
Fast forward two years later.
Udupi Village has now changed its name to Mysore Woodlands and shifted its location 11 miles west to Parsippany.
And guess what?
The food is still absolutely crappy.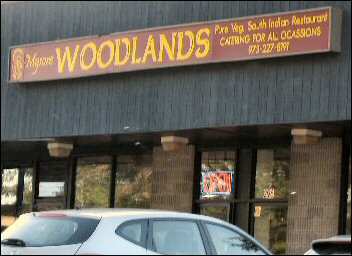 Ghastly Experience
It was a hot New Jersey day recently and we were sitting in the Apna Bazar parking lot on Oak Tree Road wondering where to head out for a meal when we espied an ad for Mysore Woodlands restaurant.
So turning on our GPS off we headed to Parsippany (NJ) in hopes of a sumptuous South Indian vegetarian meal.
Alas, our meal was anything but pleasing.
Au contraire, our meal at Mysore Woodlands was a ghastly, disgusting affair.
A forgettable experience. Ugh.
From the cold, bland coconut Chutney to the flavorless Sambar to the impostor of a Mysore Masala Dosa to the inedible Beans Poriyal and all the way down to the sugarless Madras Payasam, Mysore Woodlands is a disgrace. The Abhishek Bachchan of Indian restaurants on the East Coast.
Guys, a South Indian vegetarian restaurant that does not care to serve fresh Chutney to diners but instead dares to offer Cold Chutney invites not merely your contempt but begs you to yell out at the management: Lazy Swines, do you have no shame at all?
If the Coconut Chutney was a cold, bland monstrosity, the Tomato Chutney was a plain, awful travesty since it had a surfeit of Channa Dal and far too little chillies.
The disappointing Chutneys, the emaciated Medhu Vadas and offensively lukewarm Bajjis were but a harbinger of the miseries that lay ahead of us at the hands of these serial sadists.
Just Curious
Are the folks at Mysore Woodlands feeling the pinch of the recession so badly that they can't afford to throw in a few vegetables into their so-called Sambar? Worse, the Sambar had no flavor and tasted like plain Dal.
As for Mysore Woodlands' Rasam, all we can say in that bilge water's favor is that it was hot, i.e. temperature-wise. It was low on tamarind, low on pepper and low on flavor.
And like much of what we tried at Mysore Woodlands, the Rasam was low on a competent chef's touch.
Lousy Idli, Lousier Dosa
The two Dosas we tried, Mysore Masala Dosa and Onion Rava Dosa were both travesties of the real thing.
Utterly flavorless, not in the least bit crisp, the masala paste unevenly smeared inside and containing a hopelessly bland potato filling, Mysore Woodlands' Mysore Masala Dosa is enough to turn off even die-hard Dosa aficionados like us forever from this South Indian favorite.
Another put-off was the crisp but tasteless Onion Rava Dosa.
There was no let-up to our misery. To our horror, the Idlis were incompletely cooked inside.
Schmucks, You Call This Pongal
We bet the imbeciles in Mysore Woodlands' kitchen have never tasted real Pongal in their lives.
If they had, they wouldn't be serving this apology of a Pongal that had far too little black pepper (a key ingredient of this popular South Indian item) and far too much Moong Dal.
Bet you a million bucks, the chefs at Mysore Woodlands have no idea that such a thing as curry leaves exists.
Disgusting.
By the way, the Pongal could have also done with some ghee.
Avial and Palak Paneer were sour but by this time we'd endured worse and resigned ourselves to our Karma.
Pathetic Desserts
God, nemesis continued to dog our heels even with desserts.
If the Madras Payasam and Gulab Jamun were the real things then we are the voluptuous Zeenat Aman.
Madras Payasam showed no evidence of any sugar in it presumably because some bozo in Mysore Woodlands' kitchen had used up all of it for the Gulab Jamun syrup, which turned out cloyingly and annoyingly sweet.
One of the few saving graces of our meal was the Mysore Coffee. Unlike the South Indian coffee served at some restaurants in New Jersey and New York, this was the real deal.
Service has improved compared to our experience two years back. Our waiter Harish (from Vijayawada) appeared glum in the beginning but toward the end condescended to bless us with a smile. Hey, miracles never cease.
Stay Away, Far Away
Folks, Mysore Woodlands is one of those pathetic Indian restaurants in New Jersey that pleads to be shown the middle finger.
Given the tripe dished out to diners here, by no stretch of imagination would we consider Mysore Woodlands a real South Indian restaurant.
In our not so humble view, Mysore Woodlands is the home of Marquis de Sade, who can't wait to swing his cruel whip on you soon as you step into the portals of this wannabe Indian restaurant in Parsippany, NJ.