Anjappar Chettinad in North Brunswick, New Jersey gives a bad name not just to the famed Chettinad cuisine but to all Indian restaurants in the U.S.
Disgusting service and a distasteful kitchen come together to deliver a dreadful experience to diners at Anjappar's new outpost in North Brunswick, NJ.
A far better – and definitely more apt – name for this impostor of a restaurant would be Ambattar Chettinad because the only thing these imbeciles seem to be good at is shaving you off your precious time and hard-earned money (For those not familiar with the Tamil language, Ambattar means barber).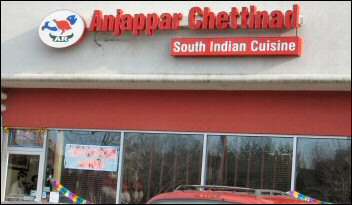 Anjappar Chettinad or Ambattar Chettinad?
Anjappar – Endless Agony
Our agony at the Anjappar Chettinad restaurant in New Jersey began at the very beginning.
We had to wait 36 minutes to be seated. Since there is very little space in Anjappar's outer waiting room, a lot of people are forced out into the biting New Jersey cold.
After being seated, it took 15 minutes for our clueless waiter to take our order although the waiters were running hither and thither like headless chicken.
And it took another 20 minutes for the food to arrive at our table.
Clueless Buffoons
When the food came, it came in the most haphazard sequence possible.
Our Ceylon Parotta ($2.95) came before the appetizer.
Poondu Kuzhumbu ($7.45) came after the Ceylon Parotta had become cold.
Our waiter did not care to provide us with spoons, knives or forks or for that matter napkins until we pressed him for it.
Footpath tea stalls and highway dhabas in Tamil Nadu (a state in South India) are better organized and serve far tastier food than Anjappar Chettinad.
Below Par Food
We'd have tolerated the rotten service if only the food was exemplary.
But Anjappar New Jersey fails in the food department too. And fails very badly.
From the crisp-but-tasteless Onion Pakodas ($5.45) to the tiny half-ripe Bananas given at the end, Anjappar Chettinad falls woefully short of being a restaurant, let alone being a good Chettinad restaurant.
When you pay $5.45 for Onion Pakoda, aren't you entitled to some Chutney or sauce on the side? No, not at Anjappar Chettinad.
Chettinadu Pepper – Disappointing
Chettinadu Pepper (Chicken pieces marinated in crushed pepper corns fried with chopped onions and curry leaves) was a travesty and turned out to be a lamebrain creation from a harebrained chef.
It appeared that an impatient or wannabe cook had just daubed some pepper powder on the chicken and rushed it out of the kitchen with a few curry leaves thrown into the mix. Not surprisingly, the Chettinadu Pepper that landed on our table was disgustingly pathetic.
Nut Jobs
We were supposed to get Chappathis with our Thalis.
It never came with the food leaving us mystified but we told ourselves it'd come in a little while. However, after 10 minutes one of the headless chickens sauntered over to our table and told us casually: "We don't have Chappathi. We'll give you half Parotta."
By now, we were convinced that we were dealing with a bunch of escapees from the asylum or the local zoo.
What the heck is wrong with these fellows?
Ultimately, what showed up on our table was not even the promised "Half-Parotta" but a tiny "Quarter Parotta" that tasted really lousy. In our dictionary, this kind of poriki behavior by a restaurant constitutes plain cheating.
Anjappar's Serial Sadists
Sambar was a tasteless monstrosity and we cursed our misfortune.
But the serial sadists in Anjappar's kitchen must have worked in Stalin's Gulags, because they showed us no mercy and continued their aggravated assaults on our tastebuds.
Beetroot Curry was a flavorless mess, Rasam a bit on the sour side and the Okra+Channa Curry a bland abomination that had more of a North Indian flavor.
Although we were initially taken aback at the small portions in the Thali, after tasting the food we didn't have any regrets over the portion sizes.
So-So Chicken Masala
Anjappar's Chicken Masala (supposedly one of the signature items of this restaurant) was so-so, not bad and not good. In short, nothing to write home about.
Anjappar's takeout menu describes Chicken Masala as hot & spicy but what we got was just tepid and definitely not spicy enough for battle-hardened South Indian palates.
One of the exceptions in our outrageously bad meal at Anjappar was the Poondu Kuzhambu (described as garlic cooked in hot tamarind sauce to spice).
As promised, Poondu Kuzhambu was hot, spicy and very, very tasty. It was the rare aberration in an otherwise unedifying meal.
Rotten Service
We were not the only ones at the receiving end of awful service at this Ambattar Chettinad restaurant…sorry…Anjappar Chettinad restaurant. Our neighbors to our left were mighty irritated by the service. They did not get what they ordered, got what they did not order and since it took forever for the coffee, they rejected it when it finally came. Our neighbors on the other side also seemed impatient about their Utthappam order.
After we finished our meal, no one bothered to clean our table or remove the plates. Then one of those clumsy Anjappar waiters turned up and removed two of the plates but for some inexplicable reason left one plate behind.
We waited and waited and waited for someone to take our desserts order. No one bothered. For nearly 25 minutes, we sat in glum befuddlement as to how these Anjappar clowns got a license to run a restaurant.
Finally, out of sheer frustration we called the restaurant on our cell phone and beseeched the lady at the counter who answered the phone to send someone to take our desserts order. She came down herself and took our desserts order.
As we waited for our desserts, the bespectacled clown at the door dropped by repeatedly to ask whether we were finished, in effect suggesting we get up and leave. We told him repeatedly that we were waiting for our desserts but it made no difference to this bozo who was wandering around with a notebook and a pen.
Since it was taking forever and life is short, we called the restaurant again to remind them of our desserts and Coffee, only to be told rudely by the lady on the other end of the line: "They are busy."
In retrospect, we felt we shouldn't have bothered with either the desserts or the Coffee.
Horrid Desserts
Lychee with Ice Cream ($4.95) was pathetic. The Vanilla Ice Cream (included all of three Lychee pieces) was hopeless and tasted like chalk powder had been hastily mixed with some sugar and thrown into the freezer.
We actually wanted to thank our dumb waiter when he snatched the half-full Chalk-Powder Ice Cream from our table without even checking with us!
As for the Pineapple Rava Kesari ($4.95), don't get us started on that awful abomination. If the ugly yellow mass that our waiter placed before us was Pineapple Rava Kesari, then we are Lawrence of Arabia.
Payasam, a common South Indian dessert, had not a single cashew or raisin and worse, was slightly short of sugar.
When we asked for an extra spoon for the Ice Cream, our waiter brought us the curry spoon!
Awful Coffee
If there was a Nuremberg Court for lousy Indian restaurants in New Jersey, then the entire crew of Anjappar would be handed down life imprisonment without any chance of parole.
In the final act of disgrace for Anjappar Chettinad, these jokers couldn't even make a decent cup of Coffee. Our Coffee had too much milk and too little decoction. And there was no sugar on the table!
If a South Indian restaurant cannot make decent Payasam or Coffee and if a Chettinad restaurant can't deliver tasty Chettinadu Pepper Chicken, what is it capable of?
Is profit the sole objective of a restaurant and customers be damned?
Surely, Anjappar Chettinad must have dredged the low end of the human gene pool to assemble the worst herd of waiters and cooks at its North Brunswick location in New Jersey.
How Anjappar Chettinad managed to get U.S. Visas for these sham cooks is a mystery.
Bottom Line – Avoid Anjappar
For ardent lovers of Chettinad cuisine, a visit to this fake South Indian restaurant called Anjappar Chettinad New Jersey would turn them away from this fine cuisine forever.
It takes enormous chutzpah to call Anjappar Chettinad New Jersey a restaurant.
Unless you are a disciple of of Leopold von Sacher-Masoch and love to subject yourself to painful flagellation administered by the gaggle of Anjappar's buffoons running this so-called restaurant, stay away from Anjappar Chettinad New Jersey. Hey, New Jersey is not short of Indian restaurants.
As for us, we silently left Anjappar Chettinad suffering from bodily and mental distress and reflecting on our bad Karma.
Anjappar Chettinad Related Posts
Anjappar Chettinad NYC Review – Middling Fare, Don't Get Your Panties in a Twist