(For SI blog reader Fugitive143)
Eureka!
Yeah, finding an Indian restaurant in New Jersey that serves palatable edible fare is cause for celebration these days.
Such is the severity of the drought that has struck the Indian culinary landscape in these parts.
But boy did we strike gold with iSpice in North Brunswick (on Aaron Rd, off RT-1), New Jersey the other day.
Not only was the food edible but, hey, it was palatable too.
Asli Cheez. The real deal, folks.
Up our gourmand alley. Mostly.
Haiti's Ghettos
iSpice is like any other Indian restaurant in New Jersey, i.e. ugly, dark and a no-frills ambiance.
And a dark-skinned waiter who looked like he'd just slumbered out of Haiti's ghettos.
But the food at iSpice is oh, Tabulicious, if you know what we mean. 😉
Now if you respond to the call of schmuck and don't know what Tabulicious means, let's enlighten you. This SI-coined neologism is a synonym for sexy, divine or gorgeous.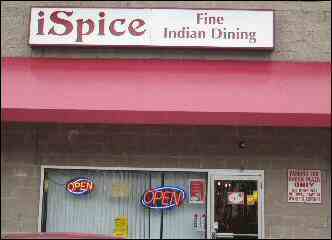 Dining Rampage
Much of what we sampled at iSpice was so delicious that, our pulse singing with joy, we went on a rampage.
A dining rampage, that is.
Ironically, our meal at iSpice began on an inauspicious note.
You see, the Chilli Bajji appetizer turned out to be more salty than spicy.
Our anger aroused, we silently hurled vile epithets at the chef. If the morons couldn't get the simple Mirchi Bajji right WTF are they capable of, we wondered.
Fortunately, our concerns were misplaced given all the treats that followed (including tasty Onion-Spinach Pakoras).
Manna from Heaven
Malai Kabab (minced chicken mixed in onions and bell peppers flavored with ginger and barbecued on skewers.) was a treat worthy of the Mughal emperors.
As our teeth sank into the tender, delicious white Kabab, our thoughts drifted to the years past and the first occasion when our incisors made contact with such soft, fair flesh. 😉
Just thinking of those delicious iSpice Kababs transports us into a drooling ecstasy reminiscent of you know what. 😉
The well marinated Tandoori Chicken was divine as was the spicy and flavorful Chicken 65.
But why do Indian restaurants daub that garish pink-red color on the Tandoori Chicken, Chicken 65 et al?
Irritates the hell out of us. God knows what dangerous ingredients lurk in that color. 🙁
Eternal Favorite
Biryani is an eternal favorite with Indians. And being no different from the desi herd, like a Pavlovian dog we gravitated towards it .
Although spicy with nice juicy chunks of chicken, the tasty Biryani was a bit on the tepid side.
Will somebody please tell the iSpice morons that food must be served hot. No excuses. Comprende.
Andhra Chicken Curry set in a thin spicy gravy and the Chicken Korma in a thick less-spicy gravy went very well with the Naan bread. Exceptionally tasty, they are meant for battle-hardened South Indian palates like ours.
With such fine food before us, who can blame us if we were in an orgasmic state with our tongue hanging out and saliva all over the floor. Really? 😉
By the time we bit into the delicious Chepala Pulusu (fish simmered in a roasted onion and tamarind paste with Andhra spices), we were in an euphoric state.
Who needs marijuana with such fine food around!
Vegetarian Delights
All ye meat-abhorring herbivores, pay heed now.
These iSpice fellas are as good on the meat-less side as they are with chicken and goat.
Whether it was the flavorful Tomato Dal, the creamy Saag Paneer or the spicy Aloo Korma, we had no cause for complaint. None at all, guys.
The Vegetable Biryani was yummelicious and spicy but again on the tepid side.
Folks, iSpice is a restaurant that has staffed its kitchen with real cooks not baboons or out of work H1B programmers masquerading as chefs.
Since iSpice seemed like a South Indian restaurant we also wanted to try a Dosa. Our pick was the Mysore Masala Dosa ($6.95). The Dosa was alright but didn't send us into raptures.
While the potato/onion filling inside the Dosa was fine and the Ginger Chutney lip-smackingly divine, much to our disappointment the Dosa itself wasn't crisp enough.
But the Sambar made up for the Dosa's shortcomings. Set in a medium-thick gravy, the carrot-onion Sambar was ambrosia. No kidding.
Stay clear of the lousy Peanut Chutney that came with the Dosa. Plain awful, it reminded us of a bad Abhishek Bachchan movie (there are so many, pick one).
Besides the Mysore Masala Dosa, iSpice offers other Dosas like Rava Dosa, Upma Dosa (sounds like a monstrosity), Paper Masala Dosa, Paneer Dosa and MLA Dosa (ha ha ha). What about Chief Minister Dosa? 😉
By the way, did we tell you about the Aloo Papdi Chaat. Don't miss that tangy, spicy delight.
Gajar, Ho
Having gorged on so much stuff, there was hardly any room in our Costco-size warehouse a.k.a stomach for dessert.
However, we are not the kind to vamoose from our responsibilities. Right?
Gajar Halwa was flavorful but could have done with a little less sugar.
We asked for South Indian Coffee but our waiter confessed that the restaurant served only Bru Coffee. So we gave it the pass and settled for Masala Chai.
Masala Tea was decent but not hot enough for us.
Decent Service
Our Andhra waiter (fella told us he's from Hyderabad) seemed a bit dazed, as if he'd imbibed one peg too many the previous night.
But he was unfailingly polite and prompt in getting us water, removing our plates et al even if he did occasionally act like he'd been dropped one too many times on his head as a child.
What we liked most about iSpice was that while the food was spicy, it was not obscenely, out-of-proportion spicy like at some other places in the NJ/NYC area.
If you plan on going, consider the $9.95 weekend lunch buffet. Nice deal.
As we slowly heaved our satiated, bloated selves out of the restaurant, we promised ourselves that iSpice is one Indian restaurant in NJ we'd consider visiting again.