(Recommended by SI reader Satya)
After watching Akshay Kumar's latest nightmare a.k.a De Dana Dan the other day, we were in desperate need of some cheering and comforting.
So after the crappy movie ended, we walked up a few blocks from AMC Empire 25 on 42nd St to the latest New York City landmark – Biryani Cart, at the intersection of 46th St & 6th Ave in Midtown Manhattan (near Nandita Khanna's rathole Utsav).
Biryani Cart – A Streetside Affair
The Biryani Cart is not a regular NYC sit-down Indian restaurant but a roadside food cart that has found favor with many people working in Midtown as well as Times Square tourists.
It was around 1.45PM, there was a steady drizzle and the sidewalks were crowded with office-goers heading home early for Thanksgiving.
The light rain notwithstanding, there were about 8 or 9 people waiting at the Biryani Cart for their spice-fix.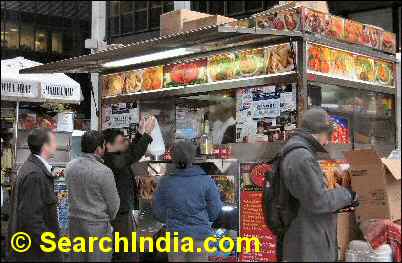 The cart's appeal and draw has been the quality of its food, spread mostly by word of mouth and blogs like this.
As we were looking at the menu painted on the frontside of the cart, we overheard a desi specifying 'spicy' to his order. Seeing some goras (who usually play safe and order their Indian food 'mild') standing nearby, we too added the spicy suffix to our order.
We were famished and ordered Vegetable Biryani, Chicken Biryani and Vegetable Kati Roll.
But the cart was already out of Chicken Biryani!
Schade.
So in place of the Chicken Biryani we settled for Chicken Tikka, another favorite at the cart.
After placing the order, we patiently waited and dutifully ogled at the gora girls passing by in their tight T-shirts and tighter jeans. 😉
Behind and around us, we heard desis speaking Hindi, Telugu, Tamil and English.
To yours truly, the desis around us looked like the H1B/L1 IT coolies working in Midtown.
It took about 5-6 minutes to get our Styrofoam food boxes plus napkins and forks.
Since we don't work anywhere nearby, we quickly headed over to the nearby Bryant Park (about five-minutes walk from the Biryani Cart at a brisk trot) outside the New York Public Library and opened our boxes. There are chairs, tables and even convenient trash cans at the park.
With mucho gusto, we dug into our food.
Lovely Vegetable Biryani
The Vegetable Biryani ($6) was a yummelicious delight.
Hot, spicy and tasty, our box of Vegetable Biryani was a treat. For some reason, our thoughts drifted to our favorite Indian actress Tabu at that time.
Sure, Tabu looks hot and spicy but we confess that we have no idea if she's as tasty as the Biryani. 😉 Bet she is. Bet she is!
Besides a chilli sauce on top of the rice, our Vegetable Biryani included carrot, beans and onion.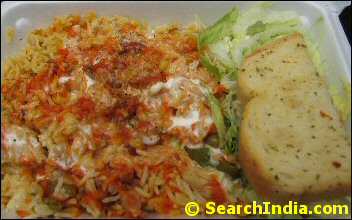 Our order of Veg Biryani also came with a small slice of Garlic Bread and Lettuce Salad.
No complaints, folks. None at all.
All thoughts of that nightmare De Dana Dan vanished and we were in a reverie about Tabu!
But ours is an appetite not easily satiated. So we opened our Chicken Tikka box.
Chicken Tikka – Nirvana Redux
Oh, boy.
Did we hit paydirt a second time?
Sure we did with our Chicken Tikka ($6).
The Gods must have been pleased with us. Or it must be our good Karma.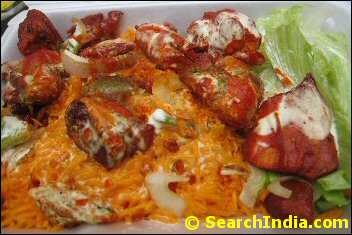 Our Chicken Tikka box contained about 10 pieces of Chicken Tikka with Basmati Rice covered in an orange-colored gravy.
As requested, it was spicy. There were onion and green bell pepper pieces sprinkled with the rice and some Lettuce Salad as well.
Simply divine, guys.
As we were salivating over our food and fantasizing over our inamorata Tabu, little did we realize that nemesis was lurking close by.
Kati Roll – A Disgrace
The Biryani Cart fellas need to have their cojones chopped off for delivering one of the worst Kati Rolls of our life.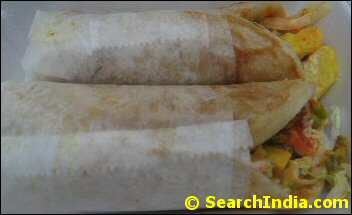 We tell ya, a mighty big letdown after the delicious Vegetable Biryani and Chicken Tikka.
We normally don't like to waste or throw out food.
But for once we just couldn't complete the Vegetable Kati Rolls ($6).
With a flavorless vegetable stuffing in a partially-cooked flat bread, the Biryani Cart's Vegetable Kati Roll was not merely unpalatable but inedible (do you schmucks know the difference between unpalatable and inedible).
The vegetables inside the roll had an awful Burger King Veggie Burger taste. Overall, it was yuck!
Heaving the Kati Roll into the nearby trash-bin, cursing the Biryani Cart fellas and wearing a sullen look we quickly clambered up the steps of the New York Public Library in pursuit of that will o' the wisp – knowledge.
As we plonked our derriere in the uncomfortable chairs of the NYPL we promised ourselves that we'd return to the Biryani Cart anon – for the Biryani and Chicken Tikka.
What did Wordsworth write about his meal at Biryani Cart:
Bliss was it in that dawn to be alive, But to be hungry at the Biryani Cart was very heaven!
BTW, did Wordsworth really have a meal at the Biryani Cart and did he really write the above line. 😉