Let the word go forth from this time and place that South Indian vegetarian restaurant Saravanaa Bhavan NYC on Lexington Avenue has turned into a hygiene nightmare and health hazard for diners.
Critical Hygiene Violations at Saravanaa Bhavan NYC
Live Roaches, Mice/Live Mice and Flies in food and/or non-food areas, Inadequate Personal Cleanliness, Potential Food Contamination, Tobacco Use from Open Container are some critical violations unearthed by the New York City Health Department in a recent inspection of Saravanaa Bhavan.
Boy, that sure reads like a horror show! 🙁
Oh well, it's an Indian restaurant after all.
Saravanaa Bhavan – Contempt for Diners
A restaurant with so many serious hygiene problems is in effect demonstrating contempt toward its paying diners.
By the way, did we tell you that this Indian restaurant is Not Vermin Proof either.
No surprise then that Saravanaa Bhavan fared miserably in the NYC health inspection of May 12, 2011 that punished it with a whopping 50 violation points.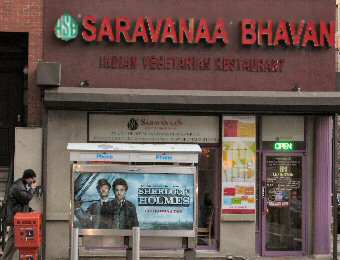 Saravanaa Bhavan NYC – Hygiene Nightmare
Besides the serious violations listed above, the restaurant fell foul of the NYC Health Department inspector in other hygiene and sanitation respects too.
For instance, the restaurant's plumbing is not properly installed and the sewage system is not working properly; Raw, cooked or prepared food is adulterated, contaminated, cross-contaminated, or not discarded in accordance with rules; ventilation system has problems; and the non-food contact surface is improperly constructed.
If we've said it once, we've said it a million times. Many Lexington Avenue Indian restaurants in NYC are notoriously unhygienic and diners eat at these hovels at the peril of falling sick.
By disregarding the most basic principles of hygiene and sanitation, Saravanaa Bhavan, a pricey vegetarian Indian restaurant chain from Chennai, is cocking a snook at the hordes of NYC diners who queue up every day for their Idli, Vada and Masala Dosa fix.
The next time you head out to an Indian restaurant in New York City, we suggest you think twice, or even thrice about the poor hygiene conditions prevailing in many of these places..