The last time we spoke to NYC restaurateur and Dhaba NYC owner Shiva Natarajan, the fella was blabbing on and on about his Bollywood connections, his Bollywood roles in movies like Halla Bol and Khakee, his Bollywood celebrity acquaintances like Ajay Devgan and Aishwarya Rai, blah blah blah blah.
And Shiva's main restaurant Web site boasts of the fella's connections to Bollywood celebrities with photos of Shiva alongside filmi personalities like Akshay Kumar, A.R.Rahman, Dharmendra, Shatrughan Sinha et al.
Well, after a visit to Shiva's latest Indian restaurant in New York City Dhaba, our advice to the bloke is to stop all that Bollywood yakking and fix the crappy food and crappier service. Pronto.
Located on Lexington Ave in the Murray Hill section of Manhattan, Dhaba's sole claim to fame is that it marks a new low even by the lowly standards of Manhattan Indian restaurants.
After an unendurably bad meal at Dhaba NYC, we strongly recommend that if you love fine Indian dining and if passion for Indian food runs through your veins, run from this dumpster. As Kollywood comedian Vivek does in some of his movies, scream escape and run for your life.
Shiva, you told us you were the second villain in Halla Bol but at Dhaba NYC you are definitely the first villain for your ignominious failure to uphold the most basic standards of food and service.
As it is, the New York City Department of Health has said your Dhaba is not vermin proof and has evidence of mice or live mice, rats or live rats and flying insects or live flying insects present in the facility's food and/or non-food areas.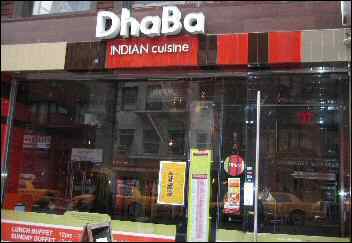 Dhaba NYC – Serves Crappy Indian Food
Dhaba NYC – The Big Lie
To describe what Dhaba NYC offers as Indian cuisine is a Big Goebbelsian Lie.
Maybe, it's Mongolian cuisine or Ethiopian cuisine or Icelandic cuisine but what we encountered during our unpleasant dining experience was most definitely not Indian cuisine.
Saag Do Piaza was an ugly monstrosity, the likes of which are unlikely to be served even in the worst Indian prisons. Tasteless beyond water, this bland green mass was awful to behold, awful to ingest and awful to endure.
Alu Mutter with large potato chunks was a bland mess that had us recoiling in horror at the chutzpah of the chef for daring to subject diners to such cruelties.
Garlic Naan was a clear instance of wrong labelling because it had too strong a flavor of cilantro but too little of garlic. Hot and soft, the Plain Naan was far better.
Vegetarian or non-vegetarian, Dhaba's joke of a kitchen was unrelenting in its assault on our tastebuds. This wannabe Indian restaurant's wannabe chefs expelled a fusillade of unappetizing food into the dining room that had us running for cover. Alas, there are no safe havens here.
The lukewarm Chicken Tikka Masala was just about edible while Lamb Madras was a flavorless insult that arrived in a thin sauce. If any chillies had gone into the Lamb Madras it must have been only in the chef's imagination because we found no evidence of it.
Even as staple an Indian fixture as Tandoori Chicken turned into a mishap at the inept hands of Dhabha's chefs (are they really chefs?). Cold, dry and unflavorful, it was perhaps the most untender Tandoori Chicken that ever touched our lips. Was the chicken marinated at all?
In several decades of eating Dal Makhani, we've never encountered such an ignoble version of this vegetarian delight. For sure, there were the lentils but as for the onions, tomatoes, ginger and garlic they were most conspicuous by their absence.
With any relief eluding us, in total bafflement as to how this dump can even call itself an Indian restaurant and in utter desperation over our plight, we tried the Jheera Rice and the Naan with the sweet mango chutney. Some sweet relief, indeed.
We reckon the folks in Dhaba's kitchen to be ardent acolytes of Marquis de Sade and whose sole mission was to spare no effort in making our dining experience as hellishly miserable as possible.
Not even desserts and beverages escaped their sadistic attention.
Our Soji ki Halwa suffered from a shortage of ghee, a shortage of sugar and a surfeit of rose essence. Pitiful.
As for the Masala Tea, all that we can say in its favor was that it was hot (by this time we were in such gloomy despair that we were willing to give credit for anything that was not a disaster). You see, the Masala Tea tasted like the regular tea and had none of the delectable flavor of the Masala Tea so beloved of Indians.
We were not the only ones to be displeased with the food at Dhaba NYC. Our neighbor to the right, a young man from Banashankari area in Bangalore, was most unhappy with the food and repeatedly told us that the food at Pongal was far superior. His companion, a young lady from Mumbai with a striped T-shirt and a nose-ring (really), wasn't happy with the Dhaba food either and told us she preferred Rasoi in Jersey City any day.
Disservice at Dhaba NYC
Some Indian restaurants compensate for their crappy food with fine service. But not the serial sadists at the Dhaba NYC Gulag.
At Dhaba NYC, the crappy food is matched only by the utterly clumsy service.
The short fella (the one standing near the cash counter at the bar by the computer) did not care to check with us before removing our plate of Tandoori Chicken. The same clown brought us Tandoori Chicken and vegetable fritters on the same plate without caring to check if we were vegetarians or non-vegetarian. Since one person in our party was a vegetarian, we had to politely request this clown to bring back the vegetarian and non-vegetarian dishes in separate plates. No apology was rendered.
When our fork fell down, our Nepali waiter picked it up and took it away but did not care to provide a replacement.
Poor service at Dhaba NYC extends to the billing too. The clowns neglected to charge us for the Garlic Naan (no, we did not remind them about their error) and ignored us as we waited for the bill.
The sole silver lining of our Dhaba NYC ordeal was the smiling young waitress (Rajini), who was helpful. She was also the only one who noticed that we were waiting to pay the bill.
We've enjoyed many a happy meal at many an Indian Dhabha (eating joints alongside the major highways that serve delicious, hot and spicy food).
But the Manhattan Dhaba casts a dark stain not just on the thousands of Indian Dhabas but also on the name of Indian cuisine in New York City.
Compared to Shiva's fine Chola Indian restaurant in midtown Manhattan, Dhaba NYC comes across as a disgraceful dilettante, a curry-nary abomination.
Related Stories:
Unhygienic Conditions Persist at Dhaba NYC
NYC Health Dept. Pisses on Shiva Natarajan's Dhaba
Rats, Mice, Flying Insects Mar Dhaba Restaurant in NYC
New York Indian Restaurant Reviews