Bhojan NYC is a hideous nightmare whose memories we're desperately trying to purge from the dark recesses of our minds.
Folks, food at many NYC Indian restaurants is bad but few as repulsively horrible as Bhojan NYC on Lexington Ave. in Manhattan.
It's as if this vegetarian Indian restaurant was set up solely to provide diners a glimpse into hell and inflict gruesome torture on their tender souls.
Bhojan NYC – How Low Can You Sink?
Spoiled, stale and tasteless food and disgustingly bad sweets at the restaurant left us shaking our head in amazement that such trashy restaurants like Bhojan NYC exist.
To serve spoiled, stale food to paying diners is not merely a stunning act of cruelty but a sign of the malignant sociopathy lurking in the cruel, greedy heart of the restaurant.
Green Chutney – Spoiled
Green Chutney, an accompaniment with our order of Samosa and Mirchi Bajji, was spoiled. It smelled awful and tasted yucky.
When an Indian restaurant like Bhojan NYC serves spoiled food to diners it risks harming the health of diners. Hard to understand such cold-blooded cruelty.
When you can't get simple stuff like Green Chutney right, it's very hard to get more complex fare right.
And indeed so.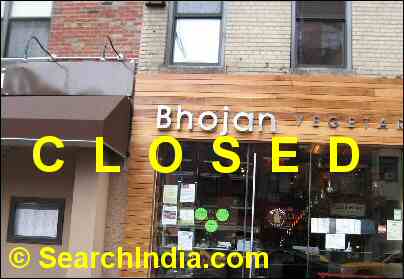 Bhojan NYC – Spoiled, Stale, Oily Food
(Update: Bhojan NYC is Closed)

Samosas – Stale
As if determined to punish us for selecting the restaurant, the light brown-colored potato filling inside Bhojan's Vegetable Samosas had a stale flavor.
In what century was it prepared?
Mon dieu, Mirchi Bajji had a weird sweetish flavor. Horror of horrors, the clowns in Bhojan's kitchen had relied on sweet peppers to prepare the Mirchi Bajji. What a tragedy.
Curries – Floating in Oil, Tasteless
All hopes of finding relief in the entrees vanished at the sight of the unseemly oil spill in the curries.
Simla Alu Gobi resembled the BP oil slick in Louisiana with a thick layer of red color oil floating on top. Neither tasty nor spicy and definitely unhealthy.
Capsicum and Gobi pieces provided a raw, only partially cooked taste as if an absent-minded chef had lazily added them as an afterthought to the curry paste.
More Misery
It seemed as if the shaitans (devils) were hell-bent on not providing any respite to us.
Even the humble Paratha turned out to be an oily disappointment at Bhojan NYC.
We fervently hoped to strike gold at least with the Malai Kofta.
Hell, no. We encountered yet another assault on our tastebuds.
As fans of Indian cuisine know, Malai Kofta is vegetable kofta balls set in a creamy delicious sauce. We saw no evidence of creamy sauce and like the Simla Alu Gobi, the Malai Kofta too turned out to be a flavorless oily reddish mess.
There were a multitude of problems with Bhojan's Malai Kofta.
Malai Kofta ($12.00) had just two Kofta balls and the rest comprised of the oily ugly red color mess with the odor of Chicken Tikka Masala gravy. In a complete travesty, Bhojan's Kofta balls in the Malai Kofta were merely Paneer balls. You see, Malai Kofta balls are usually prepared with a melange of vegetables and Paneer (mashed potato, carrot, green peas mixed with Panner). Sadly, in a sign of gross ineptitude in Bhojan's kitchen, our Malai Kofta Balls did not contain any vegetables. Finally, Malai Kofta ball was very rubbery suggesting the Paneer was not of good quality or came from very old stock.
Bhojan NYC – Horridly Bad Sweets
With a lot of trepidation given our miserable experience so far, we turned toward sweets.
We recoiled in horror after the first bite into Anjeer, for it had a sour and stale taste and flavor.
In the NYC/NJ area, we've had Anjeer at several places including Maharaja Sweets (Jackson Heights), Sukhadia (Edison), Rajbhog (NJ) and Swaminarayan Mandir (Cherry Hill, NJ).
Clearly, the Anjeer peddled by Bhojan was an obscene impostor.
Gulab Jamun and Rajasthan Mawa were both slightly low on sugar and tasted like a wet flour ball. The inside of the Gulab Jamun had an offensively raw flour taste and the outer layer a little soggy.
The only edible sweet, Jamun with Coconut had rose colored dry nuts stuffing inside.
No, the Mango Burfi with dry nuts was not sweet enough for our exacting palates.
Guys, if like us you have a passionate love affair with Indian sweets then you must pay a visit to Maharaja Sweets in Jackson Heights for a heavenly treat. Bhojan's sweets are not the real deal and unworthy of being offered even to mongrels.
By the way, the sweets at Bhojan NYC are $9 per pound for a single variety but $12 if you want an assorted set. We didn't like that one bit.
Bhojan NYC  – A Dystopian Nightmare
Offering spoiled, stale and crappy food, Bhojan NYC on Lexington Avenue is a disgrace to the fine name of Indian cuisine. It betrays a savage contempt or careless callousness toward paying customers.
How such disgustingly bad Indian restaurants like Bhojan NYC continue to exist is to use a Churchillian phrase a riddle wrapped in a mystery inside an enigma.