At some Indian restaurants in New York City, the attraction is in the fine food and pleasing service.
At others like Bawarchi on 1st Avenue (at 63rd St) in New York City the highlight seems to be its death wish – An inexplicable, bizarre desire to want to shut its doors permanently at the earliest opportunity, a desire easily realized by serving abominable food and rendering indifferent service.
After a particularly depressing experience at the place, we considered Bawarchi's sole raison d'etre to be to torment diners unfortunate enough to wander into its hall.
When an Indian restaurant has a big name board outside painted Bawarchi, the least we expect is that inside the kitchen you will not have a bunch of inept bozos plying their trade.
Or a gaggle of waiters wearing mournful expressions in the dining room.
Our recent meal at Bawarchi in Manhattan was a colossal disaster.
It appeared as if a herd of tail-less baboons were running amok in the kitchen abetted by their clueless wait-staff accomplices in the dining room.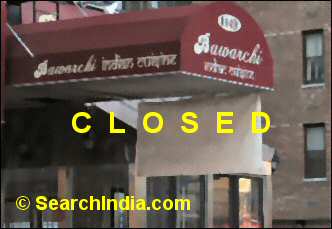 Bawarchi NYC – Closed
Only with utmost difficulty could we restrain ourselves from puking our guts out at this rat-hole after one of the most disgusting 'Indian' meals of our life.
From the uncooked Saag to the dry rice to the flavorless Lamb Roganjosh to the horrid Gajar Halwa to our wobbly table to the indifferent service, almost everything about this so-called Indian restaurant screamed garbage.
Vegetarian or non-vegetarian, the clowns at Bawarchi leave no stone unturned to mess up your meal.
And that Mutter Paneer. Mon dieu, never in a long life have we tasted such sour Mutter Paneer.
By god, even a novice chef would not churn out so bad a Bhindi Do Piaza. Say, was that perversity the work of a chef or cobbler. You see, the Chilli Powder was not mixed properly with the vegetables and the powder kept coming into the mouth leaving a horrible taste behind.
Naan Bread had an unpleasant thin biscuit-like texture while the rice in the Peas Pulao was far too dry.
Chicken Tikka Masala was a flavorless monstrosity that we'd not serve to our worst enemies.
Tandoori Chicken was a travesty and a stunning act of cruelty. Brought to our table by a sullen waiter, its only defining characteristic  was that it was very hot on the outside. We doubt it had seen any marination whatsoever. If NYC had a law against mislabeling, the Bawarchi folks would be hauled up for this freakish Tandoori Chicken.
After stepping into one deep pothole after another and with nemesis constantly dogging our heels, we had zero hopes from desserts.
Gajar Halwa was low on sugar and raw with stale pistachios carelessly strewn on top. Beyond pathetic.
Bread Pudding was a bland abomination, an aggravated assault on the taste-buds that's not worth wasting time over. Rasmalai was alright but nothing to rave about.
These morons couldn't even offer Indian style Masala Chai though it was listed on the menu.
All we were offered was milk-less American style Chai.
Who Died, Buddy?
As for the service, the clowns at Bawarchi wouldn't be able to recognize it if it kicked them in the groin or anywhere else.
As we entered the restaurant, a waiter asked us how many were in our party and quickly disappeared. A little while later, another waiter appeared and repeated the question but this time we were led to a table.
All of our waiters were not merely unsmiling but appeared so downcast, as if they had just returned from a dear one's funeral, that we were tempted to offer our condolences over the loss of a loved one.
Although the restaurant was not crowded, the waiters were never to be found when we wanted to order other items.
To say we were disappointed with our meal at Bawarchi would be a gross understatement.
Folks, if you are in the mood for a nice Indian meal, then Bawarchi is most definitely the place to skip.
Run from this horror show.