High profile NYC Indian restaurant Tabla will be the latest desi eating house in the Big Apple to join the gone baby, gone club.
After failing to attract sufficient diners to succeed as a business, the 12-year-old Tabla is shutting its doors on December 30.
Bombay/Goa native Floyd Cardoz calls the shots in Tabla's kitchen.
Here's what Floyd has to say on Tabla's impending closing:
While Tabla succeeded so beautifully in so many ways as a restaurant, we regret that it ultimately was not able to succeed as a business. Despite our greatest efforts, its 283 seats have proved too many to sustain for a restaurant with such a special culinary focus.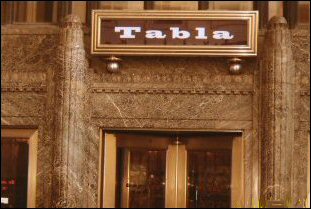 Tabla NYC – End of the Road
Located at 11 Madison Avenue (adjacent to Madison Square Park), Tabla was more of an upper crust Indian-fusion restaurant than a propah Indian eating place.
No sir, not for the hoi polloi this one.
No Surprise
Well, the writing was always on the wall for Tabla.
Come on, how long can you stay in business when your Chicken Samosa costs $14, Pumpkin Rasam $11, Bhoondi Raita $7, Goan Fish Curry $19 and Tomato Chutney $4.
It's a surprise the restaurant lasted a dozen years.
God knows, how much money went down the drain.
Get This Right
All ye schmucks, now get this straight.
The unwashed masses may be drawn to trashy Indian dumps of which there a few hundred in greater NYC but Indian cuisine has never caught on in a big way with the money-bags who likely gravitate toward Italian, French and other cuisines.
When the economy was booming, many ordinary folks too may have occasionally been tempted to try out Tabla's fancy food. But with the economy deep in the toilet, the going likely turned very tough for Tabla.
While we've driven past Tabla on several occasions, we've never been tempted to go in largely because we're not partial to bastardized Indian fusion restaurants that serve Stone Church Farms Normandy Duck ($28), Elysian Fields Lamb Loin & Short Rib ($32) and Roasted Poulet Rouge Chicken ($26).
Which sane Indian restaurant serves Stone Church Farms Normandy Duck, Elysian Fields Lamb Loin & short Rib and Roasted Poulet Rouge Chicken.
Now don't make us laugh, will ya. 😉
Given the rich variety (we mean regional variations) in Indian cuisine, fusion in the context of Indian food ought to be more like a combination of North Indian, South Indian, Goan, Gujarati, Bengali, Tibetan cuisine not Normandy Duck or Elysian Fields Lamb Loin & Short Rib. Ha ha ha.
Comprende, Floyd?
By the way, Floyd plans to stay with the company and develop a new restaurant 'beyond the realm of Indian spices.'
Tabla is part of Danny Meyers' Union Square Hospitality Group, which comprises of several restaurants plus the popular Shake Shack.
Tabla plans to host several events including beer and wine tasting, guest chef appearances, cocktail parties and cooking classes to let its fans enjoy the restaurant before the curtain drops on December 30.