It'd been eons since we visited the Flushing Dosa Hutt or whatever Indian restaurant existed in its place then.
So during a recent visit to the elephant-headed Hindu God Ganesh at the Flushing Hindu Temple on Bowne St in Queen's the other day (we didn't go inside but others in our group did), we took this as a divine opportunity to visit the nearby Dosa Hutt South Indian restaurant as well.
No Frills Place
Dosa Hutt is not the kind of restaurant you'd want to take your date to if you want to make 'headway' with her.
It  has the unmistakable look of a dump, both inside and outside, that only an Indian restaurant in Queen's can lay claim to. Tables and chairs have seen better days, the floor could do with heavy scrubbing, the rest room has very little toilet paper in the roll, the food comes in plastic plates and spoons et al.
Dosa Hutt is a self-serve restaurant. You walk up to the counter, glance up at the menu on the wall, place your order, find a table and wait for your food to come to the counter and pay on the way out.
Since we were ravenously hungry, we didn't skimp when it came to ordering  – Idil, Vada, Pondicherry Dosa, Onion-Chilly Utappam, Adai and Coffee.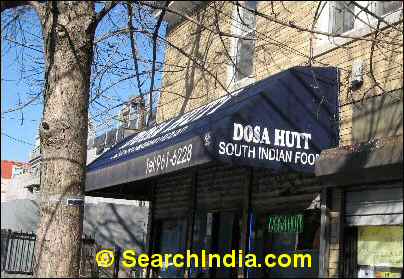 Soft Idli & Crisp Vada
Our Idli and Vada came with Coconut Chutney and hot Sambar in a small cup.
Idli was hot, soft and fluffy. Vada was crisp, hot and yummy.
To our great delight, Coconut Chutney was very fresh and not the ice cold junk most Indian restaurants dole out in New York/New Jersey. By golly, we enjoyed our Idli and Vada with Coconut Chutney but we definitely would have liked the Chutney a tad spicier.
Sambar (made of Italian Green Squash, Beans, Carrot and Onion) was a disappointment, tasting more like watery Dal. It lacked/was low on key ingredients like Dhania, Black Pepper spices and Tamarind.
Amazing Dosa
As we were polishing off the Idli and Vada, the Pondicherry Dosa was ready.
Cut into three pieces, the Pondicherry Dosa had potato filling with chopped raw tomato and sliced green chilli and masala powder or chutney powder smeared to the inside.
Pondicherry Dosa was a treat. Crisp, tasty and spicy, we almost came after the first bite. The Dosa came with Coconut and that offensively tasteless Sambar, which we gave the cold shoulder to.
Our Adai and Onion Chilli Utappam landed on the counter shortly.
Onion Chilli Utappam was so so but Adai was a complete disappointment.
Onion Chilli Utappam was low on Chillies and not much relished.
Adai had a nice Ginger flavor but it was hard. Adai should be crisp and is usually served with Vegetable Korma. But Dosa Hutt's Adai came with Coconut Chutney and Sambar. When we asked the Tamil fellow at the counter about the Korma while paying our bill he indifferently remarked if you had asked we would have given Korma.
Ass*oles, how the f*ck are we supposed to know that we ought to ask for the Korma. There were no signs anywhere nor were we told beforehand.
Bloody cheating Indian swines!
Coffee – Cat's Piss
What got our goat the most was Dosa Hutt's Coffee.
By God, Cat's piss would taste better.
It was the crappiest Coffee to have touched our lips in North America.
There were mucho problems with Dosa Hutt's Coffee. Coffee decoction was very weak and very watery. Second, the milk was watery. Third, the coffee tasted as if the Coffee powder has been recycled several times. Coffee was so trashy that we trashed it after a few sips.
We picked up a couple of boxes of South Indian Mixture as an accompaniment for our late night drinks. The mixture was tasty, fresh and the Gin-Mixture combo was great.
Notwithstanding its few disappointments, Dosa Hutt's Pondicherry Dosa, Idli and Vada are such attractive blandishments  that we could easily be lured into a a repeat visit.