Southern Spice is now closed
(via iPhone)
Lunching at Southern Spice in Flushing (near the Ganesh Temple).
Lousy. Lousy. Lousy.
Comprende?
Lousy food. Lousy desserts. Lousy service.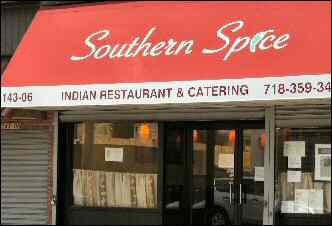 Full review coming later.
Update
After reading a report in the New York Times that Sridhar Rathnam, the owner of Madras Cafe, a NYC vegetarian restaurant we liked, had opened a new non-vegetarian place on 45th Ave in Flushing, close to the famous Ganesh Temple we made haste to the place.
After all, if we suffer from any ailments it must be nymphomania for Indian food.
Alas, unlike Sridhar Rathnam's Madras Cafe on 2nd Ave in Manhattan's East Village, Southern Spice is a spiceless travesty that hopes to ride its way to success on the coattails of the hordes of visitors to the Ganesh Temple, just a block away on Bowne St.
Our recent meal at Southern Spice was such a series of mishaps that we were left wondering if the chef's inner demons had slipped their leash.
You see, Southern Spice is a restaurant that never misses a chance to display its contempt for diners both by way of its crappy food and hopeless service. (By the way, Southern Spice's menu card lists Sridhar Rathnam as the chef. Go figure.)
Hard Monster
Medhu Vada was a hard monster and, worse, not even lukewarm.
Don't believe us if you don't want to but we think extra effort must have gone into turning Mirchi Bajji into such a tasteless, lukewarm abomination.
In several decades of eating Cabbage Poriyal, never has such a flavorless version touched our lips.
Hello, what is wrong?
As for the medium-thick Munakkaya Vankaya Pulusu, Munnakaya (drumstick) was a mere figment of an overzealous chef's imagination because we found no evidence of it.
Somebody, please haul these people up for false labeling.
Speaking of the paste-like White Rice, the folks at Southern Spice must surely have picked up the cheapest dregs. Plain awful.
Amidst the mostly disappointing fare on the vegetarian side, Potato Varuval turned out to be the rare palatable exception.
You want to know about the Sambar? Just edible.
Meat Side
As we crossed the frontier into meat-territory, the chimps in Southern Spice's kitchen smacked us hard with a tasteless, flavorless freak of a Chicken Korma (in a watery gravy) that tasted as if it had been prepared by an itinerant barber, not by a resident chef.
By now, we were reeling from the multiple assaults on our tastebuds.
Chicken Biryani was among the few items that passed muster. Spicy enough for South Indian palates, it definitely deserved a B+ grade or maybe even higher grade.
Tandoori Chicken was not the ugly red color mess that it usually is in most Indian restaurants in NYC. But that's about the only positive thing we can say about it.
Desserts
The chefs in at Southern Spice left no stone unturned in ensuring desserts were on par with the rest of their junk food.
Carrot Halwa tasted as if we were eating grated half-boiled carrots. Bet even horses wouldn't touch this stuff.
In despair, we ordered Tapioca Payasam in hopes that we'd get hot payasam, a specialty of South Indian restaurants. Alas, what landed on our table was an ugly cold white mess, high on sugar without any cashewnuts and not the slightest flavor of Cardamom.
By now, we were in tears in the certainty that the nearby God Ganesh, yes, he of the elephant trunk, was punishing us for some serious act of omission or commission.
God, these Southern Spice blokes failed to get even the Madras Coffee right – flavorless because the decoction was too weak.
Disservice
Service at Southern Spice can best be described as pathetic.
How else can you explain a non-vegetarian restaurant that does not even provide a knife to diners.
No, none of the other tables near us had a knife either (there was a whole bunch of knives stashed away on the left-side at the entrance to Southern Spice's kitchen but why they were not offered to diners is a mystery).
Our waiter Rakesh (a young lad from Hyderabad in South India) completely ignored us but lavished his attention on a group of Caucasian and Oriental women at an adjacent table.
Dazed and disappointed, we stumbled out of Southern Spice in utter befuddlement as to how this hideous dump could lay claim to being an Indian restaurant.
All in all, Southern Spice is not an Indian restaurant that we'd like to revisit any time soon unless we take leave of our senses.
Related Stories:
Southern Spice NYC has Evidence of Mice or Live Mice – NYC Health Dept.