By Tiramisu
Located in the Curry Hill restaurant district (Lexington Ave and 28th St) of Manhattan, Anjappar Chettinad opened its doors to diners in the Big Apple less than a week ago.
Anjappar's NYC outpost comes four years after the South Indian restaurant chain dropped anchor on the East Coast in North Brunswick, New Jersey.
We ambled into the Lexington Ave location late afternoon 3:40ish on Saturday toward the end of Lunch service and were greeted by an amiable South Indian waiter.
Anjappar – New Chettinad Outpost on Lexington Ave, NYC
However, he had a deer caught in the headlights look on his face.
Turned out he wasn't sure if we had missed the lunch closing time. After a quick trip to the kitchen, he confirmed that they were open for business and promptly seated us.
There were just a handful of fellow diners in the restaurant when we walked in.
Anjappar NYC – Cramped Seating, Nice Ambience
The interiors are brightly lit and painted with bold colors with some vestiges of Chettinad – two floor to roof Chettinad style carved columns and a large ornate teak wood carving bolted to the ceiling.
Seating is pretty tight, they have crammed in as many seats as possible. Par for the course in Manhattan, no complaints there.
Sofa style seats abutting the walls and tables with deewan style seating in the center.
Though the cushioned deewans (couch with no backrest) are reminiscent of Chettinad, seats with absolutely no backs at dinner tables is asinine.
Imagine eating dinner with your spouse and hearing 'Honey, need to rest my back gonna lean up against the dude in the table behind us'. 🙁
Tables are that close and couch seats have no backrest!
Unlike the vast majority of waiters in South Asian restaurants in this area, the South Indian and Bangladeshi waiters had a cheerful disposition and wore a smile on their faces.
They have a small bar and the liquor range in the bar looked spartan.
Not sure why they had five or six employees milling around the bar area doing nothing. If they're not gathered at the bar, you can be sure staff at Indian restaurants are jabbering away at the cash register.
One customer who trekked in after us was turned away and asked to come back at 5:30PM for dinner service.
A simple 'CLOSED' sign at the door could have solved the problem.
But this being week one for Anjappar's Manhattan outpost, it's kinda excusable.
A small wine menu was offered, nothing spectacular – entry level offerings.
Food – Mixed Bag
We were famished and quickly ordered the mainstays of Chettinad  cuisine – Chicken Kothu Porotta, Kathirikai Kozhumbu, Mutton Sukka Varuval, Egg Appam, Plain Dosa and Payasam, all in one go.
We were pleasantly surprised at the alacrity of the kitchen's response.
Hey, we were eating in under five minutes.
Was asking myself if stuff was coming out the 1 minute re-heat cycle in a microwave…didn't want to jump to any conclusion. 😉
Chicken Kothu Porotta – Bony Travesty
Chicken Kothu Porotta was spicy and delicious.
Spicy minced porotta and chicken with a smattering of curry leaves.
The spice and heat was just right, but might be too spicy for North American palates though.
In Tamil Nadu, this is popular street food. You see cooks (typically referred to as master) hacking away with two metal spatulas at a hodgepodge of porotta, chicken and egg on a hot cast iron plate.
This New York rendition did not have any eggs in it.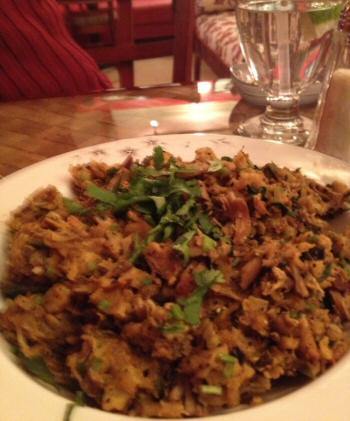 Chicken Kothu Porotta – Bony Travesty

So 'all izz well' with the Chicken Kothu porotta until my molars painfully encounter a chicken bone fragment in my Kothu Porotta.
Imagine coming up against a lamppost with legs splayed when skiing down slope or getting stuck in a tongue ring during a BJ… you get the drift !!
Was terribly disappointed to find a few more chicken bone fragments in my Kothu Porotta, big letdown.
Cardinal sin – it's like finding fish bones in Sashimi.
Egg Appam came with sweetened coconut milk and a small cup of vegetable korma.
This dish was done very well, the Appam freshly prepared and the vegetable korma had the right amount of heat and Chettinad spicing. Appam was spongy and eggilicious in the middle.
The dish comes with two Appams.
Plain Dosa was also freshly prepared, crispy, big and came with four accompaniments – Coconut chutney, Milagai podi, Sambar and Cilantro chutney.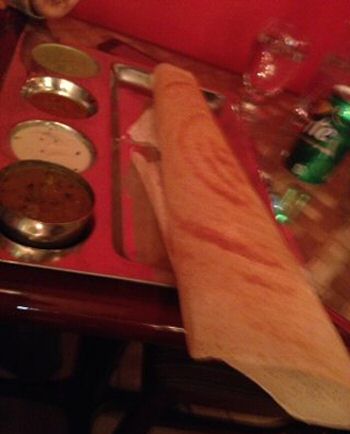 Plain Dosa with Chutney, Sambar – Crisp

The coconut chutney was a delight and so was the Cilantro chutney, a tad spicy though.
Sambar was a home run with the right amount of vegetables, spice and lentils.
Oh boy, this place knows how to make Sambar. Can't go wrong with this one.
Mutton Sukka Varuval – A Disaster
Now for the Mutton Sukka Varuval – literally translates to 'Mutton (Goat meat) Dry Fried'.
It looked like a big mush and was slightly unappealing visually.
Considering that the dish was served at room temperature we surmised that it probably encountered a wok many hours ago.
The meat was stringy and might have come off someone's boots!
I just flushed $14.95 down the drain.
Kathirikai Kozhumbu, much to our surprise, did not come with white rice.
White rice is a separate charge item!
In our book, this is highway robbery plain and simple.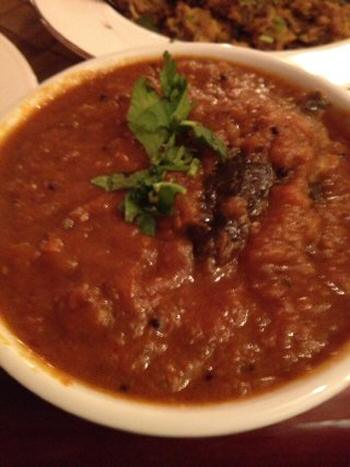 Anjappar's Kathirikai Kozhumbu – Thick Gravy

It had two eggplants cooked nicely in a spicy and tangy thick Chettinad sauce.
The sauce could have benefited from a little more of the Chettinad spice aroma infused to it.
Usually Kozhumbu is a thick liquid but Anjappar makes it more like a thick gravy presumably to appease North Indian and North American taste-buds.
Nice Payasam
Hey, what's a meal without some Indian dessert!
So we decided to finish our meal with some Paal Payasam.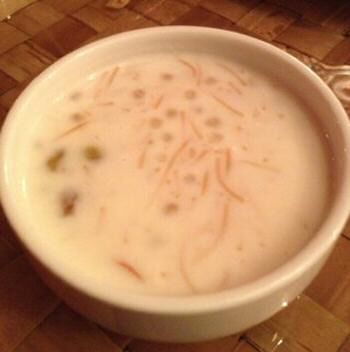 Sweet Temptation – Paal Payasam
The Payasam came in a decent size bowl and had the right amount of sugar, not too cloyingly sweet.
Cooked with milk, vermicelli, sabudhana and garnished with raisins this was a very nicely executed dessert.
A nice ending to a lunch with some bad misses.
Service Snafu
Much to our delight the South Indian and Bangladeshi waiters were checking on us frequently.
However, they failed to notice that our water glasses were empty and had to be reminded of it.
Nevertheless they seemed to be happy campers which is very atypical of most waiters in Asian restaurants in this area. Usually we are accustomed to getting the – I am stuck in this sh*thole and why the hell are you here ? el-cheapo desi who doesn't fall for my $4.50 lassi that was churned from a mango pulp can.
Anjappar NYC – My Verdict
We have seen numerous Indian/Pakistani/Bangladeshi owned restaurants come and go in Curry Hill. Some change colors, a few others the facades, menu and owners but most just fold.
Barring a few exceptions like Saravanaa Bhavan or Chinese Mirch, most Lexington Ave Indian places invariably kiss the dust after a few years.
Don't forget, as you walk down the Curry Hill stretch of Lexington Ave you're stepping on the graves of shuttered Indian restaurants like Masala Bollywood, Tamil Nadu Bhavan, Cardamom, Cinnamon, Diwali, Katie Rolls, Coconut Grove, Asaivam, Indo Wok, Banana Leaf, Udupi, Ruchi, Indo Munch, Bombay Grill, Deepam, Yogi's Kitchen etc.
Let's see how Anjappar Chettinad NYC fares.
My Verdict : Good Service, pleasant ambience, middling fare, food can be hit or miss.
Anjappar Chettinad Related Posts:
Anjappar Chettinad New Jersey – Awful Service,Lousy Food