Unlike the many clueless little twits on Yelp, Chowhound or other such sites where the ignorati herd gather to chew the fat, we know Indian food.
So with the growing chatter on Jackson Diner (an entrenched player on the Indian strip at 74th St in Jackson Heights, NY) setting up shop in Manhattan on University Place, we braved the November chill and decided to see for ourselves what all the noise was about by heading over to NYC.
By the way, Jackson Diner's Manhattan location is at 72 University Place (site of the now closed Cafe Spice) and if you plan on ordering carry out or delivery the Phone No is 212-466-0820.
After an unremarkable meal at Jackson Diner NYC accompanied by songs from the old Bollywood movie Bobby playing on the restaurant's music system, here's our verdict – No Big Deal!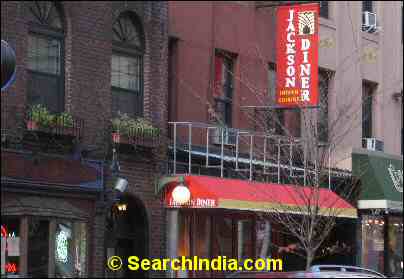 Jackson Diner NYC – Competition has Nothing to Fear
If the Manhattan outpost of Jackson Diner continues to dish out the kind of food it currently offers, other Indian restaurants in the area like Indian Taj, Surya, Baluchi's, Karahi et al not only have no cause for worry but their managers/owners can pour themselves a large drink.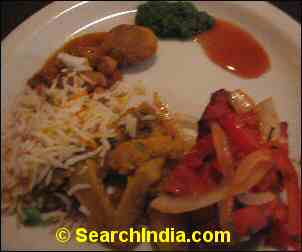 Tandoori Chicken, Alu Tikki, Pulav Rice,
Channa Masala and Alu Gobi
As is our wont, at Jackson Diner NYC we trekked across the vast prairie of Indian cuisine stopping for a nibble here, a bite there and a sip yonder.
For the most part, the food at Jackson Diner NYC falls in the average category.
Not bad at all but nothing that stands out in any fashion.
No wow elements here.
Considering these Jackson Diner fellas are not novices to the Indian restaurant business in these parts, an 'Average' grade could be disappointing given the high expectation the restaurant brings.
By the way, a good quick check of a NYC Indian restaurant is to see how well they acquit themselves on the basics, i.e. simple stuff like Dal Makhani, Tandoori Chicken, Chicken Makhani and Sag Paneer.
Here, Jackson Diner NYC notched up a mixed record.
Dal Makhani was an embarrassment. Not in the least flavorful with the culprit being the lack of seasoning. All we felt going down our gullet was just boiled lentils. Sad.
Alu Gobi was a bit of letdown with the Gobi turning out overcooked, too much Gobi, too little Alu and overall very mildly spiced. But still there was some flavor to the end-result.
Alu Tikki and Channa Masala were both acceptable compared to what we've endured elsewhere.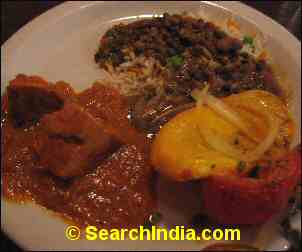 Chicken Makhani, Tandoori Vegetables,
Pulav Rice and Dal Makhani
The creamy Saag Paneer was another mildly spiced item. Hey, was the Paneer added later? Perhaps!
Tandoori Chicken at Indian restaurants in the NYC-NJ area has been giving us a lot of grief lately.
Mercifully, Jackson Diner NYC acquitted itself fairly well on this front.  Tandoori Chicken was moist, the marination was okay and we are grateful for the absence of the obscene pinkish-red coloring we often encounter elsewhere. It was orangish here. Sometimes, a change of color in the chicken can be a nice distraction. 😉
Chicken Makhani, a popular and standard fixture at most NYC Indian restaurants, was a tasty delight. Easily, the best item on offer. Creamy tasty sauce and tender chicken pieces. With rice or Naan Bread, there wasn't much room to complain even for querulous souls like yours truly.
Alas, the Goat Curry was a bony mess in a watery gravy. A few tiny pieces of meat in an ocean of bones. At least, the meat was not chewy.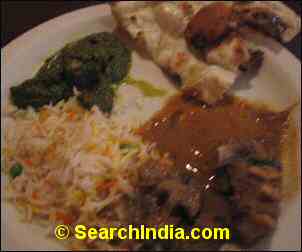 Goat Curry, Sag Paneer, Pulav Rice &  Naan
Naan Bread was of uneven quality. The first basket was undistinguished. However, some pieces in the second basket made up with their buttery finish. Yummy!
During our visit, there was just one dessert – Rice Kheer with sliced almond and, horror, raw cashews.
In an egregious sin, the dessert was lacking in sugar. We got the feeling Rice was added to the cold milk as an afterthought. Unworthy of a restaurant with a pedigree like Jackson Diner, we derived little solace from this item.
Masala Chai was again delicately spiced and had a little more milk than we'd have liked but was still not a bad deal.
Bastardized Cuisine
Adding to our disappointment, there were no South Indian items on the buffet table or in the takeout menu that we picked up on the way out.
Like a whole bunch of NYC Indian restaurants, Jackson Diner NYC too serves bastardized Indian cuisine pandering to effete clueless Caucasian palates that can't handle spices or heat but insist on the experience of ethnic cuisine.
Indians are Pariahs
In a familiar tragedy that plays out at most Indian restaurants in the U.S., the Jackson Diner NYC staff too tend to give Indians the cold shoulder while planting moist kisses on the derrière of White diners.
Although the restaurant was mostly empty, we were not offered a choice of seating but herded to a corner until we protested. No one cared whether we wanted more Naan Bread. No one cared whether we wanted to order a post-meal beverage after our meal. No one cared about getting us our check. No one cared to see how we were doing.
All this while, we saw the Indian wait-staff in the restaurant pampering White diners by pulling out the chairs for them to be seated, chatting, joking and laughing ad infinitum with them (including in one case a disturbingly loud conversation with a White lady about her forthcoming Mexican trip, her young son and other trivia) and checking in on them.
Sure, this kind of apartheid is hardly new to us at Indian restaurants. But still irritating even after a million years in this country.
In the railway stations of pre-Independence India, there used to be three separate benches marked: For Europeans only, For Anglo-Indians Only and For Indians. Maybe, NYC Indian restaurants should borrow a page from the colonials and put out a sign warning Indians they will be treated shabbily rather than resort to such underhand tactics to discourage them from returning.
Or a better idea would be to ask Indians to eat in the kitchen. That way, you can still grab their money.
Wait, we can almost hear the Caucasian readers yelp-ing that such things don't happen in the 21st century. Not in NYC anyway. Well, what do these fair-skinned yokels who have never ever experienced shabby treatment at Indian restaurants know what we brown-skinned desis have endured for years in a sullen, silent rage.
Clueless Buffoons
Why is it that most Indian restaurants in the U.S. tend to employ only the dregs.
As we were at the buffet station, an elderly White lady walked in, looked over at the buffet table and asked the staff whether the restaurant served vegan food.
The two or three employees huddled there had no clue what she was talking about. One fellow (the dark-complexioned skinny chap with the short hair-cut mumbled about the different vegetarian items) that must have led the woman to believe she was talking to an unschooled dodo. In her second attempt, she explicitly asked for Vegetarian food without cheese. Now comes the shocker – a second Jackson Diner NYC employee (the stout guy with glasses) proudly told her about the Sag Paneer with Cheese!
We had a hard time concealing our shock at such ineptitude in the staff.
Bottom Line
Given our experience of the food and service at Jackson Diner NYC would we revisit the establishment or recommend it to others?
Probably not.
Sure, the  know-nothing twits will come out of the woodwork and argue that Jackson Diner NYC is still new, they have yet to settle down, yada yada yada.
Hell, these Jackson Diner fellas are Methuselahs in the Indian restaurant business. Not tyros.
Why would you want to cut them any slack.
For the Indian food cognoscenti, Jackson Diner NYC is not a must visit destination. As for the rest, they'll eat anything labeled 'Indian' and won't know the difference anyway.