Most NYC Indian restaurants are bad but some like Aaheli are more bad than the others:
First, they said it was 'South Indian Coffee.'

Then, after we discovered several cardamom pods along with dark coffee powder floating on the surface the yuck 'South Indian Coffee' became Nescafe.

Next, the flustered waiter waved his hand and morphed the 'South Indian Coffee' with cardamom into Indian Bru Coffee.

Shortly thereafter, the 'South Indian Coffee' turned into Mysore Coffee (apparently Aaheli's chef hails from Mysore).

Finally, in what seemed like a farce from a bad-ass Bollywood movie our Telugu-speaking waiter Kiran Kumar Choudhury cozied up to us and declared sotto voce: Sir, I have worked in so many places including the Taj in India but I've never seen anything like this coffee. I won't charge you for this coffee.
Forget about making a fine cup of South Indian Coffee, these Aaheli imbeciles wouldn't recognize South India on the map.
Folks, we are sometimes ambivalent about mercy-killing but in the case of Aaheli euthanasia seems the best course to avoid this ugly repellent sore inflicting any more pain on diners and heaping further disgrace on itself.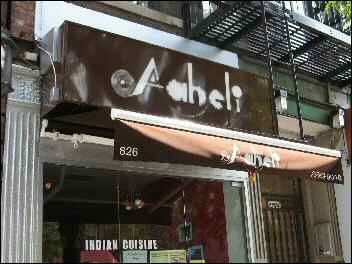 Aaheli – Enemy of the Palate
Enemy of the Palate
We can't more accurately describe Aaheli Indian restaurant at 826 9th Ave in New York City than to denounce it as an Enemy of the Palate.
Not in a thousand years will we be able to get over the embarrassment of inviting our Mudaliar friend to this wannabe Indian restaurant Aaheli.
Even by the standards of bad-ass NYC Indian restaurants, Aaheli stands out like a leprous sore.
Located on 9th Avenue in midtown Manhattan, Aaheli is a new Indian restaurant that came to our notice via a small item in the Open Now pages of the New York Times on August 11.
Our appetites whetted, we planned an early visit.
An opportunity soon presented itself when our friend visited us from West Bengal. So promising him a respite from our home cooking, we headed to NYC the other day. After struggling for about 15-minutes to find a parking spot, we finally marched into Aaheli with mucho anticipation and hunger.
The reception we encountered was cold (although like at most NYC Indian restaurants we saw Caucasian diners being warmly welcomed with beatific smiles).
After settling down at a cramped table in this tiny restaurant, we got down to business.
We gave free rein to our appetite to graze on a variety of items.
North Indian and South Indian, Vegetarian and Non-Vegetarian (i.e meat dishes), Kulfi and 'South Indian Coffee,' we tried 'em all.
Alas, with but a single exception, they all belonged in a dumpster not on a diner's table.
Nonpareil Disgrace
From the spiceless but sweet Vegetable Korma to the flavorless Gobi Palak with uncooked Gobi to the watery, tasteless Rajma Masala to the poorly marinated, inedible Tandoori Chicken, Aaheli is a nonpareil disgrace.
Medhu Vada had a slightly sour, fermented taste while the accompanying Coconut Chutney was a cold, bland monstrosity with too much blackgram channa seasoning.
Lazybones, if you can't serve fresh Chutney steer clear of the restaurant business.
To describe the watery mess that came with the Medhu Vada and Dosa as Sambar would be an utter travesty. The flavorless stuff was low on salt and showed no evidence of any acquaintance with tamarind or Sambar powder.
As for the Masala Dosa, if what we were served is Masala Dosa then we are Genghiz Khan! Oddly, Aaheli's Masala Dosa come in a pair. Talk of doubling your misery.
An aggravated assault on our South Indian tastebuds, Aaheli's Masala Dosas were not crisp, one of them was burnt and the filling inside was just boiled potatoes and onions with some turmeric powder seemingly thrown in hastily by an amateur chef as an afterthought.
Lamb Rajasthani was way too bland and way too hard to merit any attention.
As for the third non-vegetarian item we tried at Aaheli, only someone with a surfeit of tikka ganchali (obnoxious arrogance) would dare call this offensively flavorless, orange mess Chicken Tikka Masala.
Except for the first round of Garlic Naans, the food at Aaheli is a study in hideous perversity. No less.
Desserts? Mon Dieu
The clueless buffoons at Aaheli wouldn't recognize an Indian dessert if it smacked them square on the face.
The horrid tasting Pista Kulfi was a joke and to make it worse our waitress tried to yank it away before we were finished. Maybe, it was her compassionate self coming to the fore.
As for the rice pudding, we wouldn't even throw it in the dumpster for fear of committing homicide on the rats. Ugly to behold and uglier to ingest, that is Aaheli's Rice Pudding.
Service at this ugly Indian restaurant is completely absent.
There were no Naans at the buffet table and no one bothered until we asked them. Our finished plates were not removed promptly making it most uncomfortable at our cramped table.
We suffered from cold neglect even as we enviously espied fawning attention being lavished on Caucasians diners (Aaheli means pure, explained our waiter to a neighbor at a nearby table in what seemed like a Goebbelsian lie to us).
Inedible food, indifferent service and inescapable Karma summed up our encounter with the purveyors of misery at Aaheli.
For long years, we have borne the slings and arrows of ourageous fortune with quiet fortitude but the pain caused to our palate at Aaheli was a cruel twist we'd not wish on another human or even a beast.
To visit Aaheli is to invite Marquis de Sade into your boudoir, hand him the whip and bid him do as he pleases to the tender parts of your body.