Does it really matter if an NYC Indian restaurant possesses a no-frills look from the outside and on the inside as long as the food is divine.
Folks, ignore the drab decor at Maharaja Sweets and Snacks on 37th Avenue in Jackson Heights, NY.
As you walk into the store, you see a glass case filled with a million kinds of sweets. A choice so vast that it's hard to make a selection.
After sampling several varieties of Maharaja's sweets and some snacks as well, our conclusion – Superb.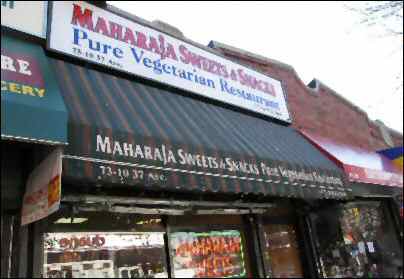 Sweets for a Maharaja
Divine Sweets
Given our penchant for all things sweet, we eagerly dug into several sweets including Kaju Katli, Kalakhand, Badam Pista Roll, Pink Sandwich, Maharaja Sandwich and Anjeer.
Without exception, all the sweets we tasted had a fresh flavor and divine taste.
Not the stale and smelly junk we have encountered at a few other Indian places in New York and New Jersey.
Kaju Katli and Almond Burfi had the right hardness and a wonderful taste.
Anjeer Burfi is the kind of stuff designed to draw attract visitors.
Repeatedly, we were swept away at the taste and freshness.
The two varieties of Kalakhand we tried had a fine textural softness and an epicurean's delight.
In a succession of triumphs, the Kaju Pista Roll and Badam Pista Roll tasted as if they had just been taken off the stove. So fresh and so yummy.
Fine Snacks
The crisp Spinach-Onion Pakoras with Dhania seeds and the accompaniment of Green Chutney and Tamarind sauce sent us into a drooling ecstasy.
The Vegetable Samosas were fresh. Potato filling with Jeera and ginger seasoning was extremely flavorful and left no room for complaint.
Spicy Green Chutney added a nice zing to both Samosas and the Pakoras.
Great Masala Chai
Should you visit Maharaja, you'd be a fool not to order the Masala Chai.
During our visit, the weather was awfully cold.
Hot Masala Chai with a strong flavor of cardamom was a perfect antidote for the chilly weather. Milk, tea leaves, water and the Indian spices that go into Masala Chai were rightly proportioned.
So-So Service
We didn't encounter poor service but we watched an elderly man being rudely rebuffed by the saleswoman when he wanted to buy a sweet placed in the tray on the countertop rather than the same sweet inside the pre-packed box.
If you ignore the single instance of poor service, the sweets and snacks at Maharaja are to, repeat a cliche, fit for a Maharaja.
We are itching to make a return visit to Maharaja.