Folks, make no mistake – Bukhara Grill NYC at 217 on E.49th Street in Midtown Manhattan is an unhygienic Indian shithole.
What, is Bukhara Grill NYC really a shithole?
Of course, it's a shithole. What else can you call an Indian restaurant that has evidence of mice, live roaches and tons of other hygiene problems (If in doubt, see New York City Health Dept. inspection report of Bukhara Grill NYC dt 11/22/2010 in which the restaurant got a whopping 58 violation points).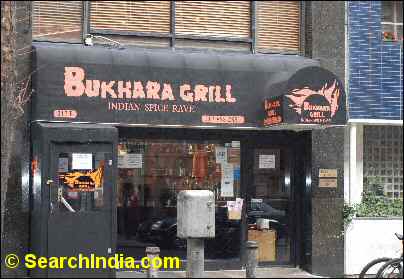 Bukhara Grill NYC – Unhygienic Shithole, Good Food
Ugly Shithole – Beautiful Food
But surprisingly for a shithole Bukhara Grill serves mostly fine Indian food.
During our recent visit to Bukhara Grill NYC (located a few doors from the Smith & Wollensky steakhouse), we trotted across the vast prairie of our favorite Indian cuisine.
Nibbling, munching and gobbling an array of non-vegetarian and vegetarian Indian food items, we recently spent over an hour at the restaurant.
Achari Baingan, Alu Tikki, Chicken Tikka, Chicken Makhani, Tandoori Chicken, Balti Gosht, Vegetable Cutlet, Gobi Masala, Saag, Kadai Paneer, Dal Bukhara, Gajar Halwa, Badami Kheer, oh, what a culinary voyage it turned out to be.
Most of the curries we tasted belonged in the decent category where flavor and spiciness is concerned.
Bukhara Grill is not a restaurant that scrimps on the spices to pander to its effeminate American customers' palates or goes overboard to genuflect at the altar of its masculine Indian clientele's tastebuds.
Nice Appetizers
With the ginger flavor coming through nicely, Alu Tikki was hot, spicy and very flavorful.
How nice. You know, Alu Tikki served in most Indian restaurants in NY/NJ region is invariably a pathetic piece of shit. Vegetable cutlets were crisp and hot and polished off quickly.
But the accompanying Channa Masala was a tad disappointing given that it was lukewarm and sour rather than spicy.
Grilled Onion, red Pepper, green Pepper and Tofu were alright. No complaints.
Mostly Flavorful Vegetarian Fare
Of the various vegetarian dishes we tried at Bukhara Grill, we loved Achari Baingan the most.
Sliced Baingan, Tomato and Onion pieces set in mildly pungent mustard, garlic, ginger flavored gravy was delicious with both naan bread and plain rice.
Bliss was it in that dawn to be alive but to eat Achari Baingan at Bukhara Grill was very heaven (Thank you, Wordsworth).
So divine  that it was with mucho difficulty we restrained ourselves from rushing into the kitchen and giving the chef a peck on his cheek!
Mildly spiced finely ground Spinach curry and the creamy, slightly sour Dal Bukhara were pleasing with Naan bread and plain Rice.
But we found the Cauliflower in Gobi Masala to be a little raw while Kadai Paneer with disproportionate amount of tomato was way too sour and slightly salty. Both were definitely not in the bad category but weren't much relished either.
Good Meat Dishes
Tandoori Chicken was juicy, well marinated with spices seeping into the very soul of the chicken. Although colored an obscene pink, we still enjoyed it thoroughly.
While Chicken Makhani had a fine creamy texture and delightful flavor, Bukhara Grill's Chicken Curry would get at best a B+ from us. You see, the medium thick brown color gravy in the chicken curry was extremely flavorful but it had not seeped well into the Chicken pieces. It seemed to us as if chicken pieces were not cooked with the gravy and added as an afterthought.
But the Balti Gosht set in a dark brown medium thick moderately spiced gravy amply compensated for the so so Chicken Curry. The lamb was tender and the gravy has seeped into the meat nicely and we enjoyed it with plan rice.
Naan bread came hot to the table and was just ok.
Disappointing Desserts, Awful Masala Tea
Gajar Halwa was slightly low on sugar and the grated carrot was mixed with too much of milk mawa. The other dessert Badami Kheer was a clear instance of mislabeling as it had the texture and taste of rice kheer with no evidence of almonds.
What angered us most at Bukhara Grill was the awful, disgustingly bad Masala Tea ($4.00). You see when we ordered Masala Tea we specifically asked the waiter whether it is Indian style Masala Tea. We placed the order for Masala Tea only after he clearly told us that it is Indian style Masala Tea. But what we got was not Indian style Masala Tea. The black Tea decoction came with cold milk. Tea was very watery and the cold milk made it worse. After charging $4.00 for a cup of masala tea, if an Indian restaurant can not serve hot and nice Indian-style masala tea then it has no reason to exist.
Dirty Dessert Plates, Mediocre Service
Though Bukhara Grill NYC opens for lunch at 11:30 am, food was not ready when we walked in at quarter to 12. Though food was hot, the buffet was dirty. Serving spoons were left on the dirty tables directly rather than in a plate.
Also several of dessert plates and bowls were dirty with a syrup-like stuff sticking to the plates.
Our medium height waiter with glasses couldn't contain his displeasure when we declined to order any drinks. Though there were more than one person in our group, the waiter poured water into only one glass and walked away. We had to hail him back and ask him to fill up all the water glasses.
Drinking water glasses were placed upside down directly on the table which had no table cloth or table mat. Even the fork and knife were placed directly on the table. Both are unhygienic practices.
Bukhara Grill NYC waiters didn't care whether we wanted more Naan bread or other stuff. At the first opportunity, they'd slink off to the tiny corner room and drink tea and eat from a small plate. Or huddle near the cash counter and chat.
The tall waiter in the Pathan dress tried to grab our dessert bowl when we were still eating it.
We blame the poor service on the bozo managers/owners who were huddled on the first floor near the counter and chatting instead of climbing up the stairs and keeping an eye on things. As the old saying goes, when the cat is away the mice will play. Comprende?
A Revisit?
Despite the fine food, we might still think twice before considering a revisit in view of Bukhara's poor service, bad hygiene practices we've seen and the horrible hygiene reports from the NYC Health Dept.
By the way, some might even consider $16.95 pricey for an Indian lunch buffet.
It's a mighty shame that Bukhara Grill NYC, which boasts of serving Indian Prime Minister Manmohan Singh, Hillary Clinton, pop icons Rolling Stones and U2 and Bollywood stars Shahrukh Khan, Karan Johar, Rishi Kapoor, Aamir Khan, Saif Ali Khan and Preity Zinta fails to maintain basic hygiene inside its establishment.
How disgusting!