Cinnamon is now closed
If like us you are a habitué at Indian restaurants in Manhattan, it's hard to ignore the Curry Hill stretch on Lexington Avenue in NYC.
You can't walk two steps in the neighborhood without tripping over an Indian restaurant – some good, some ugly and some horribly ugly.
So off we headed to NYC.
Shadowed by the watchful eyes of a dark-skinned Indian thug with simian features and porcine eyes, hired presumably by a no-good merdivorous pimp, we dined yesterday at Cinnamon, a newly opened Indian restaurant at 106 Lexington Ave (between 27th St and 28th St) in New York City.
Boy, did we strike gold with Cinnamon NYC.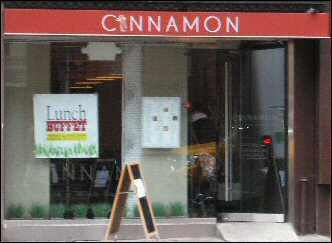 Folks, for $9.95 the lunch buffet at Cinnamon is a steal. Not in the Copper Chimney league (you get a glass of wine too for the same price at Copper Chimney) but good nevertheless.
There was a slight drizzle in the air and the crowds had all gathered outside Saravana Bhavan, the South Indian vegetarian restaurant a block down the road. So Cinnamon was quiet with only one table occupied as we made our way inside.
Manna for Carnivore Desis
While there were a few vegetarian dishes on the buffet table, the place is more a manna for meat-lovers on the prowl for a decent Indian meal on the cheap.
From the small cubes of the Chicken 65 appetizer to the spicy-but-not-obscenely-spicy Chennai Chicken that had us returning for a second helping to the tangy Gobi Manchurian and flavorful Chicken Tikka Masala, Cinnamon is that rare Indian restaurant on the Lexington Ave strip in Murray Hill with a chef who knows his way around the kitchen.
Thank God. We are so tired of eating bad Indian food.
Oh, we almost forgot to tell you about the second appetizer – minced chicken and lamb patties.
Who needs crack cocaine with such juicy, heavenly patties!
We heaped Chicken Biryani on our plate and with Lamb Vindaloo on the side, we set to work gorging. No complaints with either.
Soon, our friendly waiter brought us fresh Naan bread to the table. A sign for us to get a helping of the Chicken Tikka Masala, that staple of Indian restaurants in the West.
The chicken was tender and the tomato sauce creamy and tangy. Cinnamon's Naan bread and Chicken Tikka Masala  – you can't go wrong with that combination, guys.
After gobbling a few chunks of the delicious Tandoori Chicken and Lamb Kebab, we edged over to the green side where we spotted a rather forlorn looking Channa Saag.
Forlorn it might look but delicious was the taste of Channa Saag as we wrapped some of it into the Naan for the short trip to our mouth.
Soon after it was time for Dal Tarka (seasoned with onion and tomato) with Saffron Rice.
Yummy.
What a relief that the Dal item did not get short shrift at Cinnamon as it usually does at most Indian restaurants.
For desserts, we got both Gulab Jamun and Seviya Kheer.
Given our sweet cravings and gargantuan appetite for all things Indian, we tried 'em both. The Jamun syrup was a bit on the too-sweet side but still decent enough for us not to raise our complaint eyebrows too high.
Some Gripes
Sure, we do have a few gripes with our meal. We wouldn't be we if we didn't, right?
Our main gripe was the menacing thug glaring at us from outside the restaurant through the glass panel. Wonder if the Cinnamon management is aware of unsavory elements hanging around outside their restaurant. Maybe, they ought to look into which SOB is behind such activities lest other diners be the center of similar intimidating and unwelcome attention.
The other irritation of our meal was on the service side.
Our waiter, a friendly, polite young man, didn't care to put labels for all the dishes leaving vegetarian diners flummoxed as to which of the dishes were meat-laden.
The empty water glasses on our table encountered the two molecules of hydrogen and one molecule of oxygen more than five minutes after our meal began. And since the weather was a bit chilly the food on the buffet table could have been a tad warmer.
But don't get us wrong.
Except for the hostile looking element lurking outside, the service issues inside were minor overall.
Big Bang for Your Small Bucks
Given the good quality, quantity and variety of what one gets for a mere $9.95, the weekend lunch buffet at Cinnamon is a nice, value-laden deal if you are in the Lexington Ave area scouting for a good Indian meal.
Folks, go for it.
As for us, we can't wait to get back.