Aaahh, Oooohh, Aaah
More, Faster, Yes, Yes
Faster, More, Yes, Aah
Oh My God, Oh My God
I'm Saravanaaing, Ooh
Aaaaaahhhhhhhhhhh!
Nirvanaaahhh
@
Saravanaa Bhavan 😉

Folks, of how many Indian restaurants in New York City can you boldly, honestly declare that the food repeatedly produces a body shaking, rippling, lengthy orgasm that jerks you out of your seat.
One shuddering, exhilarating, quivering 10,000-volt orgasmic jolt after another.
Oh yeah, one jolt after another that had us panting gimme more, baby, gimme more!
Yes, that is the high Saravanaa Bhavan on 81 Lexington Ave (at 26th St) in NYC delivered right to our table.
We swear we saw glimpses of the starry heavens and the celestial nymphs Urvashi, Rambha and Manekha dancing in their itsy bitsy attire during our meal at the NYC Indian vegetarian restaurant Saravanaa Bhavan.
Schmucks, you think we're exaggerating or that this is all hyperbole?
Then tell us why there is a crowd waiting only outside Saravanaa Bhavan on Lexington Ave when most Indian restaurants in the area, both vegetarian and non-vegetarian, have an empty, woebegone, forlorn look?
Simple answer, kiddo. Simple.
You see, the food at the Lexington Ave outpost of Saravanaa Bhavan is so lip-smacking delicious that people are willing to tolerate the elements and even the irritation of the wait for a chance to experience the heaven that lies just beyond the restaurant's glass window.
We had been there for lunch a few years back (an unsatisfactory experience, by the way) but lately whenever we headed to the Indian strip on Lexington Ave we invariably noticed a crowd waiting outside.
Made us wonder what had changed at Saravanaa Bhavan that in a recession people (mostly Indians) would stand in line outside a restaurant.
So off we headed to this vegetarian Indian restaurant for breakfast the other day to investigate what was luring the crowds.
Breakfast at Tiffany's Saravanaa's
As we stepped into the Saravanaa Bhavan dining room the other day, the place already had five diners (both Indian and American) and more came after we were seated.
Not bad, we told ourselves. After all, we live in an depressed economy when many Indian restaurants on Lexington Ave would be lucky to land five diners for lunch or dinner!
Now, ask not what SI had for breakfast at Saravanaa Bhavan. Ask, instead, what we didn't.
Idli, Medhu Vada, Pongal, Masala Dosa, Coffee, Masala Chai, we had it all.
Ah, we can see you guys extending your drooling tongues out, saliva falling to the floor and just dying of jealousy.
Oh wait. We even gorged on the most tabulious Badam Halwa ever made this side of the Atlantic.
Sweet, na.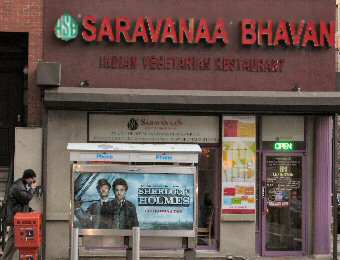 Saravanaa Bhavan,  Lexington Ave, NYC
Indian Vegetarian Mecca on Lexington Ave
Gosh, how do we describe the heavens to ye schmucks that have endured only the Hades of Indian restaurants on Lexington Ave in NYC.
Let's start with the Idlis.
Round and large, our two Idlis came on a stainless-steel plate with Coconut Chutney, Tomato Chutney, Mint Chutney, Mullagai Podi and a small cup of Sambar.
In a country where most Indian restaurants serve cold Chutney, we were delighted to eat fresh Chutneys. All three of our Chutneys were rightly spiced for Indian palates and prepared to satisfy even the most querulous of diners like yours truly.
Did we tell you? Though the Idlis were large in size, they were still light.
Dip the Idli pieces in the medium-thick beans+onion+tomato Sambar or have em' with the Chutneys, either way they are simply divine.
The large Medhu Vada was crisp, evenly cooked inside and seemed to have been prepared for the very Gods.
Pongal with its subtle pepper flavor and the different Chutneys kicked us up to a bigger high.
Masala Dosa – Flavorful But….
As we gormandized on the fresh vegetarian treats on our table, our Mexican waiter laid the large Masala Dosa before our greedy eyes and salivating tongue.
Masala Dosa too came with those divine Chutneys and the delicious Sambar plus of course, the onion/potato filling in the center.
Large, crisp and tasty as the Masala Dosa was, we felt a little let down over the tiny quantity of the onion+potato filling inside, which by the way was also a wee bit pasty.
Service Could be Better
The two Indian employees inside the dining room ignored us and were busy yakking away loudly in Tamil about some isometric kitchen and threatening to revoke the visa of an employee who had stopped coming to work, contacting the errant employee's friend Prabhu, how all employees prefer to work at the NYC branch of Saravanaa Bhavan blah blah blah.
If we had our way, we'd pack both these bozos on a leaky boat back to Tamil Nadu (the state where they presumably hail from).
Also, our Mexican waiter (the shorter one) not only had difficulty with the English language but also appeared to have missed the evolution boat completely.
You see, the Mexican waiter got us our Madras Coffee before our food. Since the Coffee was so good we did not give him an earful. But it could have been a bit hotter.
When we asked our Masala Tea to be reheated, the Amigo looked at us like a deer caught in the headlights. And we had to repeat our request, slowly.
However, the Amigo filled the water glasses, removed the finished plates and, more importantly checked with us before clearing the plates.
Irritating as the service issues were, they are minor cavils in what was an absolutely gorgeous, fulfilling, sumptuous meal.
Sweet Temptations
Tis' no secret that we have an insatiable, rapacious appetite for all things sweet. Yeah, this includes the biped members of the distaff sex too. 😉
The two options presented by our amigo waiter were Rava Kesari and Badam Halwa. Before the Mexican could complete the word Halwa we jumped out of our seats and asked for a plate of Badam Halwa.
The cup of Badam Halwa that landed on our plate looked so beautiful that we were, at first, reluctant to even touch it lest its pristine beauty be marred. But slowly, our inner Bakasura got the better of us and we dug into what we'll call the Aishwarya Rai competitor with gusto.
Not too ghee heavy nor over-heated, this is the kind of stuff that induces wet dreams even in the saints.
By now, we were in the seventh heavens and silently texted a Thank You, God to the one above for installing and deifying this Indian Vegetarian Orgasm Temple on Lexington Avenue in Manhattan.
At peace with the world after our standout Indian vegetarian meal, we slowly heaved our satiated selves out of our seat and stepped out of heaven into the real world but not before vowing a speedy return to its manifold pleasures.
Beg, Borrow or Steal
Guys, we don't care what you do.
If you really have an abiding passion for vegetarian Indian food as much as we do, then make Saravanaa Bhavan your next port of call.
Churchill may have promised blood, toil, tears and sweat to the Englishmen but we promise our fellow Indians that your reward at Saravanaa Bhavan will be nothing short of Soul Stirring Nirvana and a Mind-Blowing, Body Rippling Orgasm.
You can be sure it won't be long before we brave the thronging lunch crowds and head out to this Indian restaurant on Lexington Ave to sample its Vegetarian Thali.
Related Stories:
Michelin Folks Too get Orgasm at Saravanaas NYC a.k.a Saravanaa Bhavan on Lexington Ave
Saravanaa Bhavan Edison (NJ) Review – Murder Most Foul