Like all cheapo desis, we've always craved an Aishwarya Rai for the price of a Shriya Saran.
Class for the price of crass has unfailingly been our mantra and guiding light.
Oh, come on, you jerks. Don't tell us you unwashed, cheapo desis are any different.
And boy, an Aishwarya Rai is what we landed for the price of a Shriya Saran at Copper Chimney Indian restaurant on E 28th St off Lexington Ave in the Curry Hill area of New York City the other day.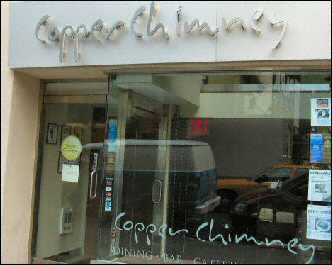 Copper Chimney NYC – Nice Indian Food
Help Us Out
Folks, we have a serious doubt here. Help us with this one, will you.
Say, is the owner of Copper Chimney NYC a moron or what?
The other day this bozo laid out a decent weekend Indian lunch buffet including a glass of wine for $9.95.
So un-Indian to serve quality food with polite service at cheap prices in NYC. Right, na?
What did you say? Ah, you want to know if the $9.95 price for the weekend brunch is a typo.
No beta, not a typo. It's $9.95 for a fine Indian meal with a glass of wine or soda (for the teetotallers).
A hearty Indian meal at a cheapo price. Now, if that's not a recipe for nirvana, pray tell us what is.
Teeming with Fakes
Canal Street in downtown Manhattan is not the only place in NYC teeming with knockoffs (fake stuff).
Most Indian restaurants in New York City are fakes, serving dubious Indian fare topped off with dollops of insolent service.
Tired as we are at being ripped off by spurious Indian restaurants like that Bollywood fella's Dhaba (also in the Lexington area), Copper Chimney NYC turned out to be a pleasant, welcome surprise.
The Real Deal
Of course, Copper Chimney NYC is not new to us (truth be said, after so many decades on this planet nothing is new to us anymore).
We'd been to Copper Chimney NYC for dinner a couple of years back and mostly enjoyed the food.
So the other day when we were in NYC, we decided to make Copper Chimney our port of call again.
Just as we were lowering our anchor in the restaurant, our dressed-all-in-black waiter muttered sotto voce while escorting us to the table that we'd have to pay cash (hello, is the IRS or the NY tax fellas reading this).
With Indian restaurants in the U.S. you never know what to expect, so we are always well equipped with greenbacks.
We quickly took off our jacket and got down to business – the business not of eating but of gormandizing.
You see, the sight of Indian food brings out the ravenous beast in us.
Not Italian. Not Chinese. Not Mexican.
Only Indian food unleashes the inner, dormant Bakasura in us.
Yummy, Yummy
There was very little at Copper Chimney that didn't meet our approval.
But the winner of the day was clearly the vegetarian dish Methi Malai Mutter.
No, we haven't savored any part of Aishwarya Rai but it's no exaggeration to say that Copper Chimney's Methi Malai Mutter (corn and green peas in a fenugreek flavored sauce) would give stiff competition to the Queen of Bollywood. Rightly spiced and not too oily, it was a treat with both Rice, Naan and by itself.
Tandoori Chicken, usually a travesty at most Indian restaurants in NYC and beyond, was another impressive item here. The nicely marinated pieces sat there in a large vessel amidst sliced onion and capsicum invitingly beckoning us to take one more piece. And we did.
We had no complaints with the other non-vegetarian items on the buffet table as well – Chicken Tikka Masala, Chicken Curry or the Lamb Sag. Oh well, the Lamb Sag could have done with a bit more spices.
Bhindi Curry was so flavorful that we couldn't resist a second helping.
Equally tasty was the Vegetable Makhani in a thick gravy with cauliflower, beans, potato, carrot and lima beans.
It's not just with the main course that Copper Chimney pleased us.
Appetizers like the Cauliflower Pakora (crisp, hot and tasty), the humble Pappad and accompaniments like Green Chutney and Mango Chutney left no room for whining, even from perennial whiners like us.
Green Chutney is a cold, horrid mess at over 90% of Indian restaurants in the U.S. But not at Copper Chimney.
The Plain Naan bread was alright but not lipsmackingly good.
Deserts – Good & Bad
Rice pudding was such a sweet treat that shedding all pretense to decency we returned to the buffet table and filled our cup to the brim.
One of the few big disappointments of our meal was the Rava Soji dessert. Low on sugar, low on ghee and low on a qualified chef's touch, it was fu**ing awful.
But that was a minor blemish in an otherwise hearty, delicious $9.95 meal.
Our middle-aged waiter was polite, attentive, made sure the buffet vessels were replenished and alerted us twice before clearing them (about 15 minutes before the scheduled time).
Happy and Contented
Filled to bursting, we were now at peace with the world.
Letting our thoughts graze contentedly on the Elysian fields of our inamorata Aishwarya Rai and Copper Chimney's Methi Malai Mutter, we pulled up our anchors and quietly cruised out into the winter chill of a NYC afternoon promising ourselves that our ship would head this way soon.
At $9.95, the Copper Chimney NYC weekend Brunch is a great deal ($8.95 for the lunch buffet on week days).
Go for it. 🙂