Disgusting!
Reports in the Wall Street Journal and other publications suggest that NYC Indian restaurant Darbar Grill is in trouble for allegedly attempting to bribe an undercover investigator for the NYC Health Department to ensure an A-grade (the highest grade of food safety and cleanliness under the city's restaurant grading system introduced in July 2010).
Darbar Grill is a prominent NYC Indian restaurant on E.55th St that's been around for a while.
Its owners have positioned the place as an 'upscale Indian restaurant.'
The Journal is reporting that a Darbar Grill employee offered $500 to an undercover investigator in a sting operation in May.
NYC's Department of Investigation told the Wall Street Journal:
The defendant indicated he wasn't sure if he could offer the undercover investigator something but he didn't want any problems, he just wanted to pass and get an 'A.'
Like a lot of NYC Indian restaurants, Darbar Grill is notoriously unhygienic and often fares poorly in the NYC Health Department inspections.
In late March, the NYC Health Department ordered Darbar Grill to be closed for a short period.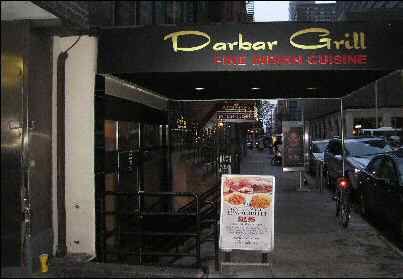 Darbar Grill has been plagued by evidence of mice/live mice in its food and/or non-food areas, going by multiple NYC Health Department inspection reports.
Other hygiene issues uncovered by NYC health inspectors in recent months at Darbar Grill include inadequate personal cleanliness, facility not  vermin proof, improper thawing procedures and food not protected from potential source of contamination during storage, preparation, transportation, display or service.
Darbar Grill Employee Arrested
Darbar Grill did not respond to an e-mail seeking comment. Neither did the NYC Department of Investigation return our call.
But Gothamist, a blog focused on NYC, said a Darbar Grill employee had been arrested over the alleged bribery.
These are certainly not the best of times for Darbar Grill.
Darbar Grill – Lousy Food Too
By the way, we had one of our worst ever Indian meals at Darbar Grill a few months back.
The restaurant serves some of the crappiest food in NYC with horrible service to match.
Here's an excerpt from SearchIndia.com's review of Darbar Grill:
It's given to few earthlings to experience Dante's inferno.

Count us among the unfortunate souls that walked into the nine fiery pathways of Hell via the portals of an NYC Indian restaurant.

It was bad Karma that dragged us into Darbar Grill, a dumpster on East 55th St in Midtown Manhattan masquerading as an Indian restaurant.

Folks, Darbar Grill gives strong competition for the odious distinction of serving some of the crappiest Indian food in New York City the entire universe.

Food so obscenely bad, it's a complete repudiation of taste.

Be it appetizers, the curries or desserts, the shaitans at Darbar Grill's kitchen left no stone unturned in making our meal hellishly awful.

Take it from us, a restaurant as fiendish as Darbar Grill must have Satan's cruel, gnarled hand guiding it even if a mortal's name is listed in the ownership papers.

Because a mere mortal would be incapable of inflicting such depravities on hapless humans.
Related Stories:
Darbar Grill Review – Satanic Curse on NYC Diners