A few months ago, your favorite blog SI got one helluva orgasm after dining at South Indian vegetarian restaurant Saravanaas a.k.a Saravanaa Bhavan on Lexington Ave in NYC.
It looks like we were not the only ones to get a mind-blowing, body rippling orgasm from the food at Saravanaas.
High Honors for Saravanaas
Today, the prestigious Michelin restaurant guide put out an announcement confirming what the wise souls at SI have said several months ago i.e. that Saravanaas is a great place for food in New York City.
If you want the specifics, Saravanaas continues to retain its place in the Michelin Guide New York City 2011's Bib Gourmand category.
Folks, there are over 9,000 restaurants in Manhattan and Brooklyn.
But a mere 95 restaurants are part of the Bib Gourmand category of the Michelin Guide New York City 2011 to be released on October 6.
Just 95 restaurants.
And Saravanaas is one of them.
Bravo, Saravanaas! Bravo.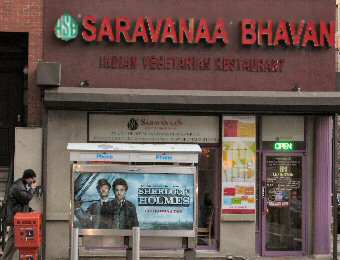 A Favorite of Michelin Inspectors
OK, we hear you. Stop that noise, will ya. We hear you loud and clear.
You schmucks want to know what the Bib Gourmand category means, right?
Bib Gourmand restaurants are supposed to be the Michelin Inspectors' Favorites for Good Value. These are restaurants that provide the most value to customers.
Typically, these restaurants serve two courses and a glass of wine or dessert for $40 or less (tax and gratuity not included).
By the way, Michelin's inspectors do not consider high profile NYC Indian restaurants like the hygiene-challenged Chola, Utsav or Brick Lane as good value and have not included them in their Bib Gourmand category.
We are so happy that Saravanaas, one of our current favorite Indian restaurants in NYC, is now being recognized by the Michelin folks that we poured ourselves a second glass of PinGin (a cocktail of Pineapple juice and Gin) tonight.
Just to make sure, we're talking about Saravanaas in NYC not the horror story in New Jersey.
Related Stories:
Saravanaa Bhavan NYC Review: Orgasmic Heaven on Lexington Ave; Ooh, Aahh, Oh God, Yes, Yes!
Saravanaa Bhavan Edison (NJ) Review – Murder Most Foul