Oh My God! Oh My God!
Question: What's worse than a North Indian restaurant in New York City making a mess of the delicious South Indian crepe Masala Dosa?

Answer: A Pakistani food cart in New York City peddling awful Masala Dosa.
We were wandering around New York City yesterday when our eyes fell on the word DOSA prominently emblazoned on a food cart at the corner of W.39th St and 6th Ave (close to Bryant Park and New York Public Library).
Well, you know what happened next.
Like Indian youths drawn toward pictures of Mallika Sherawat's tatas, our legs were pushed of their accord to the Dosa cart for two reasons – the drooling desire to munch into the Dosa and the chance to do a review of another desi eatery in NYC.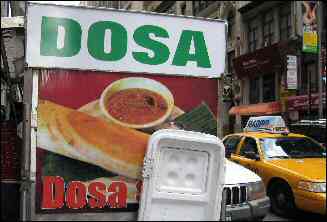 Pak Dosa Cart – Horrible Masala Dosa
Although the cart owner Shahid Riyaaz was closing up, he was nice enough to offer to make us the Dosas.
By the way, Shahid hails from Lahore in Pakistan and says he got attracted to Dosas after tasting it at the Dosa Diner in Jackson Heights, NY.
During our visit, Shahid had two varieties: Plain Dosa and Masala Dosa.
Of course, we opted for the Masala Dosa ($4.99).
It took about five minutes to get our Masala Dosas that Shahid cut into pieces and packed into Styrofoam boxes.
We took the boxes and quickly headed to the nearby Bryant Park where there are chairs and tables.
Pak Dosa Cart Review – Lousy, Large Dosa
The Masala Dosa was large but, alas, it was not tasty. Not in the least.
It was far too brittle. We got the feeling that the proportion of Black Gram Dal and Rice (ingredients in the Dosa) had gone awry.
The potato filling inside was not the delicious onion-potato-green peas combination with ginger-green chili  seasoning that Dosa aficionados like us are used to but plain mashed potato with mustard seeds seasoning.
Yeeks!
Wait, there were more problems.
Awful Sambar
With red chili powder floating on top and no vegetables save a forlorn piece of onion, the Sambar was plain awful. A few spoons and our stomach started to groan and sing a dirge.
There was no evidence that any Toor Dal or Sambar spices had gone into its preparation.
Disgusting.
Also, the Dosa man had run out of Chutney.
All in all, the Masala Dosa served by the Pakistani Food Cart at 39th St & 6th Ave turned out to be disgustingly bad.
A Fatwa?
Shahid's Dosa Cart also serves Chicken Biryani but we gave it the pass in our enthusiasm for the Dosa.
No, after our Dosa disaster we don't intend returning to Shahid's Dosa Cart on W.39th St at 6th Ave.
Say, is it possible to issue a Fatwa against Pakis savaging our Masala Dosas. 😉
How long do you think before the Bangladeshi food carts in NYC start selling MLA Pesarattu and Mysore-Pak.  🙁