Many winters ago, I purchased Samosas at an Indian grocery store in New York for 75 cents.
On my way back home, it struck me that I did not have a microwave to heat my Samosas.
So I made a detour to the mall and picked up an LG microwave for $75 so that my 75-cent Samosas could be nice and warm as it entered my system.
In a similar spirit, I ended up spending about $10 in Manhattan the other day for the 10-cents it costs to charge my iPhone.
The battery in my iPhone was running low and I quickly popped into the Starbucks on Park Ave and 29th St to charge it.
But the coffee shop was crowded.
I hate it when White trash girls squat on one chair and rest their legs on another.
Classless bitches!
So in high dudgeon I rushed out and walked one block north, crossed the street and entered Toon Thai restaurant (Park Ave and E.30th St).
The place was empty except for a solitary diner waiting for her food.
I was greeted by a smiling waitress (why is it that Indian waiters invariably sport a mournful mien).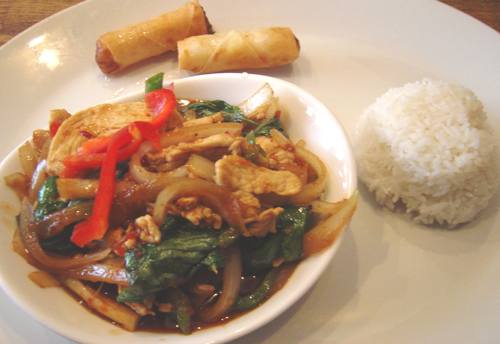 Kai Kra Prow (Thai Basil Chicken)
Toon Thai Cafe $8 Lunch Specials
My first thought was to find an electric plug-point and charge my in extremis iPhone. Continue reading »