Cheeni Kum is one of the better movies to come out of the Bollywood stables this summer.
Featuring the talented actress Tabu and the budda (old Man of Bollywood) Amitabh Bachchan in key roles, Cheeni Kum is the charming love story of a 34-year-old woman and a 64-year-old man.
Eschewing the usual Bollywood trappings of garish costumes, tawdry dances, weird fights and silly songs, Cheeni Kum is a movie for mature audiences.
Somehow, we have a feeling that Cheeni Kum may not resonate well with younger movie-goers. You know, the 15-30 age group.
We just can't seem to get enough of Tabu. After her jaw-dropping performance in Mira Nair's Namesake, Tabu delights us again.
Although Amitabh has thrown in a reasonable performance in Cheeni Kum, Tabu leaves the old man completely in the shade.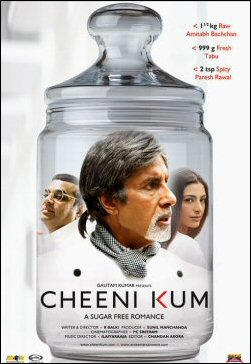 Besides the fine acting by Tabu, other highlights of Cheeni Kum are its fine music and a rare instance of a decent performance by a child artiste (Swini Khara).
Music director Illaiyaraja shows that in age where all the adulation centers around A.R.Rahman, Himesh Reshamiya et al, he's still a force to be reckoned with.
We loved all the songs in Cheeni Kum.
If pressed, we'd tell you that Baatein Hawa and the title song Cheeni Kum are our favorites. Cheeni Kum borrows the tune from the Mandram Vantha song in that 1986 Tamil hit Mouna Raagam while Baatein Hawa owes a debt to Kuzhaloodhum Kannanukku from the Tamil film Mella Thirandhadhu Kadhavu. Jaane Do is adapted from the Jotheyali Jothe Jotheyali song in the Kannada film Geetha.
The offbeat story is the magic that makes Cheeni Kum different.
Amitabh Bachchan is Buddhadev Gupta, the 64-year-old chef and owner of Spice6, the finest Indian restaurant in London. A grouchy perfectionist in his job, the bachelor Buddhadev lives with his old mother (played by that fine 95-year-old actress Zohra Sehgal).
Buddhadev's only other friend is his nine-year-old neighbor Sexy (Swini Khara), who's suffering from blood cancer.
One day, Nina Verma (Tabu), a software executive from Delhi walks into his restaurant and orders a Hyderabadi Zafrani Pulav. But she quickly sends the Pulav back, mostly uneaten, to the kitchen saying it's too sweet.
Buddhadev Gupta is incensed that someone should have the temerity to question the quality of the food coming out of his kitchen. After a minor confrontation, Nina walks out of the restaurant. A few days later, she sends him a plate of Hyderabadi Zafrani Pulav that Buddhadev – mistakenly believing it came out of his kitchen – declares excellent.
The chef also comes to realize that Nina was right in her complaint about his restaurant's Pulav.
Love quickly blossoms but obstacles lurk in the form of their age-difference and the vehement objections of Nina's father played with great elan by that genius Paresh Rawal.
Cheeni Kum starts off well. It moves on briskly for about 45 minutes, drags on for the next 50 minutes and then picks up steam again.
Amitabh Bachchan is guilty of one of the worst scenes in Cheeni Kum. Towards the end of the movie, when he hears that his young friend Sexy has passed away in London, Amitabh renders possibly one of the shabbiest performances of his career. His anguish upon hearing the sad news seems completely contrived and is one of the big let-down moments of Cheeni Kum.
Cheeni Kum is eons ahead of the other Bollywood movie Shootout at Lokhandwala, which also debuted today (May 25, 2007).
Amidst the mostly pathetic run of Bollywood movies, Cheeni Kum is the pleasant surprise of the summer.