Superstar Rajnikanth and director Shankar have both come up short in the new Tamil movie Sivaji The Boss.
A flawed movie in many respects, Sivaji fails to scale the lofty heights that one expects when the two top-guns in the Tamil film industry come together.
We loved Shankar's last film Anniyan and enjoyed Rajnikanth's 2005 movie Chandramukhi.
Both Anniyan and Chandramukhi had strong, unusual stories and passionate performances that captured the audience's interest.
So it was with heightened anticipation that we headed for the Premiere show ($25.00 per ticket) of Sivaji at CinePlaza in North Bergen, New Jersey on Thursday, June 14, 2007.
To our great disappointment, Sivaji is not half as good as Anniyan or Chandramukhi. Gosh, Sivaji is not even as entertaining as Pokiri, a remake of a Telugu film featuring Vijay.
Where Sivaji falls short the most compared to Anniyan or Chandramukhi is in its banal story that focuses on the twin evils of corruption and black money. Both subjects are hardly unusual themes in Indian movies and have been so beaten to death thoroughly over the past 25 years in both Tamil and Hindi films that it's hard to see new angles emerging here.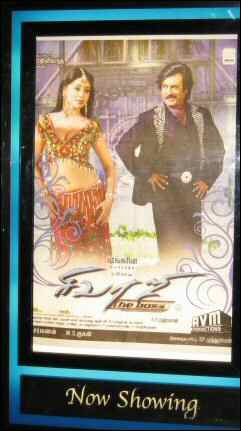 Sivaji poster outside CinePlaza, New Jersey
Director Shankar's play-it-safe decision to hang the movie on the slender threads of corruption and black money means the Sivaji story can never go beyond the commonplace.
As if that were not bad enough, the Sivaji story is more than a wee bit disjointed. Altruism, revenge, homilies on eradicating the pernicious influence of Black Money and corruption, helping the poor and romancing the heroine follow each other in haphazard fashion.
The Sivaji story is pretty simplistic.
Sivaji (Rajnikanth) returns from the U.S., a rich man with plans to  set up a university and hospital to help the less privileged sections of society. But his altruistic mission is thwarted by rival businessman Adiseshan (Suman), who has the corrupt bureaucracy and venal politicians on his side.
The rubber meets the road after the intermission when Sivaji is rendered penniless as a result of Adiseshan's machinations and decides to go after the scheming scoundrel. But director Shankar slips and slips badly in his amateurish treatment of Sivaji's revenge trip.
Although Rajnikanth's die-hard fans will protest here, the aging actor is no Marlon Brando, Naseeruddin Shah or Jack Nicholson. But to see him mostly fail to set the screen afire is frustrating to fans of Tamil movies. Of course, Rajni fans will disagree here because their overwheming adulation blinds them to their hero's limitations.
Watching Sivaji, we never experienced even once the adrenalin rush we felt while watching Chandramukhi, Anniyan, Pokiri, Kaakha Kaakha, Namesake or recent Hollywood movies like The Departed or Fracture.
The fighting/action scenes in Sivaji are beyond crude. They are bizarre. It's high time Tamil film directors stop this ridiculous nonsense of the hero beating to pulp a dozen or more villains simultaneously. Mercifully, Bollywood directors are putting a stop to this rubbish.
Shriya Saran, who plays the female lead and Rajnikanth's love interest in Sivaji, does a decent job.
The petite North Indian lass doesn't have that big a role but demonstrates some acting abilities, a rarity among Tamil heroines. If Shriya sticks around in Tamil movies, she could challenge the Trishas, Nayantaras and Asins (now busy with the Hindi remake of the successful Tamil movie Ghajini).
Suman acquits himself well as the villain Adiseshan seeking to thwart Sivaji at every step, a welcome change from the crude, maniacal villains commonplace in Tamil films.
As Sivaji's sidekick, comedian Vivek is there with the supposed goal of providing comic relief. However since Vivek's efforts are not supported either by thoughtful dialogs that have made small-budget movies like Mozhi so charming or by commonsense, the end result in Sivaji is unfunny comedy most of the time.
Sivaji's music does not soar to great heights but the crafty fox A.R.Rahman doesn't let you down completely either.
Much effort and cost seem to have gone into picturization of most of the Sivaji songs. We loved Vajee Vajee, Balleilakka and Sahana. The other songs were sheer cacophony to us.
All in all, we found Sivaji to be all sizzle and no steak falling way short of the hype built up over the last six months. – Copyright SearchIndia.com.
N.B.: CinePlaza in New Jersey is a disgrace of a movie hall. The sound system was so bad in Hall No-4 for the 6:30 PM Premiere show of Shivaji on Thursday that the movie was stopped 15 minutes into the screening and the audience asked to move to Hall No-3.