A must see movie of this summer, Bourne Ultimatum delivers solid entertainment for those of us tired of the same old, same old Bollywood balderdash.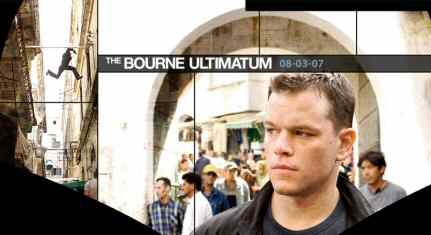 Ever since we read our first Jason Bourne thriller in 1980 – that was Bourne Identity – we've been hooked on the late author Robert Ludlum's best known creation and his daring exploits.
Matt Damon is once again the hero in the third installment (final?) of the Bourne saga, which debuted in U.S. theaters on August 3, 2007.
Like its predecessors, Bourne Ultimatum is a fast-paced, action-filled dynamo of a movie that quickly moves from Russia to London to Spain to Morocco to New York.
As the CIA operative Jason Bourne alternatively running from his enemies and pursuing them, Damon delivers in full measure never once disappointing in the 90-minute movie.
There's not a single Bollywood actor, who's even a tenth as good as Matt Damon in action sequences.
Shah Rukh Khan and Aamir Khan, Hrithik Roshan and Sunny Deol, Sanjay Dutt and Viveik Oberoi, virtually all of our Bollywood heroes come across as rank amateurs compared to Damon.
Come on folks, the three big Bollywood action movies of the last 12 months Don, Krrish and Dhoom 2 are kid stuff compared to the heady ride that's Bourne Ultimatum.
With his brisk walk, quick reflexes and very effective with a gun, Damon is a sight to behold on the big screen as he pummels the bad guys to bloody pulp and manages to stay a step ahead of his adversaries, many of them working for the U.S. government.
As Bourne struggles to discover details from his past, his principal adversary in Bourne Ultimatum is the cold-blooded CIA Deputy Director Noah Vosen (played with great elan by David Strathairn) running a renegade project called Blackbriar.
In a movie filled with several impressive scenes, one of our favorites was the bloody fighting scene in Tangiers between Bourne and and the CIA assassin Desh (Joey Ansah) sent to kill him and his companion Nicky Parsons (Julia Stiles).
The latest installment of Bourne's trans-continental thrill ride is directed outstandingly by Paul Greengrass, who was also director of the previous part Bourne Supremacy (2004).
From the first frame to the last, Bourne Ultimatum is one lengthy adrenalin rush, the kind you never get to experience in movies made by our Bollywood bozos.
Clck here for Blame it on Fidel movie review.